Lena Hall's Latest OBSESSED: RADIOHEAD is Now Available for Pre-Order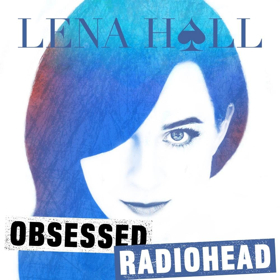 SKB Records celebrates the halfway point of Lena Hall Obsessed, their unprecedented monthly music and video series from the Tony Award winner and Grammy nominee. Obsessed: Radiohead - highlighting the songs of the influential alternative rock powerhouse - is available for pre-order today Friday, May 25 at www.LenaHallObsessed.com as well as iTunes and Amazon. Customers that pre-order the EP will immediately receive a download of the first single, "Nude." Obsessed: Radiohead, the sixth monthly installment of the groundbreaking series, will be released in digital and streaming formats on Friday, June 1.
Watch the special trailer for the new EP below:
A singular artist who explosively and soulfully explores the music of these rock and pop icons, Hall is releasing a monthly series of EPs over the course of 2018. Obsessed will consist of 12 EPs, one released on the first Friday of every month, and each featuring stripped-down, emotionally-intensive covers of one artist or band with whom Lena is "obsessed." Performance music videos have been created for all 54 songs in the series and a new music video will premiere every week in 2018. Obsessed is produced by Justin Craig, Lena Hall and Kurt Deutsch.
Obsessed: Radiohead opens with two of the band's pivotal hits, "Nude" and "High and Dry." Lena's mystical, dreamlike interpretation of "Nude" - from the group's 2007 In Rainbows - is followed by a coffeehouse-inspired "High and Dry," taken from The Bends, Radiohead's 1995 sophomore LP. "Exit Music (For a Film)" a riveting album cut from OK Computer, was originally used with the end credits of Baz Luhrmann's Romeo + Juliet. The atmospheric "Street Spirit (Fade Out)," also originated from The Bends. The EP then concludes with a powerfully spare take on the band's essential blockbuster "Creep," coming from the band's 1993 debut album Pablo Honey, accompanied here only by solo piano.
The Obsessed series has been called "stirring" by Rolling Stone, "amazing and intimate" by Billboard, "fabulous" by Stereophile, "chilling" by The Huffington Post, and "superb" by Time Out New York. Previous EPs this year have celebrated Hedwig and the Angry Inch, Peter Gabriel, Elton John, The Cranberries and P!nk.
In February, Lena received widespread critical acclaim for her performance of the title role in the feature film Becks, which won the U.S. Fiction Award at the LA Film Festival, and is currently available on iTunes and VOD. The New York Times called her the "charismatic, tone-perfect lead," with the Los Angeles Times adding "sexy and sexually frank, Becks works thanks to the musical talent and offbeat charms of its lead. Hall feels authentic at each moment."
Obsessed features Justin Craig on guitar and keyboards; Matt Duncan on bass, keyboards and saxophone; and Brian Fishler on drums and percussion. The album cover is photographed by Melisa Hall and designed by Stephanie Layton. Each set of videos features a different outfit created by renowned designer Malan Breton. James Eades serves as Director of Photography.
Lena Hall is a Tony Award winner and Grammy nominee who will appear opposite Jennifer Connelly in TNT's science fiction epic "Snowpiercer." Following her Tony winning Broadway run in Hedwig and the Angry Inch, Lena toured North America alongside Josh Groban on his "Stages" tour and portrayed the dual starring roles of Hedwig and Yitzhak in Hedwig in Los Angeles (LA Drama Critics Circle nomination) and San Francisco. She originated the role of Nicola in the Tony-winning musical Kinky Boots, and can be seen on HBO's "Girls," Amazon Prime's "Good Girls Revolt", and heard voicing the fan-favorite role of Countess Coloratura on "My Little Pony." Hall's most recent stage appearance was starring with Marisa Tomei in Lincoln Center Theatre's How To Transcend A Happy Marriage. Hall's two solo musical revues Sin & Salvation, which played the legendary Cafe Carlyle, and The Villa Satori: Growing Up Haight Ashbury both received rave reviews and have spawned live albums. @lenarockerhall
Lena Hall - "RADIOHEAD" TRACK LIST
1. Nude
2. High and Dry
3. Exit Music (For a Film)
4. Street Spirit (Fade Out)
5. Creep
SKB RECORDS, originally conceived to bridge the gap between theater and rock music, has become the leading independent force in the last 17 years, featuring some of the most successful Broadway musicals and solo albums by Broadway's brightest stars. Along with the company's imprint Ghostlight Records, they have built a library of over 150 records including major Original Broadway Cast Recordings. Founded by Grammy Award winner Kurt Deutsch, Sh-K- Boom/Ghostlight has won Grammy Awards for The Book of Mormon, In the Heights and Beautiful - The Carole King Musical. Other notable releases include cast recordings for 2017 Tony nominee Falsettos, 2016 Tony nominees Bright Star and She Loves Me and 2015 Tony nominee Something Rotten! as well as Disney's Newsies. The label has also released solo albums from Patti LuPone, Billy Porter, Sutton Foster, Adam Pascal, Lea DeLaria, Kelli O'Hara, Ben Vereen, Christine Ebersole and more. The label continues to support the new generation of musical theatre composers with their extensive relationships with David Yazbek, Michael John LaChiusa and Michael Friedman, as well as Lin-Manuel Miranda, Tom Kitt, Pasek & Paul, Joe Iconis, Ryan Scott Oliver, Shaina Taub, Dave Malloy, Kerrigan & Lowdermilk and Adam Gwon. Sh-K-Boom Entertainment is a producer of the acclaimed film version of The Last Five Years, written and directed by Richard LaGravenese and starring Anna Kendrick and Jeremy Jordan. The label recently became part of the new Arts Music division at Warner Music Group.