Laura Frye Set to Star in Titan Theatre Company's HAMLET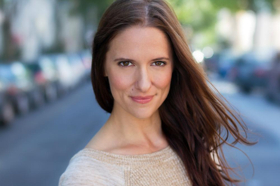 The award-winning Titan Theatre Company announced today the cast and creative team for the final production of its 10th Anniversary Season, Shakespeare's masterpiece HAMLET starring Titan Resident Company Member Laura Frye as the Danish Prince. HAMLET will play a three-week limited engagement at Titan's home at Queens Theatre.
Performances begin Friday March 29th and continue through April 14th.
"Is there a better way to end a landmark season than HAMLET?" said Titan Artistic Director Lenny Banovez. "We closed our very first season with the greatest play ever written. Seems fitting we do the same 10 years later. It's also very fitting to have Laura in the Title Role. Titan has always taken pride in how we cast. Diversity and Equality are cornerstones of our company and we are glad to continue to further this conversation and strive to be even better."
The production stars Titan favorite Laura Frye as Hamlet, and features Titan Company Members Michael Selkirk (Claudius), Kevin Stanfa (Horatio), Andrew Garrett (Laertes), Wesley Cady (Rosencrantz), Laura Menzie (Ophelia) and Guest Artists Annalisa Loeffler (Gertrude), Robert Meksin (Polonius), Jonathan Smoots (Ghost), T. Stacy Hicks (Player King/Gravedigger), Kelly Kirkley (Guildenstern), Anuj Parikh (Osric), Psacoya Guinn (Player Queen), John St. Croix (Bernardo), Patrick Roache (Marcellus), and Dominique Rose (Ensemble). Emily Loewus and Chrissy Taylor will understudy.
Titan Artistic Director Lenny Banovez will Direct. Marcus D. Johnson will assist. Scenic Design/Technical Direction by Brian Dambacher, Lighting & Sound Design by Alan Piotrowicz, Costume Design by Scott Frost, Video/Media Design by Chris Kateff, and Fight Direction by Analiese Puzon. Krystal Wilson is the Production Stage Manager.
Tickets ($20) are available online at www.titantheatrecompany.com or by calling the Queens Theatre Box Office at 718-760-0064. Tickets may also be purchased in-person at the Queens Theatre Box Office, Tuesday through Friday 12pm to 6pm, and two hours before showtimes on weekends.
Related Articles
More Hot Stories For You
John Cameron Mitchell and Stephen Trask Respond to HEDWIG AND THE ANGRY INCH Casting Controversy, Saying Anyone Should Be Allowed to Play the Role
As BroadwayWorld previously reported, the Sydney season of Hedwig and the Angry Inch has been postponed following controversy surrounding the casting ...

Kirstin Maldonado Joins Broadway-Aimed CHILDREN OF EDEN
GRAMMY Award winning artist of Pentatonix and Broadway star, Kirstin Maldonado, will be joining the much anticipated Children of Eden production, sche...

VIDEO: Meryl Streep Raps in 'Wear Your Crown' From THE PROM
The original song 'Wear Your Crown' from the upcoming film adaptation of The Prom has been released!...

Broadway's Alex Weisman Undergoes Surgery After Being Punched in a Subway Station
Broadway actor Alex Weisman was injured after being punched by a man in a Manhattan subway station. Weisman had to undergo laser eye surgery after bei...

VIDEO: Watch a BEETLEJUICE Reunion on Stars in the House- Live at 8pm!
Stars in the House continues tonight (8pm) with a BEETLEJUICE Reunion with Alex Brightman, Kerry Butler, Rob McClure, David Josefsberg, Will Blum and ...

VIDEO: Watch WICKED Cast Members Jon Robert Hall & Tiffany Rae Malari Get Engaged in 'On the Way' Proposal Music Video
On November 7, 2020, Jon Robert Hall proposed to Tiffany Rae Malari. The song, 'On the Way' is inspired by Hall and Mallari's relationship. 'If you li...