LOVEVILLE HIGH, A MUSICAL PODCAST Launches Episode 4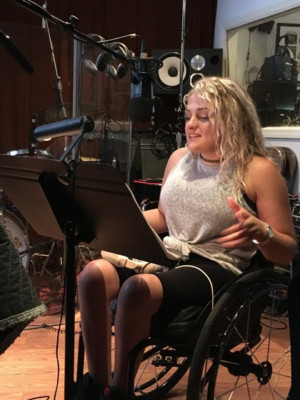 On Monday, January 28th LOVEVILLE HIGH: A PROM IN NINE MUSICAL PODCASTS premieres Episode 4 starring two sensational artists who will be on Broadway this spring, Be More Chill's Troy Iwata and Oklahoma's Ali Stroker, downloadable on iTunes, Stitcher, and all music sharing sites. The first three episodes have almost 2000 downloads in just three weeks since launch.
EPISODE 4: ONE PLUS ONE...PLUS ONE? ...or: monogamy
On the roof of the school, Kyle - smart kid, almost valedictorian - exchanges messages with one, two, three girls on his phone. What a jerk! Or does he have an addiction? Trouble deepens when his girlfriend Amanda - who actually is valedictorian - arrives with smuggled champagne and Dixie cups. But what is her plan? Does it involve drinking champagne...or something far more devious?
With book and lyrics by David Zellnik (Drama Desk nominated Yank!) and music by Eric Svejcar (Disney's Peter Pan Jr. with Zellnik) LOVEVILLE HIGH takes place on prom night in the fictional town of Loveville, Ohio. Each ten-minute episode tells a love story - new love, old love, romantic love, friend love, gay and straight, cis and genderqueer; each is a self-contained musical while also connecting with the other episodes to form a glimpse into the biggest night in the lives of one high school class. After the launch of the first three episodes, subsequent chapters will be released on a twice-per-month schedule culminating in the "Loveville Prom" finale release party on June 17, 2019. https://www.lovevillehigh.com/

The podcast stars Kathryn Allison (Disney's Aladdin) as Madison, Harrison Chad (Caroline, or Change (OBC), Les Miserables, Beauty and the Beast, Peter Pan) as Noah, Troy Iwata (Be More Chill) as Kyle, Gizel Jiménez (Drama Desk Nominated Outstanding Actress in a Musical for The Public's Miss You Like Hell) as Wanda, Jay Armstrong Johnson (Phantom of the Opera, On The Town, Hands On A Hardbody, Catch Me If You Can, Hair) as Zeke, Hailey Kilgore (Once on This Island) as Jane, Mason Alexander Park (Hedwig and the Angry Inch, First National Broadway Tour) as Jendrix, Isaac Powell (Once on This Island) as Cory, Ryann Redmond (Escape to Margaritaville, If/Then, Bring It On) as Chass, Conor Ryan (Desperate Measures, New World Stages) as Johnny, and Ali Stroker (Oklahoma! @St Ann's, Deaf West Theatre's Spring Awakening) as Amanda.]