LEAP's New A Capella Musical Reflects Student Voices During Civil Rights Era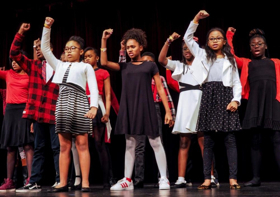 Learning through an Expanded Arts Program (LEAP), Inc. is featuring a new touring musical designed to enhance student curriculum and connect the impact of the arts and social justice. The Movement, an a cappella musical, will be performed by LEAP students and professional performers (LEAP Artists Live) as part of The New York Theater Festival's Winterfest, at The Hudson Guild Theatre, 441 West 26th Street, New York, NY. Inspired by the Children's Crusade of 1963, The Movement tells the story of the young people of Birmingham, Alabama, who marched against racial injustice. This award-winning production will be performed in schools throughout New York City as an educational experience for youth. Performances are February 12 at 6:15 pm (sold out); February 16 at 8:30 pm; and February 17 at 1 pm. The performance runs 90 minutes with no intermission. For tickets, go to www.brownpapertickets.com/event/3919615.
The Movement features a book, original music, and lyrics by Kathy D. Harrison, who also directed the production. Assistant director is Kenneth Ray, dance arrangements provided by Kathy D. Harrison, with
support from dance captains Marcus Beckett, Ilana Warner and Pelham Warner. Production assistant is Robb L. Davis.
"Recently, we have begun to devise, create, and direct our own theater pieces in response to historical and current issues affecting our society," explains Rich Souto, executive director, LEAP. "Art and social justice are joined in a powerful way and we are ready to bring this important message to schools. These productions are directly linked to LEAP's mission and 40-year history of services to NYC students."

The LEAP Artists Live! cast includes Marcus Beckett, Guerdley Cajus, Ben Davis, Catherine Espinal, Seth Diggs, Khari Hughes, Phenese Johnson, Kirk Lambert, Jermaine N. Sellers, Ilana Warner, Pelham Warner, and Evette White. The student performers from The Dock Street School for STEAM Studies in Brooklyn include Abigail Caldeira, Lache Francois, Ciara Holland, Tyrik Iman-Washington, Morgan Lampkin, Laila Lloyd-Clarke, Tsehai Marson, Damani Nathan, Laila Smith, Lily Terry, and Mia White.
LEAP's mission is to provide quality educational arts programs to promote access and equity for New York City students underserved in the arts. Through artistic inquiry and expression, LEAP inspires diverse school communities to be more engaged in learning and build their creativity, collaboration, communication, and critical thinking skills.
This program is made possible in part by The New York State Council on the Arts with the support of Governor Andrew M. Cuomo and the New York State Legislature, and public funds from the New York City Department of Cultural Affairs, in partnership with the City Council.