Ken Ludwig, Dominique Morisseau and Chris Miller & Nathan Tysen Will Be Honored with 2017 Samuel French Awards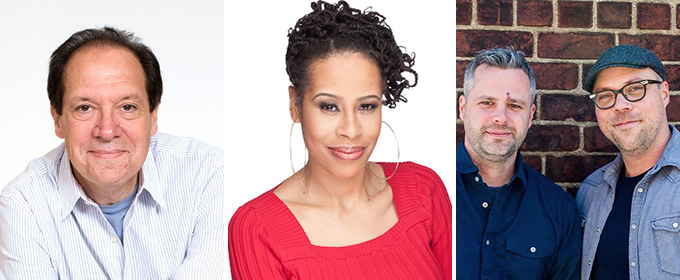 The world's leading theatrical publishing and licensing company, Samuel French, announced today that Ken Ludwig, Dominique Morisseau, and the writing team of Chris Miller & Nathan Tysen will be honored at the second annual Samuel French Awards.
Created to acknowledge the great work and unparalleled passion of theatre artists, as well as applaud their significant contributions to the industry, the Awards will be presented in a private ceremony on Monday, October 16, 2017.
"Samuel French has a tradition of proudly celebrating those who make theatre happen," said Nathan Collins, President of Samuel French. "We are thrilled to acknowledge the work of Ken, Dominique, Chris, and Nathan with the Samuel French Awards this year. Each of their contributions to the theatre have made a direct impact on artists, students, and audiences across the country. We are pleased to recognize their talents and roles in our community."
Emily Mann, Artistic Director of McCarter Theatre Center, will present Ludwig the Award for Sustained Excellence in American Theatre, which is bestowed upon a Samuel French playwright, composer, or lyricist whose body of work has been successfully produced across the nation, at both amateur and professional levels.
Kamilah Forbes, Executive Producer of the Apollo Theater, will present Morisseau the Award for Impact & Activism in the Theatre Community, given to an individual or creative team who has significantly impacted the theatre community over the past year through their activism.
Composer, producer, and activist, Jeanine Tesori, will present Miller & Tysen the Next Step Award, which supports a playwright, composer, or lyricist working toward the next step of their career. Honorees have demonstrated a strong energy and talent in their career thus far. The award offers support for a current or unfinished project with a monetary prize.
In addition to physical awards presented to all recipients, honorees of the Award for Sustained Excellence in American Theatre and Award for Impact & Activism each select a theater or program to which Samuel French makes a donation on their behalf. Ludwig has selected the McCarter Theatre Center, and Morisseau has chosen the Detroit Public Theatre. Previous honorees include Sarah Ruhl, Keith Josef Adkins and Michael Kooman & Christopher Dimond.
SAMUEL FRENCH is the world's leading publisher and licensor of plays and musicals. The company's catalog features some of the most acclaimed work ever written for the stage and titles by writers at the forefront of contemporary drama. Samuel French is proud to have served as a leader in theatrical publishing and licensing for over 180 years and is committed to the future by championing for playwrights, innovating the industry, and celebrating all those who make theatre around the world. For more information, visit www.SamuelFrench.com.
Ken Ludwig is a two-time Olivier Award-winning playwright whose work is performed throughout the world in more than thirty countries and over twenty languages. He has written twenty-four plays and musicals, with six Broadway productions and seven in London's West End. His Tony-winning play Lend Me A Tenor, was called "one of the classic comedies of the 20th century" by The Washington Post. Other plays and musicals include Crazy For You (5 years on Broadway, Tony and Drama Desk Awards for Best Musical), Moon Over Buffalo (Broadway and West End), The Adventures of Tom Sawyer (Broadway), Treasure Island (West End), Twentieth Century (Broadway), Leading Ladies, Shakespeare in Hollywood, The Game's Afoot, The Fox on the Fairway, The Three Musketeers, The Beaux' Stratagem, Baskerville and A Comedy of Tenors. His critically acclaimed adaptation of Agatha Christie's Murder on the Orient Express premiered this season to sold out houses at the McCarter Theatre in Princeton and his newest play, Robin Hood!, premiered in August at The Old Globe. He has received commissions from the Royal Shakespeare Company, The Old Globe and the Bristol Old Vic, and he is a Sallie B. Goodman Fellow of the McCarter Theatre. His many awards and honors include the Charles MacArthur Award, two Helen Hayes Awards, the SETC Distinguished Career Award, the Edgar Award for Best Mystery and the Edwin Forrest Award for Contributions to the American Theater. His book How To Teach Your Children Shakespeare (Random House) won the Falstaff Award for Best Shakespeare Book and his essays are published by the Yale Review. Ken's plays and musicals are produced somewhere in the United States and abroad every night of the year.
Dominique Morisseau is the author of The Detroit Project (A 3-Play Cycle) which includes the following plays: Skeleton Crew (Atlantic Theater Company), Paradise Blue (Williamstown Theatre Festival), and Detroit '67 (Public Theater, Classical Theatre of Harlem and NBT). Additional plays include: Sunset Baby (LAByrinth Theatre); Blood at the Root (National Black Theatre) and Follow Me To Nellie's (Premiere Stages). She is the book writer on the new musical Ain't Too Proud - The Temptations premiering at Berkeley Rep this fall. Dominique is alumna of The Public Theater Emerging Writer's Group, Women's Project Lab, and Lark Playwrights Workshop and has developed work at Sundance Lab and Eugene O'Neil Playwrights Conference. Her work has been commissioned by the Hip Hop Theater Festival, Steppenwolf Theater Company, Women's Project, South Coast Rep, People's Light and Theatre, and Oregon Shakespeare Festival/Penumbra Theatre. She currently serves as Co-Producer on the Showtime series "Shameless". Awards: Stavis Playwriting Award, NAACP Image Award, Spirit of Detroit Award, Weissberger Award, PoNY Fellowship, Sky-Cooper New American Play Prize, TEER Spirit Trailblazer Award, Steinberg Playwright Award, Edward M. Kennedy Prize for Drama (Detroit '67), Audelco and OBIE Award (Skeleton Crew).
Chris Miller (Music) and Nathan Tysen (Lyrics) are the songwriting team behind the critically acclaimed Broadway musical Tuck Everlasting (Outer Critics & Drama League nominations, Best Musical). Their off-Broadway work includes The Burnt Part Boys (Lucille Lortel Nomination, Best Musical) and Fugitive Songs (Drama Desk Award Nomination, Outstanding Revue), all of which are available for licensing, and have cast albums on iTunes and Amazon. Current projects include commissions from Lincoln Center Theater and Playwrights Horizons/Theatreworks Silicon Valley. They have also written two circuses for Ringling Bros. Barnum & Bailey, contributed to the revue Stars of David, and penned an adaptation of Chris Van Allsburg's picture book, The Mysteries of Harris Burdick (Boston Globe Top Ten Pick of 2008). Television work includes songs for "Sesame Street" (2012 Daytime Emmy Award) and "The Electric Company." Chris and Nathan are proud recipients of awards and grants from Fred Ebb, Edward Kleban, Jonathan Larson, Richard Rodgers, Daryl Roth, Kitty Carlisle Hart, ASCAP, and the NEA. They began their collaboration at NYU where they received their MFA's in musical theatre writing. Visit www.MILLERandTYSEN.com for more.