Kelli O'Hara-Led Web Series THE ACCIDENTAL WOLF Nominated for Webby Awards!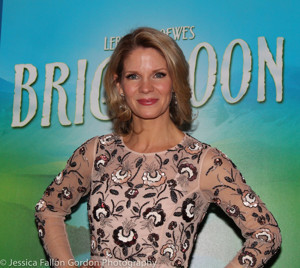 The first season of the Kelli O'Hara-led webseries The Accidental Wolf received two Webby Nominations in the categories of Best Individual Performance for Kelli O'Hara and Best Writing for Arian Moayed.
O'Hara and Moayed were singled out as one of the five best in the world in their respective categories (and among the top 10% of all work entered) and are competing for the Internet's two most coveted awards: The Webby Award and The Webby People's Voice Award.
While The Webby Award is chosen by the Academy, The Webby People's Voice Award is voted on by the public. Both Awards are a mark of international distinction for Internet excellence.
Voting for People's Voice are open through Thursday, April 19th, at 11:59 PM/PST. VOTE HERE: vote.webbyawards.com
.
One evening, Katie, a Manhattan mother and wife, receives a desperate call from a stranger named Zuhair, location unknown, pleading for her to save him and his pregnant wife, Tala. Zuhair's final words to Katie are a plea that Tala is alive and needs help. This phone call emboldens Katie to begin an endless and international search to find Tala at all costs to her family, her sanity and her beliefs.
Available only in NORTH AMERICA and the United Kingdom, "The Accidental Wolf" debuts the inaugural season of its multi-season thriller on its own unique, immersive website. Featuring 36 Tony Nominations among its cast and creative, including Reed Birney, Raúl Castillo, John Ellison Conlee, Brandon J. Dirden, Mike Doyle, Kathryn Erbe, Jayne Houdyshell, Judith Ivey, Amy Landecker, Ben McKenzie, Laurie Metcalf, Sahr Ngaujah, Denis O'Hare, Sarah Steele, Raymond Anthony Thomas, Erin Wilhelmi, and Frank Wood, among others. Music by Bill Sherman, Sound Design by Matt Shane, and Editing by Andrew Leven.
"The Accidental Wolf" is Produced by Waterwell Films, under the leadership of Damon Owlia and Arian Moayed, in Association with Gregory Franklin (Franklin TheatricalGroup) and Jayne Baron Sherman (Mom's Money Production).
Waterwell Films is an art-house studio that develops and produces a wide variety of original content for film, television and digital. Waterwell Films uses the moving image to share stories that challenge assumptions, foster connection and celebrate the beauty of our experience in all its heartbreak and joy. Waterwell Films' upcoming slate includes Passage, Dr/X, Switch, Wyoming, Coyotes, Dumb Luck, VA Hospital, The Getaway, Drift, $1300, and PR.
Featured This Week on Stage Door
Shoutouts, Classes, and More from Your Favorite Broadway Stars
Related Articles