Karen Eleanor Wight And Jennifer Laine Williams Read Annie La Russa's YOU MOTHER At The 3rd Annual UN-Auguration Short Play Fest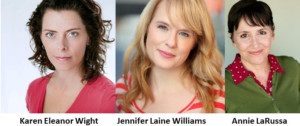 Karen Eleanor Wight and Jennifer Laine Williams read Annie La Russa's "YOU MOTHER" at the 3rd Annual UN-Auguration Short Play Fest, at Bernie Wohl, January 31st.
YOU MOTHER by Annie La Russa, known for her acting work on ER and GREY'S ANATOMY, is a heart-stopping look at the aftermath of a mass shooting through the eyes of two victims. The two desperately grieving mothers will be read by Karen Eleanor Wight, originator of Toadpipe in THE SCREWTAPE LETTERS - Newsweek's "Best NYC Of 2018" Theatre - and Jennifer Laine Williams who won praise for her mesmerizing work Off-Broadway in WHOSE FAMILY VALUES!
The UN-Auguration Short Play Fest is an evening of new short plays that vividly reflect, and grapple with the question: "what exactly is the current state of our Union?" The answers the playwright have come up with range from farcical to nightmarish to the absurd, to the hilarious and shocking!
UN-Auguration Short Play Fest, will be presented by the 29th Street Playwrights Collective on Thursday, January 31, at 7:30pm, at the Upper Westside's The Bernie Wohl Theater, 647 Columbus Ave btw 91st and 92nd Streets.
The evening of selected plays, each a personal and timely vision, include: CULTURAL by Maximillian Gill (DEBRIEFING/Fringe Fest), NO BIKINI by Emma Goldman-Sherman (FUKT/Dixon Place), UNSEASONABLE by Andra Gordon-Gatica (The Dionysian Magazine), THE PRESIDENCY OF William Henry HARRISON IN REAL TIME by Steven Hayet (EVERLASTING CHOCOLATE THERAPY/Luna Stage), SCENES by Penny Jackson (THE BATTLES OF RICHMOND HILL/ Here), PARKER AND PARKEE by Elaine Kuracina (AMERICAN MUSE/Regional), and THIS JUST IN by Matthew J. Wells (ROMEO & ROSALINE/Red Bull Theatre).
The plays will be read by performers: Olivia De Salvo (ROMEO & JULIET/Guild Hall), Kelsea Feder (FUKT/Dixon Place), Nayib Felix (YOU ACROSS FROM ME/42nd Annual Humana Festival), Tyler Gardella (ROMEO & JULIET/The Flea), Mark Lanham (The Judas Monologues/Marble Summer ArtsFest), Jacob Lineberry (FAMILY MAIZE/New Circle Theatre Company), Molly Callahan (IN MEMORIAM/Wild Project), Jared Mason Murray (SHEAR MADNESS/The Kennedy Center), Rick Reid (CHAIN REACTION/WriteNow Workshop), and Jazmin Williams (BREATH BY BREATH/Bernie Wohl Theatre).
The annual UN-Auguration Short Play Fest encourages playwrights to create socially-engaged plays and provides these plays "fresh" to an audience. The result has been works that cultivate empathy, incite anger, foster connection across diverse peoples, and more than anything else - make people think! The hope is this year's Fest will do the same!
The 29th Street Playwrights Collective, now in its fifth year, is dedicated to developing the voices of emerging, mature playwrights through weekly writing sessions, craft discussions and presentations. The Collective is committed to gender parity (serving 50% women), and to providing frequent opportunities for the public to be part of the creative process by attending workshops, performances and providing feedback to playwrights.
The UN-Auguration Short Play Fest, typically sells out. Please RSVP at EVENTBRITE/The Unauguration 2019. Refreshments will be served. Suggested donation of $10 online or at the door.
The UN-Auguration Short Play Fest is produced by Melissa Bell and Michael Wells-Oakes for the 29th Street Playwrights Collective, where they are Resident Playwrights.
For further information, contact 29thStPlaywrightsCollective@gmail.com or website: www.29thStreetplaywrightsCollective.org