John Cameron Mitchell Will Launch New Musical Podcast, featuring Cynthia Erivo, Patti LuPone & More!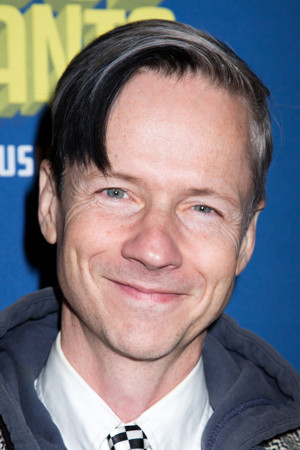 From the studio that produced the hit podcast, Missing Richard Simmons, Topic Studios today announced they are partnering with the award-winning John Cameron Mitchell (Hedwig and the Angry Inch, Shortbus, How to Talk to Girls at Parties) for a pioneering new podcast, "Anthem." This edgy anthology series will tell a unique American story though a distinct musical voice, with each season pairing an iconic songwriter with an experienced storyteller to bring audiences a fascinating tale from a neglected corner of the country. "Anthem" is currently in production and will be available to audiences later this year.
In the premiere season, "Anthem: Homunculus," written and directed by John Cameron Mitchell and Bryan Weller, will tell one story in ten 30-minute episodes with more than 30 original songs written by Mitchell and Weller. Starring Tony Award® winning actors, John Cameron Mitchell and Cynthia Erivo (The Color Purple), the first season also features even more Tony Award® winners and present/future legends such as Patti LuPone, Glenn Close, South African singer/songwriter Nakhane, Denis O'Hare, Laurie Anderson, Simone, Christopher Hanke, Ben Foster, Madeline Brewer, James Monroe Iglehart, Justin Vivian Bond and Bridget Everett.
"John Cameron Mitchell is such a special talent" said Adam Pincus, EVP Programming & Content for First Look Media. "Between John's vision, the extra-ordinary talent and the incredible original music that's such a huge part of this story - everything from Broadway to punk rock - this musical will grab audiences by the ears and take podcasts as an art to new heights."
"Anthem" is Executive Produced by Howard Gertler (Shortbus, How to Talk to Girls at Parties, Academy Award® nominee for How to Survive a Plague), Mitchell, Weller and Topic Studios. Edited by Emmy Award® winner Brian Kates, A.C.E.
John directed, starred in and co-wrote, with Stephen Trask, the musical film Hedwig and the Angry Inch (2001), for which he received the Best Director Award at the Sundance Festival and was nominated for a Golden Globe as Best Actor. His recent Broadway production garnered the 2014 Tony Award for Best Revival of Musical and a 2015 Special Tony for his return to the role. He directed the sexually frank ensemble film Shortbus (2006), and his film adaptation of the Pulitzer Prize-winning play Rabbit Hole (2010) received an Oscar nomination for Nicole Kidman. He's recently played recurring roles in HBO's Girls, HBO's Vinyl, CBS's The Good Fight, and Amazon's Mozart in the Jungle. This summer his film adaptation of Neil Gaiman's punk-era How to Talk to Girls at Parties will be released starring Elle Fanning, Alex Sharp and Nicole Kidman.
Bryan has co-written and performed on six original songs for John Cameron Mitchell's upcoming How to Talk to Girls at Parties, which will appear both in the film and on the soundtrack being released by Sony Masterworks in May 2018.
Oscar-nominated producer Howard Gertler's credits include David France's "How to Survive a Plague," which premiered in competition at Sundance 2012 and was released by IFC Films/Sundance Selects; in addition to the Academy Award nomination, the film collected New York Film Critics' Circle, Peabody, IFP Gotham, IDA and GLAAD Media Awards. He's both an IFP/Gotham and Film Independent Spirit Award winner, the latter of which he won for producing John Cameron Mitchell's "Shortbus," which premiered in the official selection in Cannes and was released worldwide. His upcoming films include John Cameron Mitchell's adaptation of Neil Gaiman's "How to Talk to Girls at Parties," produced with See-Saw Films, Film4, Ingenious and Screen Yorkshire, to be released by A24 and Studiocanal UK in 2018 and Rhys Ernst's "Adam," based on the book by Ariel Schrag and produced with James Schamus.
Topic is the ambitious new storytelling brand (Topic.com) and entertainment studio (Topic Studios) from First Look Media, dedicated to supporting creators at the forefront of culture. From Academy Award®-winning films (Spotlight) to television, digital and audio (Missing Richard Simmons podcast), we explore a wide range of subject matter, both fiction and nonfiction. Our approach - challenging, compelling and unconventional - reflects our commitment to discovering and amplifying independent new voices, and supporting established ones.