Jennifer Jewell Presents RAISON D'ÊTRE: AN EVENING OF PIRANDELLO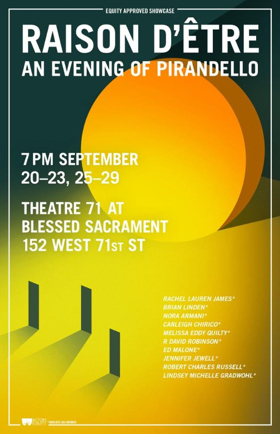 Jennifer Jewell presents "Raison d'être: an Evening of Pirandello," adapted from selected works by Nobel Prize Laureate for Literature and Italian dramatist, novelist, poet, and writer Luigi Pirandello. "Raison d'être: an Evening of Pirandello," explores the complexity and depth of Pirandello's work by taking his seminal play, "Six Characters in Search of an Author" and infusing it with characters and themes from two of his notable one-act plays, "Chee Chee" and "The Man with the Flower In His Mouth."
In "Raison d'être: an Evening of Pirandello," the play features original translations from Roberto Di Donato and Giovanni Villari and is adapted by Director Patrick Mulryan. This modern interpretation of the classic, weaves together three works that showcase Pirandello's markedly unique style and his examination of the various personas that people choose to wear or that society forces upon them.
"Six Characters in Search of an Author" is play about a play. Drama is teased out through conflict between actors, the director, the six characters, and the missing author. Beginning with a supposed daytime rehearsal of the short one-act Pirandello plays "Chee Chee" and "The Man with the Flower in his Mouth," the actors and director are interrupted and overtaken by an unruly family. The family insists that the actors and director help tell their exceptional and unusual true story about a stepdaughter who has become a prostitute and the stepfather who has mistakenly purchased her. It is a tale that ends in bitter tragedy. "Six Characters in Search of an Author" puts the theater and its processes on stage, taking apart a play's inner workings and making them visible to the spectator.
"Raison d'être: an Evening of Pirandello," melds these three works together to tackle issues regarding the human condition and our relationships with one another. The Characters of "Six Characters in Search of an Author" live by the very essence of their nature, yet they long for connection. The actors in "Chee Chee" reflect man's chaotic and mischievous temperament through their actions and isolation. Finally, "The Man with the Flower in his Mouth" captures the need for human connection on a deeply personal level and examines the concept of time through the lens of two lives, one rich with it and one for which time is fleeting.
The company of "Raison d'être: an Evening of Pirandello" includes: Mickey Abbate (as Chee-Chee), Lucie Allouche (as Stepdaughter), Nora Armani (as Mother), Carleigh Chirico (as Girl), Jennifer Jewell (as The Man with a Flower in His Mouth), David Klein (as Son), Alex Might (as Boy), Rachel Lauren James (as Nada), Brian Linden (as Father), Ed Malone (as Stage Manager), Melissa Eddy Quilty (as Madame Pace), R David Robinson (as Producer), Robert Charles Russell (as Commuter) Giovanni Villari (as Commander Squatriglia)
"'Raison d'être: an Evening of Pirandello' was inspired by the desire to create an evening of theatre that was new but derived from the themes and storyline found in Pirandello's works. As we continued to work through his scripts, we realized that using our own, original translation would give us the artistic freedom to keep the text fresh and modern. As we examined Pirandello's work, certain human themes, including identity, illusion, and reality, jumped out of the text. It was natural to combine these three pieces, as similar underlying motifs can be found within them that speak to and explore human nature," said Jennifer Jewell, Producing Director.
Link to purchase tickets: https://www.brownpapertickets.com/event/3597340
ABOUT THE ARTISTS
Playwright: Luigi Pirandello
Luigi Pirandello was an Italian playwright, novelist, short-story writer and winner of the 1934 Nobel Prize for Literature. He wrote a great number of novels and novellas but Pirandello's greatest achievement was his plays. With his invention of the "theatre within the theatre" in the play, "Six Characters in Search of an Author" (1921), he became an important innovator in modern drama. He wrote a large number of dramas which were published, between 1918 and 1935, under the collective title of "Naked Masks," in reference to the problem of human identity.
Director: Patrick Mulryan
Patrick Mulryan is an actor, teacher, and director based in New York City. Last summer he directed "Goblin Market" (J. Jewell Productions) in New York at 59E59 and abroad at the Edinburgh International Fringe Festival. As an actor, he appeared in Fiasco Theater's acclaimed production of "Into the Woods" in London at the Menier Chocolate Factory as well as in New York at The Roundabout Theatre (Lortel Award for Outstanding Revival) and on tour (LA Drama Critics Award). Other performance credits include: "Fiasco's Cymbeline" (Barrow Street, TFANA); "Bum Phillips All-American Opera" (La MaMa); "As You Like It" (Happy Few Theatre Company, NYIT Award Nomination); Fiasco's "Into the Woods" (McCarter, Old Globe); "Cabaret" and "Importance of Being Earnest" (Trinity Rep); "Chain of Fools" (Guthrie). Patrick is core faculty (Voice and Speech) at the Tom Todoroff Conservatory in New York City and adjunct faculty in the Brooklyn College MFA Acting Program. He has been a guest lecturer in Voice and Speech at Pace, SUNY Purchase, and Fordham. He has developed work with Tectonic Theater Project, TFANA, Fiasco, Lark, New Georges, and at the O'Neill Center (NMTC). Patrick received his MFA in Acting from Brown University/Trinity Rep. Other training includes: Moscow Art Theatre (NTI), Oberlin College (BA), and Guthrie Experience for Actors in Training (GEx 13). Patrick is a member of The Actors Center workshop company, the National Alliance of Acting Teachers, and VASTA.
ABOUT Jennifer Jewell
Jennifer served as producing director for Green Room Projects in Nashville, Tennessee and was the founder of Bona Roba Equine Therapy, an equine-assisted learning and arts therapy program. Jennifer is a participating member of Theatre Resources Unlimited, just completing PDMP, Producer's Development Mentor's Program in June 2018. She currently serves as Producing Director of J. Jewell Productions and is committed to connecting community through vibrant resonant collaborative works both inside the theatre and out.
Theatre credits include: Critically acclaimed 2017 Off-Broadway solo performance of "Goblin Market" at 59E59 Theatres and Edinburgh Fringe Festival, La Mama Umbria International selected staged reading series "Stolen," "Sylvia" at Tennessee Repertory Theatre, "The Madwoman of Chaillot" at People's Branch Theatre, "The Merry Windsor" at John Drew Theatre in East Hampton, "Henry V" at Kentucky Shakespeare, "Cat on a Hot Tin Roof" at Tennessee Williams Theatre, "The Comedy of Errors" at The Nashville Shakespeare Company, "At a Drop of a Hat" and Rosemarie in "Into the Ditch" at Key West Theatre Festival, "Nurse Jane Goes to Hawaii" at Chaffin's Barn Dinner Theatre, Medea Redux in "Bash - Latter-day Plays" at Actor's Bridge Ensemble, "A Life in the Woods" at Nashville Children's Theatre.