Click Here for More Articles on NEW YORK CITY
Irish Arts Center to Pay Tribute to American Jazz Company Riverside Records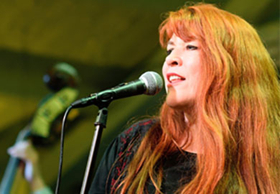 Irish Arts Center's newest artist-curated jazz series, Tobin's Run on 51, returns with a special tribute to Riverside Records, the American jazz record company that previously inhabited the Center's home at 553 West 51st Street.
On October 12, the award-winning Irish vocalist, songwriter and composer Christine Tobin and acclaimed jazz guitarist Phil Robson will present an evening of songs, bringing together some of New York's best musicians to awaken the spirits that will forever inhabit IAC's historic home.
Founded by Orrin Keepnews and Bill Grauer, Riverside Records played an important role in the jazz record industry and represented jazz and blues veterans such as Thelonious Monk, Randy Weston, Cannonball Adderley, Bill Evans, Charlie Byrd, Johnny Griffin, Wes Montgomery, and folk artists Bascom Lamar Lunsford, Obray Ramsey, George Pegram, and Walter Parham.
In addition to Tobin (vocals) and Robson (guitar), the evening will feature Peter Brendler (upright bass), Charles Goold (drums), Craig Handy (saxophone) and Fintan O'Neil (piano). Tickets for the concert start at $20 and are available by visiting www.IrishArtsCenter.org or by calling 866-811-4111.
Irish-born vocalist and composer Christine Tobin's style, although rooted in jazz, is incredibly eclectic, drawing on a broad range of influences from Ireland to West Africa to Brazil. Her sound is rich, authentic and deep. Much of her repertoire is self-penned and Tobin has received many accolades for her skills as a writer and arranger. In 2012 she won a British Composer Award for Sailing to Byzantium, her settings of poems by W.B. Yeats. In addition to her "Herald Angel Award," in 2013 she was shortlisted for two Parliamentary Jazz Awards: "Musician of the Year" and "Album of the Year." In 2008, she was named Best Vocalist at the BBC Jazz Awards.
Her versatility and musical integrity has ensured that she is a much in demand guest with other bands. She has performed and recorded with a list of diverse creative artists, including musicians Kenny Wheeler, Mike Gibbs, JulIan Joseph, Nigel Kennedy, Django Bates, Billy Childs, BBC Big Band, Peter Herbert, Carleen Anderson, Tim Garland, Cleveland Watkiss, Gary Husband, Liam Noble, Billy Hart, actor Gabriel Byrne, film director Mike Figgis and Pulitzer Prize-winning poet Paul Muldoon. Tobin has released ten albums to date.
UK-born & now NYC-based Phil Robson is internationally regarded as a highly versatile and creative player and renowned bandleader and composer who appears in a number of diverse settings. Robson co-leads the cult band Partisans with JulIan Siegel, which has been a major influence on the European contemporary scene and beyond. Robson has played with a diverse cross section artists such as Barbra Streisand, Django Bates, Kenny Wheeler, Bob Brookmeyer, Adam Nussbaum, Donny McCaslin, Maceo Parker, Marc Copland, Jeff Williams, Charles Earland and Steve Lacy, to name just a few.
Founded in 1972, Irish Arts Center is a New York-based arts and cultural center dedicated to projecting a dynamic image of Ireland and Irish America for the 21st century, building community with artists and audiences of all backgrounds, forging and strengthening cross-cultural partnerships, and preserving the evolving stories and traditions of Irish culture for generations to come. Our multi-disciplinary programming is centered around three core areas: Performance - including live music, dance, theatre, film, literature, and the humanities; Exhibition - including visual arts presentations and cultural exhibitions that tell the evolving Irish story; and Education - with dozens of classes per week in Irish language, history, music, and dance.
Located in New York City, a global capital of arts and culture, Irish Arts Center serves as a dynamic platform for top emerging and established artists. Irish Arts Center is currently developing plans to construct a new facility to serve our multi-disciplinary program and will be the strongest possible gateway for artists to reach into our cultural community and nourish their work, to connect with our partner institutions who help them innovate, and to become visible in The New York City media market which enhances their ability to achieve U.S and further international success.
The New Irish Arts Center will contain a purpose-built, state-of-the-art contemporary performance space for music, dance and theatre seating up to 160; industry-standard back of house and support facilities to allow artists to achieve their vision; a second, intimate performance space - the renovated historic Irish Arts Center theatre - optimized for live music, literature, film, talks, large classes and special events; classrooms and studio space for community education programs in Irish music, dance, language, history, and the humanities, and for master classes and workshops by visiting and resident artists; technology capability to project the Irish Arts Center experience on the digital platform; an avenue-facing café lobby to engage with the neighborhood and provide a social setting for conversation and interaction between artists and audiences; a beautiful new courtyard entrance on 51st Street where the historic Irish Arts Center building and the new facility meet.
Related Articles
More Hot Stories For You
Breaking: MRS. DOUBTFIRE Will Open on Broadway in Spring 2020 at the Stephen Sondheim Theatre
This just in! Mrs. Doubtfire, the new musical based on the film of the same name, will open on Broadway this coming spring at the Stephen Sondheim The... (read more)

HAMILTON Will Hold A Fan Performance on October 31 With All Tickets Available For $10 Via Lottery
For the second year in a row, Hamilton will host a special fan performance on Thursday, October 31 at the Richard Rodgers Theatre on Broadway, with al... (read more)

Breaking: Ethan Slater, Gavin Lee & More Will Reunite to Film SPONGEBOB for Nickelodeon
Following a critically lauded run on Broadway, members of the original award-winning Broadway company of The SpongeBob Musical: Live On Stage! will re... (read more)

Quiz: Which Broadway Show About Gods Are You?
Bring on the monsters because The Lightning Thief: The Percy Jackson Musical is officially open on Broadway! We're celebrating Camp Halfblood coming t... (read more)

MOULIN ROUGE To Head To The West End in 2021
The blockbuster Broadway hit, Moulin Rouge, will be heading to the West End in 2021!... (read more)

BWW Photo Exclusive: Adam Pascal Stars In THE MUSIC MAN At 5-Star Theatricals
Tony nominee Adam Pascal stars as Professor Harold Hill in the first show of the 5-Star Theattricals 2019-2020 season, THE MUSIC MAN.... (read more)