InterSchool Orchestras Of New York Will Present its Winter Concert At Symphony Space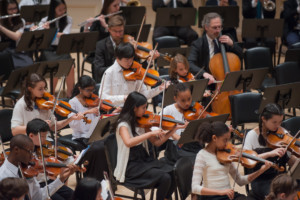 Interschool Orchestras Of New York will hold its Winter Concert on Sunday, December 16, 2018 at 4:00 PM at Peter Norton Symphony Space, 2537 Broadway (at 95th Street). Tickets are $25.00; Members at $20.00; Children under 18 are free.
Tickets can be purchased at: https://www.symphonyspace.org/event/93801/Music/interschool-orchestras-of-new-york-winter-concert
InterSchool Orchestras (ISO) Winter Concert at Peter Norton Symphony Space will be on Sunday December 16th at 4pm. These programs will feature a combination of classical orchestral music, along with holiday favorites.
The 4pm Concert will feature all four ISO ensembles, ISO Symphony, Concert Orchestra, Carnegie Hill Orchestra and Morningside Orchestra. All four ensembles will be led by Maestros Jeffrey Grogan, Barry Stern, Steven Rochen and Matt Rochen. Music of Tchaikovsky, Beethoven, Anderson, Verdi, Corelli, Silvestri and Dvorak will be performed. Holiday classics such as Sleigh Ride, Waltz of the Flowers and Polar Express among others will be performed.
Founded in 1972 and incorporated in 1974, the InterSchool Orchestras of New York (ISO) began with a single orchestra of 20 children. Today, ISO serves more than 250 children, creating opportunities for school-aged children in New York City to make music together through four tiered level orchestras. ISO provides a nurturing environment where all children can realize their personal best, achieve high artistic standards, and share music with the community. The ensembles perform in major concert halls, schools and community centers, bringing great music to over 7,000 people annually. Generous financial aid and scholarships ensure that every child can participate. For more information, please visit http://isorch.org/.