Immersive FringeNYC Show TOGETHER... Transports Audience To A Support Group With Two Grieving Parents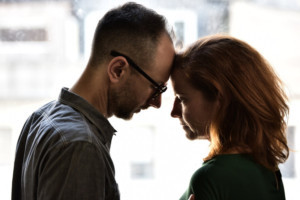 TOGETHER WE ARE MAKING A POEM IN HONOR OF LIFE by Dean Poynor (MFA Carnegie Mellon) will be produced in NYC in October as part of FringeNYC with performances 10/14-10/28. The immersive play follows two parents, Rebecca and Brian, as they navigate a series of support group meetings following the loss of their child in a school shooting. In this poignant & powerful piece of live theatre, the audience is a part the support group circle of chairs alongside the actors, and the play will be performed in a Church basement, a space reminiscent of those used for actual support group meetings (seating is limited for each performance). The play will be directed by acclaimed downtown artist Joshua William Gelb (member of Lincoln Center Directors Lab) and is produced by The Salvage Company (NYC).
Adding another dynamic component to the show, playwright Dean Poynor stars in the production as Brian opposite his real-life wife, actress Monica Wyche as Rebecca. The couple have a 6-year-old son so their real-life roles as parents make the piece extra compelling).
TOGETHER WE ARE MAKING A POEM IN HONOR OF LIFE has shows on Sun. 10/14 at 7PM, Wed. 10/17 at 7:30PM, Wed. 10/24 at 7:30PM, Fri. 10/26 at 8:00 and Sunday 10/28 at 4PM at 685 Washington Street (Corner of Charles). Tickets are $22 and can be purchased online at www.FringeNYC.org.
Dean Poynor's plays have been developed and produced with Visconti Productions (NYC), Mixed Blood Theatre, Nashville Repertory Theatre / Ingram New Works Lab, The Lark, Great Plains Theatre Conference, The Playwrights' Center (Core Member Apprentice), Kennedy Center, and elsewhere. Dean has received the Alfred P. Sloan Foundation screenplay award, the Helford Prize for Drama, Holland New Voices Playwright Award and others, along with two Shubert Foundation fellowships. www.deanpoynor.com
Monica Wyche has worked with the Flea Theatre, Primary Stages, Dixon Place, Re:Group Theatre, and others in NYC. Regional work includes Milwaukee Rep and Trustus Theatre, among others. TV includes roles in THE PATH (recurring), THE SINNER, MY ASTRONAUT, THE LOOMING TOWER, THE DEFENDERS, [BLANK] MY LIFE, LAW AND ORDER: SVU, BLINDSPOT, and ARMY WIVES. Film includes PRETTY IS, BEARS DISCOVER FIRE, and the upcoming UNEARTH, (w/ Adrienne Barbeau.) MFA: University of South Carolina. www.monicawyche.com
Joshua William Gelb is a Lower East Side director and performer in residence at Abrons Arts Center with a new adaptation of The Jazz Singer. Recent projects include a re-imagining of America's supposed first musical The Black Crook, about which he lectured at Harvard University's Houghton Library, and the Drama Desk nominated A Hunger Artist, which continues to tour. He has also worked at Ars Nova, Target Margin, The New Ohio, Incubator Arts Project, Ice Factory, Joe's Pub, Edinburgh Fringe, Polyphone Festival, Qubit, Prelude, among others. Gelb is a member of the Lincoln Center Directors Lab, and an associate artist with Sinking Ship. www.joshuawilliamgelb.com