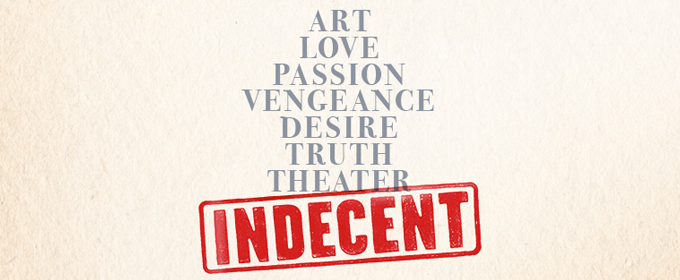 Click Here for More Articles on INDECENT
INDECENT Ends Broadway Run with Stunning Final Week Gross of $739,171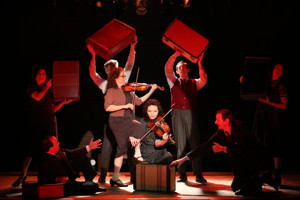 INDECENT, a play by Pulitzer Prize-winner Paula Vogel, created by Ms. Vogel and Rebecca Taichman, and directed by Ms. Taichman, finished its extended run at Broadway's Cort Theatre yesterday with its highest weekly gross of $739,171. INDECENT began previews April 4 and opened April 18. The production played 128 performances and 15 previews.
In what has become one of the most talked-about theatrical stories of 2017, INDECENT was originally scheduled to close on June 25, but extended its run through Sunday, August 6, in the wake of increased ticket sales and passionate audience response. In a historic gesture, the closing notice was taken down, and INDECENT went on to play profitably for every week of its six-week extension. In its final week, INDECENT was filmed by BroadwayHD, for streaming availability in January, 2018, in conjunction with International Holocaust Remembrance Day. The HD film was directed for the screen by Emmy Award-winner
David Horn
, Executive Producer of public television's acclaimed series "
Great Performances
" and "Theater Close-Up." INDECENT continues its life beyond Broadway as national and international theatres are scheduled to present licensed productions in their upcoming seasons, beginning with The
Guthrie Theatre
in Minneapolis, this season, and The Huntington in Boston, and into next season with 20 productions anticipated at theaters in the following cities for 2018-2019: Philadelphia, PA;
Palm Beach
, FL; Toronto, Canada; Kansas City, MO; Indianapolis, IN; St. Louis, MO; Hamilton, Ontario, Canada; Denver, CO; Montreal, Canada; Washington, DC; Seattle, WA; Sarasota, FL; Dallas, TX; Chicago, IL; Houston, TX; Portland, OR; Tucson, AZ; Phoenix, AZ; and Tel Aviv, Israel. INDECENT won two 2017 Tony Awards, for Best Direction of a Play (
Rebecca Taichman
) and Best Lighting Design of a Play (
Christopher Akerlind
). The production also received the Outer Critics Circle Award and Obie Award for Outstanding Director of a Play (
Rebecca Taichman
), the Drama Desk for Outstanding Lighting Design for a Play (
Christopher Akerlind
) and the Lortel Award for Outstanding Choreography (
David Dorfman
).
Paula Vogel
was ­­­honored with a Special Citation as playwright and mentor from
The New York
Drama Critics Circle, and received a Lifetime Achievement Award from the Obie Awards. INDECENT was produced on Broadway by
Daryl Roth
,
Elizabeth Ireland McCann
and
Cody Lassen
,
Jerry Meyer
,
Jay Alix
&
Una Jackman
,
Elizabeth Armstrong
,
Julie Boardman
,
CoGro Partners
,
Nicole Eisenberg
,
Four Star Productions
,
GLS Productions
, The
John Gore
Organization,
Kathleen K. Johnson
,
Dana M. Lerner
,
Jenn Maley
,
Mano-Horn Productions
,
Marc Platt
, and
Storyboard Entertainment
, in association with
Yale Repertory Theatre
,
La Jolla Playhouse
and
Vineyard Theatre
.
Photo Credit: Carol Rosegg