Help Raise Money for Under-Represented Theatre Students Through The Fund for College Auditions- Donate Today!
Auditioning for colleges can be an expensive process and The Fund for College Auditions knows it. The organization is a New York City-based 501(c)(3) non-profit that offers financial support and college guidance to acting and musical theatre students with limited resources who want to audition for post-high school training programs, focusing on but not limited to those who identify with groups that are historically and currently underrepresented in theatre, film, and television. These groups include students who self-identify as any of the following: BIPOC, trans, nonbinary, disabled, neurodiverse, and weight diverse.
How can you help? Through the month of July, funds are being collected for TFCA in a special initiative that has already raised over $1000 for the organization. Those who wish to donate can send funds to Venmo: @DonateThruGary. At the end of the month, 100% of funds raised will be sent straight to TFCA. The initiative is also accepting pledges from individuals and organizations to match donations raised.
Donations can also be sent directly to: https://thefundforcollegeauditions.org.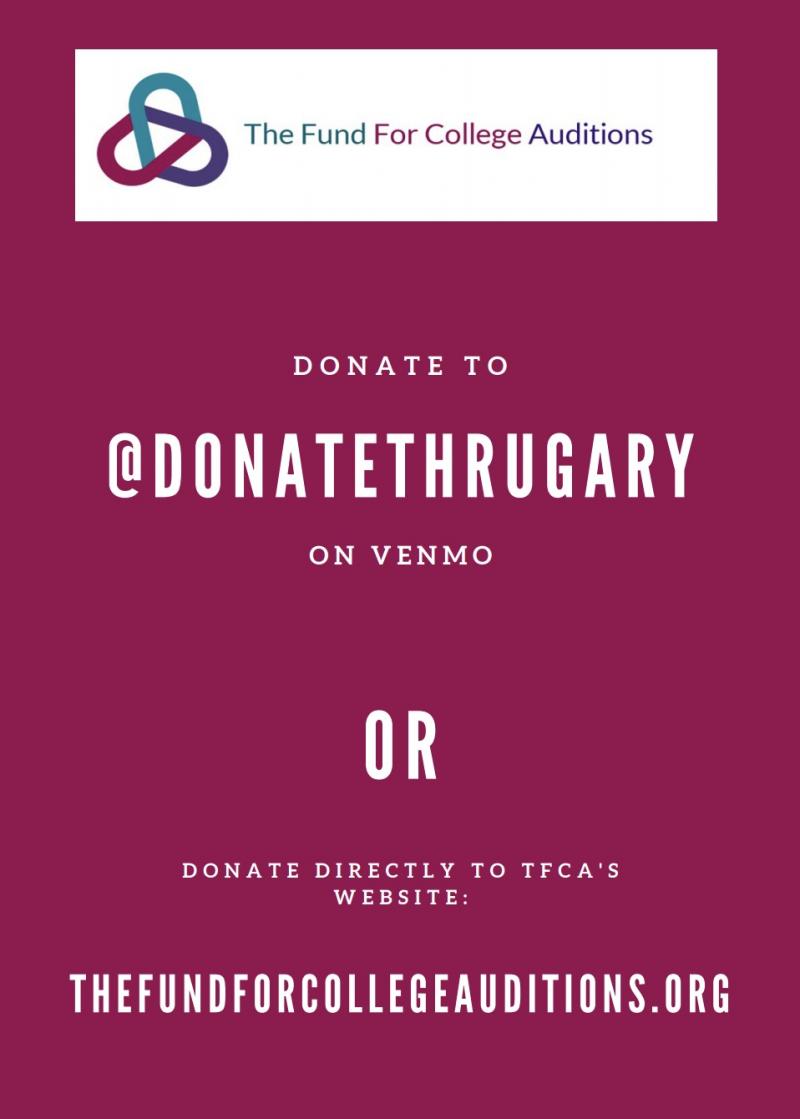 "Through supporting qualified young theatre artists who may not otherwise have access to the resources needed to excel in the extremely competitive audition process for college-level training, we advocate for diversity, equity, and belonging in college-level theatre training programs," says the organization's official website. "We believe our mission of providing support for those seeking theatre training will aid in the diversification of theatre, film, and television at the professional level and a significant reduction of the systemic inequalities that persist in those fields."
For additional information, visit: https://thefundforcollegeauditions.org/
Related Articles

More Hot Stories For You
VIDEO: HAMILTON Fan Creates a Side-By-Side Comparison of 'Helpless' and 'Satisfied'
One Hamilton fan saw some parallels while watching the musical on Disney+, specifically between A Winter's Ball/Helpless and Satisfied....

Ben Vereen's Son, Ben Vereen Jr., Has Died
BroadwayWorld is saddened to hear of the passing of Benjamin Vereen Jr., the son of Tony-winning actor Ben Vereen....

Disney Employee Pulls the Curtain Back on What it is Like to Work at Disney World During the Pandemic
Rolling Stone has reported on a conversation they had with one Disney World employee, pulling the curtain back on issues of safety, whether social dis...

Photo Flash: Berkshire Theatre Group's GODSPELL Takes Bows as First Equity-Approved Musical
The first musical in the United States to be approved by Actors' Equity Association has officially begun performances. Berkshire Theatre Group's Godsp...

Debra Messing and Eric McCormack Will Moderate an Online Discussion and Fundraiser For Joe Biden
Debra Messing and Eric McCormack will moderate an upcoming online discussion and fundraiser for Joe Biden....

Jason Robert Brown, Carolee Carmello, Chita Rivera & More Pay Tribute to Brent Carver
As BroadwayWorld reported yesterday, Tony Award winning actor Brent Carver has passed away at age 68. This evening, Carver's Broadway colleagues took ...