Greenwich Village Orchestra Presents Concerti Per Tutti Featuring Lysander Piano Trio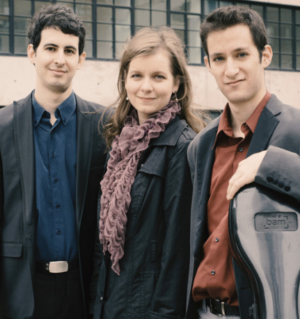 The Greenwich Village Orchestra (GVO) presents Concerti Per Tutti, led by Music Director Barbara Yahr, on Sunday, December 2, 2018 at 3:00pm at All Saints Church. The ensemble-focused program features the award-winning Lysander Piano Trio (Itamar Zorman, Liza Stepanova, Michael Katz) in Beethoven's lyrical Triple Concerto. The orchestra itself becomes the soloist in Bartók's poignant Concerto for Orchestra.

Future GVO concerts this season include the annual family concert, All in the Family, on Sunday, December 16, 2018 at 3:00pm; Eastern Romance on Sunday, February 24, 2019 at 3:00pm featuring violinist Ming-Feng Hsin in Glazunov's Violin Concerto; Orchestral Brilliance on Sunday, April 7, 2019 at 3:00pm featuring bass trombonist George Curran in Chris Brubeck's Prague Concerto; The Earth In Context on Sunday, May 19, 2019 at 3:00pm featuring principal trumpet Phil Parsons and English hornist Jason Smoller in Copland's Quiet City; and two chamber music concerts at the Tenri Cultural Institute.

About Lysander Piano Trio
The Lysander Piano Trio, a winner of the Concert Artists Guild Competition, has been praised by The Strad for its "incredible ensemble, passionate playing, articulate and imaginative ideas and wide palette of colours." The Trio has developed a reputation for innovative programming of master works from the canon alongside newer works and hidden gems of the repertoire. An ideal example of this is the Trio's 2014 debut recording, After a Dream (CAG Records), featuring music by Ravel, Haydn, Schubert, Joaquin Turina, and Moshe Zorman, which was acclaimed for its "polished and spirited interpretations" (The New York Times).

The Trio will be touring extensively in the 2018-2019 including appearances at Bard Festival, Mobile Chamber Music, National Sawdust, Chamber Music Kelowna, Calgary Pro Musica, Clemson University and Pro Musica of San Miguel in Mexico. In addition, the group will perform in concerts and residencies across the United States as a featured touring group of Allied Concert Services. Previous seasons' engagements include appearances at Mostly Mozart's 50th Anniversary season at David Geffen Hall, as well as concerts at the Copenhagen Summer Festival and The Chautauqua Institution, and a critically acclaimed recital at the Smithsonian American Art Museum in DC. Other highlights included engagements at Weill Recital Hall at Carnegie Hall (CAG New York Series), UCLA's Clark Memorial Library, and Chamber Music Tulsa, along with debut performances at Spivey Hall (near Atlanta), The Kravis Center (West Palm Beach), and the Chamber Music Societies of Little Rock, AR and Melbourne, FL. The Trio was also featured in a special collaborative program with clarinetist Charles Neidich, presented by the Chamber Music Society of Philadelphia in January 2017.

The Lysander Piano Trio was formed at The Juilliard School in 2009, and selected that year to represent Juilliard in a special concert in Mexico City. The group went on to win top honors at the 2010 Fischoff National Chamber Music Competition, the 2011 Coleman Chamber Ensemble Competition (Grand Prize), and the 2011 J. C. Arriaga Chamber Music Competition (First Prize). The Trio has performed in master classes for Alfred Brendel and for Ida and Ani Kavafian at the Chamber Music Society of Lincoln Center, and it has studied with Ronald Copes of the Juilliard String Quartet, Joseph Kalichstein of the Kalichstein-Laredo-Robinson Trio, and Seymour Lipkin. The Lysander Trio takes its name from the character in Shakespeare's A Midsummer Night's Dream.

About the Greenwich Village Orchestra
Now in its 32nd season, the GVO is committed to making music at the highest possible level and enriching the lives of both players and audience through emotionally charged, exhilarating performances. The GVO was founded in 1986 by a group of musicians from the New York Metropolitan area. The 70-member community orchestra is made up of accountants, actors, artists, attorneys, carpenters, editors, physicians, professors, photographers, computer programmers, retirees, scientists, students, and teachers, among others. Now in it's 32nd season, the GVO is committed to making music at the highest possible level and enriching the lives of both players and audience through emotionally charged, exhilarating performances.

The GVO regularly performs with internationally acclaimed soloists. In recent years, the orchestra has performed alongside soloists such as violinists Andrés Cárdenes, Itamar Zorman, and Hye-Jin Kim; cellists Edward Arron, Raman Ramakrishnan, David Heiss, and Brook Speltz; soprano Christine Goerke; mezzo-sopranos Jennifer Johnson Cano and Naomi O'Connell; baritone Jesse Blumberg; trumpet soloist Brandon Ridenour; and more.
About Barbara Yahr
Now in her seventeenth season with the GVO, Music Director Barbara Yahr continues to lead the orchestra to new levels of distinction. With blockbuster programming and internationally renowned guest artists, the GVO under Barbara's baton, has grown into an innovative, collaborative institution offering a full season of classical music to our local community.

A native of New York, Yahr's career has spanned from the United States to Europe, the Middle East, and Asia. Her previous posts include Principal Guest Conductor of the Munich Radio Orchestra, Resident Staff Conductor of the Pittsburgh Symphony under Maestro Lorin Maazel and conductor of the Pittsburgh Youth Orchestra. She has appeared as a guest conductor with such orchestras as the Bayerische Rundfunk, Dusseldorf Symphoniker, Deutsche Kammerphilharmonie, Frankfurt Radio, Orchestra Sinfonica Siciliana, Janacek Philharmonic, New Japan Philharmonic, NHK Symphony Orchestra, Singapore Symphony, and the National Symphony in Washington D.C. She has also conducted the orchestra in Anchorage, Calgary, Chattanooga, Columbus, Detroit, Flint, Louisiana, New Mexico, Lubbock, Richmond as well as the Ohio Chamber Orchestra, St. Paul Chamber, Rochester Philharmonic, Cincinnati Chamber Orchestra, New World Symphony and the Chautauqua Festival Symphony Orchestra. She has also appeared in Israel conducting in both Jerusalem and Elat and as an opera conductor, has led new productions in Frankfurt, Giessen, Tulsa, Cincinnati, Minnesota and at The Mannes School of Music in NYC. She has coached the actors on the set of the Amazon Series, Mozart in the Jungle, and last season, conducted the Ridgefield Symphony Orchestra and the Pittsburgh Symphony.

Yahr is a Phi Beta Kappa graduate of Middlebury College where she studied piano and philosophy. She holds a Bachelor's degree in Conducting from the Curtis Institute of Music where she studied with Max Rudolf and an MM in Music Theory from the Manhattan School of Music. She was a student of Charles Bruck at the Pierre Monteux School in Hancock, Maine.

Yahr's commitment to finding new ways to reach a broader population with music ultimately led her into the field of music therapy. She is a Board Certified Music Therapist, with an MA in music therapy from NYU and post-graduate certification from the world-renowned Nordoff-Robbins Center for Music Therapy in New York City. Her pioneering, community music therapy project, Together in Music, brings orchestral music to the special needs community with uniquely interactive programs. Barbara is married to Alex Lerman and has two adult step-children, Abe and Dania, and a 16 year-old son, Ben.

Related Articles
More Hot Stories For You
Andrew Lloyd Webber's Really Useful Group Outlines Potential Guidelines to Be Put in Place When West End Reopens
Andrew Lloyd Webber's Really Useful Group is discussing guidelines that will need to be in place in order to safely reopen productions on the West End... (read more)

When Will Broadway Re-Open? "January," Hopes Broadway League President
'I actually am a little more optimistic than those who say Broadway will reopen in the spring, but I tend to be an optimistic person, I tend to think ... (read more)

Amanda Kloots Shares Nick Cordero is 'Day By Day, Hour By Hour' Getting Better
Amanda Kloots has shared another update on the health journey of her husband, Broadway veteran Nick Cordero.... (read more)

Social Roundup: Read How Audra McDonald, Randy Rainbow, and More Broadway Stars 'Ruined a Musical'
You might've seen this popular Twitter trend from Jared Gray going around! Read Audra McDonald, Randy Rainbow, Bebe Neuwirth, and more Broadway star's... (read more)

VIDEO: Watch Cynthia Erivo, Kelli O'Hara, Christopher Jackson and More in PBS National Memorial Day Concert
As BroadwayWorld previously reported, PBS will present the NATIONAL MEMORIAL DAY CONCERT, hosted by Tony Award-winner Joe Mantegna and Emmy Award-winn... (read more)

Meet Our NEXT ON STAGE College Top 15!
You voted, here they are! In no particular order, meet our top 15 in the college category.... (read more)