Click Here for More Articles on SPONGEBOB SQUAREPANTS
Go Jellyfishing for Tickets to SPONGEBOB SQUAREPANTS Starting Monday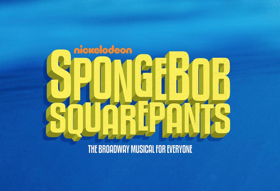 Tickets go on sale to the general public on Monday, June 26 at 10:00am ET for SpongeBob SquarePants on Broadway at The Palace Theatre (1564 Broadway - Broadway at 47th Street). Preview performances begin Monday, November 6th with an official opening on Monday, December 4th. For tickets visit Ticketmaster.com or call 877-250-2929.
Citi is the official U.S. credit card of SpongeBob SquarePants on Broadway. Citi cardmembers will have access to Preferred Seating beginning June 26th at 10:00 AM EDT through Citi's Private Pass program. For complete details visit www.citiprivatepass.com.
SpongeBob SquarePants cast will include Ethan Slater as SpongeBob SquarePants, Gavin Lee as Squidward, Lilli Cooper as Sandy Cheeks and Danny Skinner as Patrick. The full cast will be announced at a later date.
A legendary roster of Grammy Award winners. A visionary director and Tony Award-winning design team. One of the world's most beloved and unforgettable characters. Turn them all loose on Broadway and what do you get? SpongeBob SquarePants!
Acclaimed Steppenwolf director Tina Landau and the groundbreaking designers behind Fun Home, Hedwig, and Spring Awakening have brilliantly reimagined Bikini Bottom for the Broadway stage, bringing the spirit of SpongeBob to life with humanity, heart, and pure theatricality. With an original score from some of the biggest names in pop and rock, SpongeBob SquarePants explodes with energy.
Stakes are higher than ever before as SpongeBob and all of Bikini Bottom face the total annihilation of their undersea world. Chaos erupts. Lives hang in the balance. And just when all hope seems lost, a most unexpected hero rises up and takes center stage.
Get ready to dive to all-new depths of theatrical innovation at SpongeBob SquarePants, where the power of optimism really can save the world!
SpongeBob SquarePants is a musical production conceived and directed by Tina Landau, book by Kyle Jarrow, orchestrations, arrangements & music supervision by Tom Kitt, with choreography by Christopher Gattelli.
SpongeBob SquarePants is a one-of-a-kind musical event with original songs by Yolanda Adams, Steven Tyler and Joe Perry of AEROSMITH, Sara Bareilles, Jonathan Coulton, Alexander Ebert of Edward Sharpe & The Magnetic Zeros, The Flaming Lips, John Legend, Lady Antebellum, Cyndi Lauper, Panic! At the Disco, Plain White T's, They Might Be Giants and T.I., and a song by David Bowie. With additional lyrics by Jonathan Coulton and an additional song by Tom Kenny and Andy Paley.
The design team includes scenic and costume design by David Zinn, lighting design by Kevin Adams, projection design by Peter Nigrini, sound design by Walter Trarbach, hair and wig design by Charles G. LaPointe and casting by Telsey + Company/Patrick Goodwin, CSA.
Nickelodeon and Sony Masterworks Broadway have recorded the cast album of SpongeBob SquarePants and will announce its release shortly.
SpongeBob SquarePants will be produced by Nickelodeon with The Araca Group, Sony Music Masterworks and Kelp on the Road.
Since its launch in July 1999, SpongeBob SquarePants has reigned as a pop culture phenomenon. The series has been the most-watched animated program with kids 2-11 for more than 15 consecutive years, and over the past several years, it has averaged more than 100,000,000 total viewers every quarter across all Nickelodeon networks. SpongeBob SquarePants is the most widely distributed property in Viacom history, seen in more than 208 countries and territories and translated in 55+ languages. Paramount Pictures' second feature film based on the property, The SpongeBob Movie: Sponge Out of Water, in 2015 at #1 opening weekend. A third feature has been announced for 2019, timed to the series' landmark 20th anniversary. The character-driven cartoon chronicles the nautical and sometimes nonsensical adventures of SpongeBob, an incurably optimist and earnest sea sponge, and his undersea friends.
Tickets will be available to the general public online via Ticketmaster.com, or by calling 877-250-2929 on Monday, June 26th, or at The Palace Theatre box office (1564 Broadway - Broadway at 47th Street) beginning in Fall 2017. Ticket prices range from $49 to $159.
Group discounts are available for groups of 12 or more through Group Sales Box Office at Broadway.com by calling 1-800-BROADWAY x2 or online at www.broadway.com/groups.
For more information on SpongeBob SquarePants, visit SpongeBobBroadway.com.
ABOUT THE ARTISTS:
Ethan Slater (SpongeBob SquarePants) is beyond thrilled to be making his Broadway debut (!) as "SpongeBob" in SpongeBob SquarePants! Recent credits: World Premiere of SpongeBob in Chicago (BroadwayWorld Chicago Best Actor Award), and "Modell" in Diner at DTC (Dir. Kathleen Marshall); Off-Broadway: Baghdaddy (St. Luke's), PEMDAS (59e59), Claudio Quest (NYMF), What We Know (Teatro Circulo), Independents (FringeNYC); Film: "Lightning Bugs in a Jar" (Cannes 2015), "EVOL"; Web Series: "Redheads Anonymous", "New Mayor of New York". Ethan is a Vassar graduate and member of OYL. More at Ethanslater.com
Gavin Lee (Squidward). Broadway: Thenadier in Les Misérables, Bert in Disney's Mary Poppins (Tony and Olivier nominations, Drama Desk and Theater World Awards). Other theater: Showboat (Carnegie Hall), Holiday Inn (World premiere, Goodspeed), Mary Poppins (1st national tour). London's West End: Top Hat, Mary Poppins, Crazy For You, Peggy Sue Got Married, A Saint She Ain't, Me And My Girl, Oklahoma! and Contact. TV: Woodford in "White Collar" (season six), "Law and Order SVU," "The Good Wife."
Lilli Cooper (Sandy Cheeks). Ecstatic to be back in Bikini bottom! Broadway: Spring Awakening (OBC), Wicked (Elphaba). Theater favorites: Sundown, Yellow Moon (WP Theater), Natasha, Pierre...Great Comet (ART), The Wildness (Ars Nova), Noir (NYSF & NAMT), The Threepenny Opera (Atlantic Theater), LMNOP (Goodspeed). TV: Bull (CBS), Elementary (CBS), creator and star of the web-series: "It's Not Okay, Cupid" (Glamour.com). Proud LaGuardia Arts and Vassar alum. Incredibly grateful to Stone Manners Salners, Telsey & Co. and Ann Kelly. For Paulie and Dubdub. Lillicooper.com
Danny Skinner (Patrick) is excited to be making his Broadway debut as Patrick in SpongeBob SquarePants. Off-Broadway: Pluck the Day (Inaugural Season of The Araca Project); Film: Allison Clemens; Web Series: "New Mayor of New York", "Professional Friend". He holds a BFA from Syracuse University.
Yolanda Adams: Billboard Magazine's Gospel Artist of the last decade, Yolanda Adams is a 5 time Grammy Award winning artist who believes that her music heals. Not only is Yolanda a phenomenal vocalist, she is the host of the award winning, nationally syndicated radio show "The Yolanda Adams Morning Show". A renaissance lady, she is an author Points of Power, designer of a coffee line Yolanda Adams coffee, and bath & body products line, Simply Yolanda. Most of all she is a proud mom. (www.YolandaAdamslive.com) Twitter/IG: YolandaAdams
AEROSMITH'S Steven Tyler AND Joe Perry: As members of AEROSMITH--America's Greatest Rock & Roll Band--the songwriting team of Steven Tyler and Joe Perry have sold more than 150 million albums worldwide and were inducted into the Rock and Roll Hall of Fame. They are the recipients of countless awards including four Grammys, eight American Music Awards, six Billboard Awards, 12 MTV Video Music Awards and an Emmy, among many other honors. In 2013 Tyler and Perry were awarded with the Founder's Award at the ASCAP Pop Awards and inducted into the Songwriter's Hall of Fame. With scores of multi-platinum albums, AEROSMITH continues to inspire generations to get their wings, to get a grip and to just push play. It's no wonder their songs remain relevant to this day and they're one of the most beloved bands of all time.
Sara Bareilles: Sara Bareilles first achieved mainstream critical praise in 2007 with her widely successful hit "Love Song," which reached No. 1 in 22 countries around the world from her debut album "Little Voice." Since then, Sara has gone on to receive six Grammy nominations, which include Song of the Year and Best Female Pop Vocal Performance for "Love Song" and one Album of the Year for her highly acclaimed third studio album, "The Blessed Unrest." Her book, Sounds Like Me: My Life (So Far) in Song, was released in the fall of 2015 by Simon & Schuster and is a NY Times best seller. Making her Broadway debut, Sara composed the music and lyrics for "Waitress," for which she received her first Tony Award nomination for Best Score and a 2017 Grammy Award nomination for Best Musical Theater Album. She is also making her Broadway acting debut as the lead in "Waitress" for a limited engagement through June 11, 2017. "What's Inside: Songs from Waitress," her most recent solo studio album, is out on Epic Records. For more information, visit www.sarabmusic.com.
David Bowie (1947-2016): David Bowie's first hit was the song "Space Oddity" in 1969. The original pop chameleon, Bowie became a science-fiction character for his breakout Ziggy Stardust album. He later co-wrote "Fame" with John Lennon, which became his first American #1 single. An accomplished actor, Bowie starred in The Man Who Fell to Earth, in 1976. He was inducted into the Rock and Roll Hall of Fame in 1996. Driven by an entirely deeper dynamic than most pop artists, Bowie inhabits a very special world of extraordinary sounds and endless vision. In 2013, it was announced that the David Bowie Archive had given unprecedented access to the prestigious Victoria and Albert Museum for David Bowie is...., an exhibition to be curated solely by the V&A in London. Marking the first time a museum has been given access to the David Bowie Archive, the exhibition has gone on to break records in the US, Berlin and France. David Bowie is.... will continue to tour the world for the foreseeable future.
Jonathan Coulton: Jonathan Coulton is from the Internet. While a struggling music industry fell to pieces over file sharing and shifting business models, he quietly and independently amassed a small army of techies, nerds, and dedicated superfans. His songs cover an eclectic range of subjects, from zombies and mad scientists to marriage and parenthood (and now, Spongebob!). You may know him from many things, including the songs from the Portal games, his work on the NPR quiz show "Ask Me Another," or his annual comedy music cruise, the JoCo Cruise. His latest release is "Solid State," a sci-fi concept album (with a companion graphic novel by Matt Fraction and Albert Monteys) about internet culture, trolls, and how love and empathy may yet keep the world from ending.
Alexander Ebert: is an award winning singer, songwriter, composer and front man of the popular folk---rock band Edward Sharpe and The Magnetic Zeros (and formerly of Ima Robot).In 2014, he won the Golden Globe for Best Original Score to J.C. Chandor's film All Is Lost starring Robert Redford. He followed that up by scoring Chandor's next film A Most Violent Year. Additionally, he scored the Oscar winning Disney animated short Feast. Ebert was born in Los Angeles in 1978 and currently resides in New Orleans, LA. In 2011, he released his first solo album as Alexander. After the success of the band's 4th studio album, PersonA; Alex Ebert has recently released 'Broken Record'. This is the first song off his latest solo project.
Tom Kenny: voices the TV lead role of "SpongeBob SquarePants" an incurably optimistic sea sponge who lives in a pineapple under the sea, in Nickelodeon's iconic hit series SpongeBob SquarePants. The notable voice actor is familiar to Nick viewers as the voice of "Dog" in CatDog, and "Heffer" on Rocko's Modern Life. He has been the recipient of two Annie Awards for his voice work on SpongeBob SquarePants and Adventure Time. In addition to his prolific voice work, Kenny has appeared as a standup comic on such television shows as The Late Show with David Letterman, Late Night with Conan O'Brian, Premiere Blend and Comic Strip Live. Kenny was a regular cast member of HBO's critically acclaimed sketch program Mr. Show with Bob and David and appeared as the office loser "Persky" on Just Shoot Me. He has also guest-starred on The Drew Carey Show, Brotherly Love and Unhappily Ever After. He lives in Los Angeles with his wife Jill Talley, son McKinley and daughter Nora.
The Flaming Lips: The Flaming Lips are an American rock band, formed in Norman, OK., in 1983. Melodically, their sound contains lush, multi-layered, psychedelic rock arrangements. Lyrically, their compositions have elements of space rock, including unusual song and album titles. They are acclaimed for their elaborate live shows, which feature costumes, balloons, puppets, video projections, complex stage light configurations, giant hands, large amounts of confetti, and frontman Wayne Coyne's signature man-sized plastic bubble, in which he traverses the audience. Q magazine named The Flaming Lips one of the "50 bands to see before you die". The group has garnered three Grammy Awards, including two for Best Rock Instrumental Performance.
John Legend: Ohio-born Legend is a critically acclaimed, multi-award winning, platinum-selling singer-songwriter. His work has garnered him nine Grammy Awards, an Academy Award, a Golden Globe Award, the BET Award for Best New Artist and the special Starlight Award from the Songwriters Hall of Fame, among others. Most recently, Legend won his first Academy Award, first Golden Globe Award, and won the 2015 Critic's Choice Award for his song "Glory," that he wrote and performed with Common, for the film Selma.
Lady Antebellum: With a new sense of history and possibilities, Lady Antebellum's sixth studio album HEART BREAK, had Dave Haywood, Charles Kelley and Hillary Scott on a new mission - setting aside time to put themselves in new surroundings, and concentrate on writing and exploring musical endeavors with no distractions. With busbee in the producer's chair, the trio had a hand in writing eleven songs on HEART BREAK, resulting in their most intimate and heartfelt work to date. The new music follows more than 18 million units, nine No. One hits, ACM and CMA "Vocal Group of the Year" trophies three years in a row, and countless other honors including Billboard Music Awards, People's Choice Awards and Teen Choice Awards. This week Lady Antebellum also received a 2017 CMT Awards nomination for Group Video of the Year for the lyric video for "You Look Good." For more information about new music and upcoming tour dates, visit www.ladyantebellum.com.
Cyndi Lauper: Lauper is a Grammy, Emmy and Tony Award-winning (Kinky Boots) artist who, after 30 sterling years and global record sales in excess of 50 million albums. With her first album, She's So Unusual, Lauper won a Grammy Award for Best New Artist and became the first female in history to have four top-five singles from a debut album. Since then, Lauper has released ten additional studio albums and was recently inducted into the Songwriters Hall of Fame. Overall, during her storied music career, Lauper has been nominated for 15 Grammy Awards, two American Music Awards, seven American Video Awards and 18 MTV Awards.
Andy Paley: is the veteran pop/rock composer-producer whose songs have been covered by everyone from Madonna to BrIan Wilson as well as The Beach Boys, the Ramones and, of course, SpongeBob SquarePants. He and Tom Kenny, the voice of SpongeBob, have written two albums worth of buoyant songs for the character including "Don't Be A Jerk (It's Christmas)" and, of course, "The Best Day Ever."
Panic! At the Disco: Award-winning internationally acclaimed rock band Panic! At The Disco released their latest album, Death Of A Bachelor, in January 2016. The album debuted at No. 1 on the Billboard 200 chart, with their single "Victorious" debuting at No. 1 on iTunes Top Songs, iTunes Alternative Songs, and Billboard and Twitter's Trending 140 charts just hours after its release. The platinum-certified album was nominated for "Best Rock Album" at this year's Grammys, was the #4 biggest selling album released in 2016 just behind Drake, Beyonce, and Rihanna respectively, and has amassed over 500 million streams. Most recently, the band is coming off their headline Death Of A Bachelor Tour which sold out arenas across the U.S. including NYC (Madison Square Garden), Chicago (Allstate Arena), LA (The Forum), and many more.
Plain White T's: Hailing from the suburbs of Chicago, the punk-pop outfit Plain White T's began taking shape in 1997, a full ten years before the acoustic ballad "Hey There Delilah" made them Grammy-nominated stars. "Hey There Delilah" topped the charts in ten different countries and helped jump-start sales of their album, Every Second Counts. Plain White T's received two Grammy nominations for the song, and the band returned in 2008 with Big Bad World, featuring the band's usual mix of spunky energy and pop/rock craft. The band returned to action with the 2013 EP Should've Gone to Bed before delivering the full-length American Nights in April 2015. Plain White T's recently resigned to Fearless Records and they are back in the studio working on a new album. "Land of the Living" is the first track to be released by Fearless Records this year, and there is more new music to come.
They Might Be Giants: From Brooklyn, New York, They Might Be Giants have been performing together for 33 years and drink more coffee than most. They have made some albums and won some awards. They are presenting a brand new, top quality song every week at their web site, DialASong.com.
T.I.: Never one to march behind anyone else, rapper/songwriter/producer T.I. has crafted a standard-setting career that includes three Grammy Awards and status as a hip-hop icon. His distinct flow and lyrical skills drew widespread national attention with 2003's Trap Muzik. His eight-album catalog includes three consecutive No. 1 debuts on the Billboard 200 (2006's King, 2007's T.I. vs. T.I.P. and 2008's Paper Trail). His most recent album was 2012's "Trouble Man: Heavy Is the Head. The rapper also counts a string of hit singles, among them "Bring 'Em Out," "What You Know," "Whatever You Like," "Live Your Life" featuring Rihanna and "Dead and Gone" featuring Justin Timberlake. His multi-platinum tally includes a total of four Billboard Hot 100 No. 1's plus sales of more than 30 million singles and 14 million albums.
Tina Landau (Director) is a writer and director, and an ensemble member at Steppenwolf Theatre Company where numerous productions include The Wheel, The Brother/Sister Plays, The Tempest, The Time of Your Life, The Cherry Orchard, Ballad of Little Jo, and her own play Space (also Mark Taper Forum, NY's Public Theatre.) Tina's New York directing credits include Old Hats (also airing on PBS), Big Love, and Iphigenia 2.0 (all at Signature Theatre), A Civil War Christmas (New York Theatre Workshop), Wig Out and Dream True for which she also wrote Book and Lyrics (both Vineyard Theatre), In the Red and Brown Water, Saturn Returns, and Head of Passes (all at the Public), and Floyd Collins (Playwrights Horizons, Old Globe, Goodman) for which she also wrote Book and Additional Lyrics. On Broadway, Tina has directed the revival of Bells Are Ringing and Tracy Letts' Superior Donuts. She teaches regularly in the U.S. and internationally, and has co-authored, with Anne Bogart, The Viewpoints Book.
Christopher Gattelli (Choreographer) was awarded the 2012 Tony, Drama Desk, and Outer Critics Circle Awards for his choreography in Newsies. Broadway (choreographer): The King & I (Tony nomination), South Pacific (Tony and Outer Critics Circle nominations), My Fair Lady, War Paint, Amazing Grace, Casa Valentina, Women on the Verge of a Nervous Breakdown, Sunday in the Park With George, Godspell, The Ritz, Martin Short: Fame Becomes Me, 13, High Fidelity. Off- Broadway: Dogfight (Lortel Award), Altar Boyz (Lortel Award, Callaway Award, Drama Desk Nom.), Bat Boy: The Musical (Lortel Award), 10 Million Miles, Adrift in Maco, tick,tick...BOOM!, I Love You Because. West End/London: South Pacific, Sunday in the Park with George, tick, tick...BOOM! National/International Tours: Newsies, Altar Boyz, Godspell, Grease, Pooh's Perfect Day (World Premiere) Disney Theatricals. Sydney Opera House: South Pacific. Regional: Little Miss Sunshine (La Jolla Playhouse), Kander and Ebb's All About Us (Westport Playhouse), The Baker's Wife (Paper Mill Playhouse), Me and My Girl (Goodspeed Opera House). As director/choreographer, Off-Broadway: Silence! The Musical (Time Magazine's top 10 of 2011), world premiere of In Your Arms (The Old Globe), world premiere of Jim Henson's Emmet Otter's Jug- Band Christmas (Goodspeed Opera House). Also choreographed Coen Brothers' movie Hail, Caesar! and Newsies the movie.
Kyle Jarrow (Book) is a writer and musician who creates work for the stage, film and television. He is creator and executive producer of the upcoming TV series Valor, premiering on the CW network this fall. His digital series Lost Generation (with music by Duncan Sheik) is now streaming on Verizon's go90 platform. Kyle's plays include A Very Merry Unauthorized Children's Scientology Pageant (Obie Award), The Wildness (Lortel Award nominee), Whisper House (now playing in London), Noir, Love Kills and Hostage Song. Kyle penned the film Armless, which was an official selection of the Sundance Film Festival. In addition to his writing work, he leads the rock band Sky-Pony with his wife Lauren Worsham. Their debut album Beautiful Monster is available from Knitting Factory Records. More info on Kyle at kylejarrow.com.
Tom Kitt (Orchestrations, Arrangements, & Music Supervision) received the 2010 Pulitzer Prize for Drama as well as two Tony Awards for Best Score and Orchestrations for Next to Normal. Other composing, arranging, and music supervision credits include: If/Then; High Fidelity; Bring it On, The Musical; Disney's Freaky Friday; The 2013 Tony Awards (Emmy Award for original song, Bigger); Grease Live!; Rise (series for NBC); The Winter's Tale, All's Well That Ends Well, Cymbeline (The Public's NYSF); American Idiot; All three Pitch Perfect films; Royal Pains; Penny Dreadful; Julie's Greenroom; Sesame Street; and Everyday Rapture.
David Zinn (Set & Costume Design). Recent Broadway: costumes for A Doll's House Part 2 (Tony nomination), set design for Present Laughter and The Humans (Tony award), and sets and costume for Amelie, Fun Home (Tony nomination) and The Last Ship. Other shows include Airline Highway (Tony nomination), Rocky, Other Desert Cities, Good People, In the Next Room... (Tony nomination) and Xanadu. Recent Off-Broadway includes set design for Hamlet (Public Theater), costume design for Othello (NYTW), and set and costume designs for the The Flick, and Circle Mirror Transformation, and Dogfight. Also Shakespeare in the Park, Manhattan Theatre Club, Signature, Roundabout, Elevator Repair Service and Target Margin. Around the country his work as been seen at Steppenwolf, Center Theatre Group, ART, La Jolla Playhouse, Berkeley Rep, Yale Rep, Guthrie Theater, Lyric Opera of Chicago, New York City Opera, Santa Fe Opera, Los Angeles Opera and San Francisco Opera.
EVIN ADAMS (Lighting Design) Four time Tony winner Kevin Adams has designed Hedwig and the Angry Inch (Tony and Outer Critics Award), American Idiot (Tony Award), Spring Awakening (Tony Award; Olivier nom for the West End production), Next To Normal (Tony nom), The 39 Steps (Tony and Drama Desk Awards), Hair (Tony nom), Man And Boy, Everyday Rapture, Passing Strange, Take Me Out, A Class Act,Hedda Gabler with Kate Burton, solo shows by Eve Ensler and John Leguizamo. Off-Broadway: the original production of Hedwig and the Angry Inch, The Scottsboro Boys, Rent, Carrie, new work by Edward Albee, Eric Bogosian, Christopher Durang, Richard Greenberg, Tony Kushner, Terrence McNally, Neil Simon, Anna Deveare Smith and Paula Vogel. Also Rigoletto at the Metropolitan Opera, Steppenwolf Theatre, Yale Rep, Berkeley Rep, Donmar Warehouse, Encores!, MildrEd Pierce (HBO), Audra McDonald in concert (Town Hall, Joe's Pub, Lincoln Center), staged concerts featuring Patti LuPone (Gypsy, Candide, Anyone Can Whistle, Sunday in the Park and Regina) and Blue Man Group in Las Vegas and the Hollywood Bowl. For his work off-Broadway he has received an Obie for sustained excellence and two Lucille Lortel awards.
Peter Nigrini (Projection Design). Broadway: Dear Evan Hansen, Amelie, A Dolls House Part 2, An Act of God, The Heidi Chronicles, The Best Man, Fela!, 9 to 5. Elsewhere: Grounded and Here Lies Love (Public Theatre), Wakey Wakey, (Signature), Real Enemies (BAM Next Wave), Don Giovanni (Santa Fe Opera), The Elaborate Entrance of Chad Deity (2nd Stage), Notes from Underground (Yale Rep), The Grace Jones Hurricane Tour, Blind Date (Bill T. Jones). He is also one of the founders of Nature Theatre of Oklahoma and designs every aspect of their productions which include, No Dice, and Life & Times (Burgtheater, Vienna). Currently: Lucia di Lammermoor (Santa Fe Opera), Ain't Too Proud, The Temptations (Berkeley Rep).
Walter Trarbach (Sound Design). Broadway: The Farnsworth Invention, Cymbeline. As a Partner in SCK Sound Design, his Credits include: Doctor Zhivago and The Radio City Christmas Spectacular, andAin't Too Proud. Other Designs: Queen of the Mist, I Am Anne Hutchinson/I Am Harvey Milk, The Man in the Ceiling, The Tin Pan Alley Rag, Becky Shaw, Measure for Pleasure, Farragut North, I Love You Because, Love, Loss, and What I Wore, and Mr. Marmalade. Associate Sound Designs: Catch Me If You Can, Billy Crystal's 700 Sundays, Lady Day at Emerson's Bar & Grill (Tony Award), Jesus Christ Superstar, Hands on aHardbody (Drama Desk Award), and Yoshimi Battles the Pink Robots. Regional: La Jolla Playhouse, Huntington Theatre Company, The Fifth Avenue, Williamstown Theatre Festival, DC's Shakespeare Theatre Company, Bay Street Theatre. Walter is married to photographer Kimberly Witham
Charles G. LaPointe (Hair and Wig Design).Over 50 Broadway shows including: Hamilton; Beautiful: The Carole King Musical; Anastasia; Amélie; Motown the Musical; Allegiance; On Your Feet! The Story of Emilio and Gloria Estefan; Doctor Zhivago; Of Mice and Men; Violet; Sideshow; Honeymoon in Vegas; Piece of My Heart; The Elephant Man; Radio Golf; The Radio City Spring Spectacular; The Performers; The Apple Tree; After Midnight;; A Gentleman's Guide to Love and Murder; Soul Doctor; Jekyll and Hyde; Clybourne Park; Bring It On; Newsies; The Columnist; Magic/Bird; Bonnie and Clyde; The Mountaintop; Women on the Verge of a Nervous Breakdown; The Merchant of Venice; Memphis the Musical; Henry IV; Cymbeline; Lombardi; Fences; Looped; Miracle Worker; Superior Donuts; 33 Variations; Guys and Dolls; In the Heights; Jersey Boys; The Color Purple; Martin Short: Fame Becomes Me; Good Vibrations; A Raisin in the Sun. Television: The Wiz Live! (Emmy Award Nomination).
Telsey + Company (Casting). Broadway/Tours: Anastasia, Charlie and the Chocolate Factory, Hello, Dolly!, War Paint, Present Laughter, Come from Away, Waitress, On Your Feet!, Hamilton, Kinky Boots, Wicked, Something Rotten!, The King and I, An American in Paris, The Sound of Music. Off-Broadway: Sweeney Todd, Atlantic, Classic Stage, MCC, Second Stage, Signature. Regional: Berkshire Theatre Group, Center Theatre Group, 5th Avenue, Goodman, La Jolla, McCarter, New York Stage and Film, Paper Mill, Williamstown. Film: Miss Sloane, Into the Woods, Margin Call, Rachel Getting Married, Across the Universe, Camp, Pieces of April. TV: "This Is Us," "I'm Dying Up Here," "One Day at a Time," "Julie's Greenroom," "Hairspray Live!," "Masters of Sex," "Smash," "The Big C," commercials. www.telseyandco.com
NICKELODEON (Producer). For more than 38 years, Nickelodeon has been at the forefront of creating beloved characters and stories that inspire and entertain audiences around the world by putting kids first in everything it does. The company includes television programming and production in the United States and around the world, plus consumer products, digital, radio, recreation, books and feature films. As the number-one entertainment brand for kids, Nickelodeon has been at the heart of countless revolutionary TV moments, and it has been home to some of the most legendary cultural hits and iconic characters in television history--SpongeBob SquarePants, Teenage Mutant Ninja Turtles, Dora the Explorer, Kids' Choice Awards, Blue's Clues, The Ren & Stimpy Show, Hey Arnold!, All That, iCarly and Rugrats. Nickelodeon has been honored with countless honors, including 84 Emmy Awards. Nickelodeon is seen in more than 450 million households globally, and is the number-one-rated basic cable network in the U.S. Nickelodeon and all related titles, characters and logos are trademarks of Viacom Inc. (NASDAQ: VIA, VIAB).
The Araca Group (Producer). Founded in 1997 by partners Matthew Rego, Michael Rego and Hank Unger, The Araca Group is a theatrical production and brand activation company. Broadway producing credits include Urinetown, Frankie and Johnny in the Clair de Lune, Wicked, The Wedding Singer, Boeing-Boeing, Rock of Ages, A View from the Bridge, Lend Me a Tenor, Cinderella, A Raisin in the Sun, Skylight, Disgraced, Groundhog Day, and Hello, Dolly! Upcoming: world premiere of The Sting, a new musical based on the Academy Award winning film, premiering at the Paper Mill Playhouse in March of 2018. Brand activation partners include Britney Spears, Jennifer Lopez, Reba McIntyre, P!nk, New York City Ballet, Radio City, Star Wars, Warner Bros., DC Comics, AMC's The Walking Dead and Beyoncé. For more information, please visit araca.com.
Sony Music Masterworks (Producer) comprises the imprints Sony Classical, Masterworks, OKeh, Portrait and Masterworks Broadway. Our artists range from icons to newly developing talents in classical, crossover and adult music, plus new and legendary jazz artists, as well as a vast catalog of musical theatre recordings including classic Broadway shows and original cast albums of today's Broadway hits, most recently Hello, Dolly! starring Bette Midler, Groundhog Day, Dreamgirls, Charlie and the Chocolate Factory, Kinky Boots, Once, If/Then and An American In Paris."
Kelp on the ROAD (Producer). Stephen Lindsay and Brett Sirota are the Managing Directors of Kelp on the Road, a consortium of investors from around the world. Stephen and Brett, co-founders of The Road Company, have distributed, managed, and produced Broadway and other attractions for 20 years, and will be bringing the tour of SpongeBob SquarePants to cities across North America.
Related Articles

More Hot Stories For You
Ben Vereen's Son, Ben Vereen Jr., Has Died
BroadwayWorld is saddened to hear of the passing of Benjamin Vereen Jr., the son of Tony-winning actor Ben Vereen....

Lin-Manuel Miranda, Leslie Odom Jr., Renée Elise Goldsberry and More to Take Part in Upcoming HAM4CHANGE Fundraiser
On Saturday, August 15th, at 4pm PT/7pm ET, members of the original cast of the Tony Award-Winning Broadway Musical Hamilton will come together for th...

VIDEO: Olivia Newton-John Talks Memories of XANADU for the Film's 40th Anniversary
In honor of the 40th anniversary of the musical film Xanadu, star Olivia Newton-John shared what it was like working on the film, what it was like to ...

Award-Winning Director and Choreographer Tony Charmoli Dies at Age 99
Tony Charmoli died peacefully on the evening of August 7th at his home in the Hollywood Hills. He was 99. Tony had a decades long, award-winning caree...

Winners Announced For The 2020 BroadwayWorld Album Awards; BEETLEJUICE Wins Best New Broadway Cast Recording!
The people have spoken and the results are in for the 2020 BWW Albums/CDs Awards, recognizing the best releases from 2019 & 2020. ...

Audra McDonald, George Salazar, and Joshua Colley Will Headline STICKS & STONES Benefit
Grammy & Emmy-winning composer & conductor John McDaniel and lyricist/librettist Scott Logsdon will present an online highlights concert of their new ...