FringeNYC Presents STRANGER THAN A RHINO A New Drama Based On Ionesco's RHINOCEROS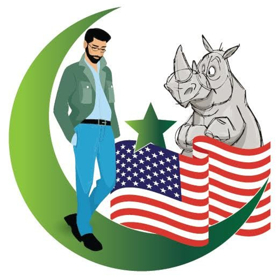 The New York International Fringe Festival (FringeNYC) a production of The Present Company presents Stranger Than A Rhino, a contemporary reimagining of Ionesco's Rhinoceros with themes of race, culture and xenophobia, written by Robert Siegel. William Roudebush directs a cast of eight, including Vick Krishna, Jeremy Lister, Barbara Matovu, Amanda McCallum, Leslie Lynn Meeker, Charles Rubey, David Shakopi and Scott Zimmerman. Stranger Than A Rhino is being staged at FringeHUB, 685 Washington Street (corner of Charles Street) in NYC's West Village for five performances from October 16-21, 2018.
A director with a reputation for restaging classics takes on Ionesco's Rhinoceros turning the play inside out to reflect current societal fears of Muslims. A neophyte lands the role of the protagonist. Another cast member begins to wonder about his stake in this play. As rehearsals progress and the new Rhino emerges, the tension between cast and the play, especially our mysterious neophyte, brings the play to a startling conclusion about our recent past.
This is in no way an adaptation. It is a tip of the hat but a wholly original absurdist farce/drama," stated playwright Robert Siegel. "The subject is so serious that the only way I could come at it is to try and make an audience laugh at first, then ask themselves what they're laughing at, and hopefully think about our history and place in the world."
ACR: Kortnee Simmons; Stage Manager: Linda Elizabeth Freund; Public Relations: Paul Siebold/Off Off PR.
Stranger Than A Rhino plays for five performances on the following schedule: Friday, October 12 @ 5:15 p.m.; Sunday, October 14 @ 9:30 p.m.; Wednesday, October 17 @ 9:30 p.m.; Friday, October 19 @ 4:45 p.m.; and Saturday, October 20 @ 7:30 p.m.
Tickets are $22 and can be purchased online at FringeNYC.org. For more information, please visit FringeNYC.org.
The runtime for Stranger Than A Rhino is ninety minutes with no intermission.
Robert Siegel (playwright) - His plays have been performed Off Broadway at EST, the Houseman, NY Library For The Performing Arts at Lincoln Center and regionally at Charlotte Rep, Mill Hill Playhouse, The Carrack Modern Art, and most recently at the 2015 and now the 2018 NY International Fringe Festival He is an alumnus of Lee Strasberg's Actor's Studio (playwright and director's unit). He received a commission for a one person play from F. Murray Abraham. A video excerpt is available on https://vimeo.com/269322203 (contact author for password). He has written screenplays for Lumiere in New York and Film Magnum Oy in Finland. While living in NYC, he collaborated on theater projects for the Broadway Theater Institute, working with people recovering from homelessness and addiction. During that time he received grants from Poets and Writers Inc., Lila Wallace-Reader Digest Fund, NYC Dept. of Cultural Affairs, Rockefeller Group, Shubert Organization. He was represented by Lois Berman, Sam Shepard's literary agent and Helen Merrill. He is a full member of the DGA.
William Roudebush (director) directed the play reading series at the Bruno Walter auditorium at Lincoln Center for the director's union SDC for over four seasons. He created another reading series at the historic John Houseman theatre called TEN MORE BY NOONAN working side by side with the Irish American playwright John Ford Noonan, David Canary, Barbara Barrie, William Hickey, Jerry Stiller, Anne Meara and many others. Noonan's play TALKING THINGS OVER WITH CHEKOV was later produced off - Broadway. He adapted his musical VILLAGE GATE FOLLIES and directed productions at Ensemble Studio Theatre, The Mint Theatre Company, The Actors Outlet, The Broadway Theatre and many other small venues in and around New York City. He has directed well over 200 productions at such theatres as Actors Theatre of Louisville, The Fulton Opera House, Syracuse Stage Company, Theatre Virginia, The Walnut Street Theatre, Geva Theatre, the Barter Theatre and many others including a five show season collaborating with Chicago's Wisdom Bridge Theatre, The British Academy of Dramatic Arts, The Famous People Players as well as producing a national touring production of Tom Lehrer's TOMFOOLERY.