First Ever FRESH GROUND PEPPER FESTIVAL Announced in NYC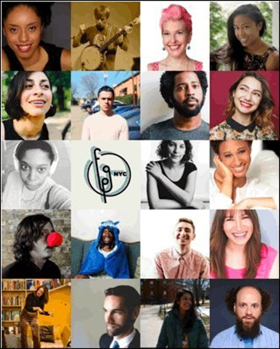 Fresh Ground Pepper (FGP), a New York City based arts incubator in its 10th season of instigating and presenting new work, is proud to announce its first ever multi-week emerging arts festival at The New Ohio Theatre from April 10 through 21, 2018. The inaugural FGP Festival will present art parties, new works-in-progress, and workshop productions that span genre, form, and interactivity, including new works of performance, visual art, comedy, music, immersive theatre, board gaming, and literature.
The FGP Festival will take place over 12 full days of community programming and performances from 44 resident artists and collaborators. FGP, a longtime downtown champion of the offbeat, the brand-new, and the undefinable, will provide a platform for a vibrant array of artists across all mediums.
Evenings will include interactive artist-driven parties, live art experiments curated by FGP's New Producers' Lab, showings of new work from the PlayGround PlayGroup, common space for communal use and collaboration, the debut of a new devised theatrical work-in-progress from the FGP In-House Artists, and more.
Featured artists will include Nikki Calonge, Jess Chayes, nicHi Douglas, Eric Farber, Jenny Gorelick, Ben Holbrook, Lena Hudson, J. Mehr Kaur, Krista Knight, Matthew Dean Marsh, Jacob Marx Rice, Liz Morgan, Wi-Moto Nyoka, Wil Petre, Lorelei Ramirez, Elinor T. Vanderburg, Nate Weida, Ryann Weir and many more.
Tickets for festival events are now on sale and are available by visiting www.fgpfestival.com. For more information about the festival, continuing updates, performers list and full event details visit the festival website at www.fgpfestival.com.
THE FGP FESTIVAL WILL FEATURE:
FESTIVAL HAPPY HOUR
The FGP Bar will open every night at 6pm with cheap drink specials until 7pm. Come grab a beer and mingle with some artists or use the space to meet up with a collaborator. Shows begin nightly at 7:00 or 7:30pm.
DAYTIME WORKSPACE
The FGP Bar will open on Wednesday April 11th, Monday April 16th, and Thursday April 19th from 11:30am to 4:30pm as a quiet workshare, providing free coffee and a free open workspace. Come write that play you've been meaning to write. Or apply for that grant. Seating is limited. It's first come, first served.
PLAYGROUND
The PlayGround PlayGroup is a year-long collaborative workshop where writers and creators of varying mediums convene to convert their pages, projects, and ideas into fresh new works. Ranging from new plays, to new music, to communal board games and parades, each artist will get a chance to celebrate their creation in front of an audience at the FGP Festival.
IN-HOUSE ARTISTS
The In-House Artists are a group of unique, multi-disciplinary, FGP alumni artists selected to collaborate on a new project from the ground up over a year-long residency, creating via collaborative content generation, non-hierarchical structuring, and joy-seeking practices. Their scrappy, bold, and hopeful project will debut for an exclusive four-night workshop run in the FGP Festival.
PARTIES + EVENTS
The Festival is all about celebrating the artistic process. FGP will be doing that with art parties to open and close the festival, a Late-Night comedy series on Friday nights, a morning workshop for kids to get introduced to the joys of making theater, and more.
NEW PRODUCERS LAB
The New Producers Lab is FGP's year-long residency for emerging creative producers, giving them a chance to envision, curate, and produce their own unique experimental events. The FGP Festival will feature one experimental, blowout event, in the style of classic FGP challenge vents, put together by the 2017-2018 New Producers Lab.
LIST OF EVENTS (WITH MORE TO COME):
OPENING NIGHT CEREMONY
Tuesday, April 10
7:30pm - Doors & Bar Open.
9:00pm - DJBuilt4Collapse
With Performances Throughout The Evening
(PARTIES + EVENTS)
FGP kicks off the first-ever Fresh Ground Pepper Festival with an opening night ceremony celebration. Artists of varying mediums will bring their process to the stage, launching brand new projects live in front of FGP audiences. Bring your red carpet chic, your scrappy FGP art-party moves, and your own Olympic Torch (unlit please, no fire on the premises). And get ready for the long game: these same artists will continue to work on these projects for a culminating performance at the closing night party on April 21.
$10 COVER AT THE DOOR
HIGH BLONDE
Wednesday, April 11 at 7pm
(PLAYGROUND)
BY KRISTA KNIGHT
DIRECTED BY Kel Haney
Disabled urban planner Bevi rolls into the Mayor's office ready to make NYC streets accessible for people like her. She's blonde, and so is the Devil Wears Prada-esque City Planning Commissioner she works for. Collectively they're referred to as 'The Blonde Squad.' Bevi thinks she's going to reform the city's assessibility but instead finds her boss leveraging her
disability in the negotiations for the creation of an elevated rail park.
$5 SUGGESTED DONATION AT THE DOOR
RESERVE YOUR SPOT AT FGPFESTIVAL.COM
The Church of the First Order of Cloud City's First Annual Unity Jamboree
Wednesday, April 11 at 9pm
(PLAYGROUND)
BOOK BY Ben Holbrook
MUSIC BY NATE WEIDA
The citizens of Cloud City, a floating city and the peak of human ingenuity, have gathered to worship the cloud, just like every other Sunday, or so they think. Complications and hilarity ensue when the congregation of the first order of Cloud City are joined by dissatisfied citizens, dissenting robots, and a bunch of mutant ding dongs from the "Underworld". Join our congregation as the Church of the First Order of Cloud City celebrates its inaugural unification service.
$5 SUGGESTED DONATION AT THE DOOR
RESERVE YOUR SPOT AT FGPFESTIVAL.COM
K-A-A-R-O-N
Friday, April 13 at 7:30pm
Sunday, April 15 at 7:30pm
Tuesday, April 17 at 7:30pm
Friday, April 20 at 7:30pm
(IN-HOUSE ARTISTS)
BY Jaclyn Backhaus, Nikki Calonge, nicHI douglas, Matthew Marsh, Andrew Neisler, Andrew Scoville, JENNY BETH SNYDER, ELINOR T. VANDERBURG, RYANN WEIR
Welcome to Champaign, Illinois, a global leader in the cutting edge integration of the robot workforce. We're looking forward to having you on our team at iHue, where we are proudly committed to the discovery and name designation of new, never-before-seen colors. iHue's unique brand of efficiency is made possible by our growing ranks of Artificial Intelligence, which outnumber our human employees 25-1. We're thrilled to welcome you to the next generation, Karen. Right this way.
$15 TICKETS AVAILABLE AT FGPFESTIVAL.COM
LATE NIGHT
Friday, April 13 at 10:00pm
Friday, April 20 at 10:00pm
(PARTIES + EVENTS)
HOSTED AND CURATED BY LORELEI RAMIREZ
Host of the monthly show "Not Dead Yet," comedian and visual artist Lorelei Ramirez brings her own unique brand of performance to the FGP Festival after hours. A handful of performance artists, musicians, writers, and comedians will join her each Friday night of the festival to bring their weird and wild new work to the stage.
Artists Featured on April 13th:
RUBY MCCOLLISTER
EDY MODICA AND FRANSCESCA D'UVA
MORGAN BASSICHIS
LORELEI RAMIREZ
Artists Featured on April 20th:
SHOWTIME GOMA AND NANCY FEAST
IKECHEKWU UFOMADO
CLARE O KANE
LORELEI RAMIREZ
$8 TICKETS AVAILABLE AT FGPFESTIVAL.COM
POLITICAL PARTY
Saturday, April 14 at 7:30pm
(NEW PRODUCERS LAB)
PRODUCED AND CURATED BY JENNY GORELICK AND J. MEHR KAUR
An experimental Art Party from the New Producers Lab that will celebrate, interrogate, and maybe excoriate the highest office in the land. A talented group of unique, visionary candidates will participate in a full-fledged presidential election, including campaign speeches and a moderated debate. The constituents (you) will vote, and the president elect will be inaugurated. By the end of the night, the president will be protested and impeached - and then we'll really party.
SUGGESTED DONATION AT THE DOOR
THE PARADE GROUND
Sunday, April 15 at 3:00pm
(PLAYGROUND)
BY Eric Farber
DIRECTED BY Mia Rovegno
April 15, 2033 - New York City. Space Admiral Mira Clemente has just landed back to Earth
after a 15 year solo space mission. The world has changed a great deal since Mira's launch in 2018. Overrun by truth discrepancies and near-facts, the America of 2033 is drowning in the fiction it sells to itself. Ever since her 7th grade obsession with Albert Einstein, Mira has dreamed of exploring the immense unknown all alone. 30 years later her friends from middle school have dusted off their old marching band instruments and are reuniting to throw Mira a homecoming parade through their old neighborhood. But the parade is not what it seems. And Mira's return home will cause her to doubt everything.
$5 SUGGESTED DONATION AT THE DOOR
RESERVE YOUR SPOT AT FGPFESTIVAL.COM
RAIN DATE IS APRIL 21 at 12NOON
DELIVER: LETTERS TO THE MOTHERLAND FROM A FOREIGN BODY
Monday, April 16 at 7:00pm
(PLAYGROUND)
BY Liz Morgan
DIRECTED BY AXEL AVIN JR.
A lyrical homage to immigrants and refugees, this play focuses on three characters who all find themselves feeling unsafe in the place they call home: a young black doctor practicing medicine in rural America; her patient, a pregnant woman with a dark past; and a mysterious foreign body that must journey to a new world. Set to the musical heartbeat of an unborn child, Deliver is a piece with poetry and dance about crossing borders and boundaries in pursuit of survival. It depicts individuals who need the same the very same people that they fear. Finally, this work is an investigation of our shared labor and pain in this country that ultimately asks if we can ever be delivered from our shameful history.
$5 SUGGESTED DONATION AT THE DOOR
RESERVE YOUR SPOT AT FGPFESTIVAL.COM
A COCKTAIL PARTY GAME
Sunday, April 15 at 9:30pm
Monday, April 16 at 9:00pm
Wednesday, April 18 at 9:30pm
(PLAYGROUND)
BY Wil Petre
WITH DESIGN CONSULTANT Christopher Bowser AND CO-HOST Jenna Dioguardi
Intimate theatre, meets game night in this boozy, conversation-driven card game. After the success of his pop-up bar for one, Aqua Regia, Wil Petre was challenged by an old friend to think of how to remove himself from the experience, but still be able to incite meaningful conversation amongst a group of people. "It's a game," he said. This is the launching of that game.
$5 SUGGESTED DONATION AT THE DOOR
RESERVE YOUR SPOT AT FGPFESTIVAL.COM
KIDS EVENT
Tuesday, April 17 from 11:00am - 1:00pm
(PARTIES + EVENTS)
BY AND FOR KID ARTISTS!
Interactive art-making for the most emerging artists (kids!) and their caregivers. Featuring FGP artists and their favorite things!
SUGGESTED DONATION AT THE DOOR
THE TRAGICAL HISTORIE OF MAXIMILIEN ROBESPIERRE
Wednesday, April 18 at 7:00pm
(PLAYGROUND)
BY JACOB MARX RICE
DIRECTED BY Tom Costello
A befuddled government collapsing under the weight of corruption? Enraged protestors flooding the streets? Cutting-edge technology blasting new and dangerous ideas? Welcome to the 1790s! "The Tragical Historie of Maximilian Robespierre" follows the incredible life of Robespierre, from radical revolutionary to national hero to mass murderer. Performed by a genderqueered ensemble in a wild array of theatrical styles, "Robespierre" captures the wild spirit of the French revolution, when anything was possible.
$5 SUGGESTED DONATION AT THE DOOR
RESERVE YOUR SPOT AT FGPFESTIVAL.COM
EL OTRO LADO DEL DESTINO / THE OTHER SIDE OF DESTINY
Sunday, April 19 at 7:00pm
(PLAYGROUND)
DIRECTED BY Miranda Haymon
SOUND DESIGN BY SADAH ESPII PROCTOR
A supernatural one act play about a family of Espiritistas navigating old magic in contemporary life. The presentation of this interdisciplinary piece will be a staged reading incorporating live sound design.
$5 SUGGESTED DONATION AT THE DOOR
RESERVE YOUR SPOT AT FGPFESTIVAL.COM
SHOWOMANSHIP
Thursday, April 19 at 9:00pm
(PLAYGROUND)
WRITTEN AND PERFORMED BY Lena Hudson
DIRECTED AND DEVELOPED BY JESS CHAYES
MUSIC SUPERVISION & ARRANGEMENTS BY Ian Axness
A celebration of the purity and passion of good old-fashioned show-woman-ship. A solo show that stars one SHOWWOMAN: a clown with the deepest of passions for song, show, and thrilling her audience. She's a woman with talent to spare (or not, depending on who you ask) and a long-standing rivalry with Bette Midler that Bette knows nothing about. She can turn the schoolyard songs of your childhood into a musically deft "Medley from the Great American Songbook," and a chance meeting into a love story for the ages.With her pianist Ethan and intern Marion in tow, she's using every last ounce of her limited talents to entertain YOU. So you better enjoy it.
$5 SUGGESTED DONATION AT THE DOOR
RESERVE YOUR SPOT AT FGPFESTIVAL.COM
CLOSING NIGHT PARTY
Saturday, April 21 at 7:30pm
With Performances Throughout The Evening
(PARTIES + EVENTS)
HOSTED BY Amanda Duarte
The first-ever FGP Festival closes its doors with a party 10 days in the making. Each of the artists that launch a new project at our Opening Ceremony will spend 10 days in residence with FGP working toward a closing night exhibition of pop-up performances of these brand new works. After we witness these premiere unveilings, we dance the night away and toast one more time to empathy, community, collaboration, and the art-making spirit.
$10 COVER AT THE DOOR
The New Ohio is located at 154 Christopher Street, inside the landmark Archive Building, between Greenwich Street and Washington Street in the West Village. By Subway, take the 1 to Christopher Street or the A, C, E, B, D, F, or M or West 4th Street.
The FGP Creative Directors are Jaclyn Backhaus, Andrew Neisler, Andrew Scoville Jenny Beth Snyder. The FGP Festival Producing Director is Andrew Neisler. Sean B. Leo is Festival Producer, and Karina Martins is the FGP General Manager.
The FGP Festival will feature Scenic Design by Aaron Gonzalez, Lighting Design by Joe Cantalupo, Sound Design byValentine Monfeuga and Video Design by Stivo Arnoczy with Video Assistant John Lee. Kristy Bodal is Production Manager, and Jenna Rush is FOH Coordinator. Audience Relations is led by Victoria Flores, and Graphic Design is byChris Williams.
The Co-Program Directors of PlayGround PlayGroup are Elinor T Vanderburg and Jaclyn Backhaus. The New Producers Lab Program Director is Jenny Beth Snyder. The In-House Artist Group Program Director is Andrew Scoville.
Fresh Ground Pepper is a New York City based arts incubator, identifying up-and-coming artists, magnifying their voices, and giving them the resources that are critical to helping new work succeed. Since its inception in 2009, FGP has hosted over 70 events that showcase theater-makers, musicians, dancers, media artists, comedians, visual/installation artists, writers, and designers, with the intention of jumpstarting and celebrating the creative process. 100% of FGP's programming is devoted to developing emerging art, and the submissions process is open to all applications. Fresh Ground Pepper was founded by playwright Jaclyn Backhaus (Men On Boats), producer Karina Martins, director Andrew Neisler (Clown Bar), diretor Andrew Scoville (assoc dir, Sweeney Todd at Barrow Street Theatre), and director Jenny Beth Snyder (Red Room).
FOR MORE INFORMATION: www.fgpfestival.com or www.freshgroundpeppernyc.com.
Related Articles

More Hot Stories For You
Ben Vereen's Son, Ben Vereen Jr., Has Died
BroadwayWorld is saddened to hear of the passing of Benjamin Vereen Jr., the son of Tony-winning actor Ben Vereen....

VIDEO: HAMILTON Fan Creates a Side-By-Side Comparison of 'Helpless' and 'Satisfied'
One Hamilton fan saw some parallels while watching the musical on Disney+, specifically between A Winter's Ball/Helpless and Satisfied....

Disney Employee Pulls the Curtain Back on What it is Like to Work at Disney World During the Pandemic
Rolling Stone has reported on a conversation they had with one Disney World employee, pulling the curtain back on issues of safety, whether social dis...

Photo Flash: Berkshire Theatre Group's GODSPELL Takes Bows as First Equity-Approved Musical
The first musical in the United States to be approved by Actors' Equity Association has officially begun performances. Berkshire Theatre Group's Godsp...

Lin-Manuel Miranda, Leslie Odom Jr., Renée Elise Goldsberry and More to Take Part in Upcoming HAM4CHANGE Fundraiser
On Saturday, August 15th, at 4pm PT/7pm ET, members of the original cast of the Tony Award-Winning Broadway Musical Hamilton will come together for th...

Debra Messing and Eric McCormack Will Moderate an Online Discussion and Fundraiser For Joe Biden
Debra Messing and Eric McCormack will moderate an upcoming online discussion and fundraiser for Joe Biden....