Guest Comics Announced for The Hit Monthly Comedy Show S.U.C.K.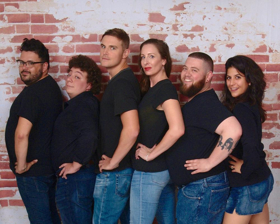 The popular stand-up comedy show, S.U.C.K. (Stand Up Comedy Klub), returns to The Mockingbird Bar in the East Village on Saturday, October 21 at 8:00 pm. The monthly show has been playing to packed houses for the past year and features comics from Gotham Comedy Club, Funny or Die, UCB, The Wild Project, Del Close Marathon, NY Sketchfest, and Joe's Pub.
S.U.C.K. is composed of six of NYC's most intriguing comics, performers, and weirdos: including Hank Browning (Funny or Die, Broadway Comedy Club), Samantha Fontana (F'd in the East Village, Gotham), Gregory Lotsvin (Funny or Die, Broadway Comedy Club), Shane O'Neill (Tonight's Special, Characters Welcome at UCB), Jill Pangallo (Joe's Pub, Gotham), and David Perez (Shade at Steppenwolf, David on Demand).
Special guests include Anthony Devito (The Late Show with Stephen Colbert) and Ryan Donahue (Jimmy Kimmel Live).
With a broad range of perspective, styles, and levels of depression, S.U.C.K. creates a show as diverse as New York City itself except that they only feature one person of color. But they DO have two half-jews, an adopted person, a gay gentleman who's occasionally mistaken for trans, and a white dude who can grow an afro.
Performances take place at The Mockingbird Bar (between East 2nd and 3rd Streets), 25 Avenue B, New York 10009. Subways: J/Z/M to Delancey-Essex Street.
Tickets are $5.00 and are available at https://www.eventbrite.com/e/suck-presents-boo-tickets-38609296445
Doors open at 7:30 pm, no drink minimum.
More info available at www.standupcomedyklub.com
Facebook: www.facebook.com/StandUpComedyKlub
Twitter: @suckkomedy
Former special guests include: Drew Anderson (UCB, NPR, Littlefield), Marcia Belsky (NBC StandUp For Diversity, Funny or Die, Buzzfeed), Joel Kim Booster (Comedy Central, TBS's Conan), John Early (Portlandia/Neighbors 2), Cole Escola (Joe's Pub/Hulu's Difficult People), Joyelle Johnson (Comedy Cellar/Wyatt Cenac's Night Train), Isaac Oliver (Joe's Pub/HBO's High Maintenance), Shane Torres (Montreal Just For Laugh's/Comedy Central), Yedoye Travis (Coming to the Stage/Hulu), Martin Urbano (Jimmy Kimmel Live, Just For Laughs, MTV Snapchat), and Lizz Winstead (The Daily Show/The Jim Gaffigan Show), among others.
BIOGRAPHIES FOR THE S.U.C.K. TEAM
Hank Browning is a comedian and actor living in Brooklyn. He hosts a weekly show at the Broadway Comedy Club, and has performed at the Del Close Marathon, New York Sketchfest and Boston Comedy Arts Festival. He is also the proud owner of some of his parent's old furniture.
Samantha Fontana is an actor, writer, producer and comedian born and raised in the East Village. You can find this Greek-Italian Jew hosting the Monday Salon at Double Wide (second Monday of the month), performing at Gotham, Sid Gold's Request Room, Joe's Pub, The Wild Project and more. Samantha is a featured producer in the Funny or Die Community. www.SFontana.com
Gregory Lotsvin is a United States Citizen. He was the host of long-running variety show Greg Lotsvin's Very Professional Comedy Show at the Broadway Comedy Club, as well as the host of the indie improv show What's the Deal. You can find him doing standup all over New York City, but only if you really try.
Shane O'Neill is a writer, performer, and video-maker. He and his work have appeared at Joe's Pub, The New York Times, The Huffington Post, Refinery29, ArtNews New York, and at too many gay bars and DIY queer venues to mention here. He has performed extensively in the US and Europe with his Shane music project. His one-man variety show "Tonight's Special" occurs the first Tuesday of every month at Sid Gold's Request Room. He has a cat named Wanda, a boyfriend named Dusty, and a wonderful family-both chosen and by blood-all of whom he loves a great deal.
Jill Pangallo is a multidisciplinary performer best known for her funny and disturbing works that deal with identity and mass culture. In addition to performing solo, exhibiting internationally, and curating ensemble events, she works with some of New York City's most talented alternative performers to develop their own solo works. She collaborates with Alex P. White as the movement-based duo, SKOTE (now in residency at Pioneer Works in Brooklyn through August 2017). Her next project, Jane Johnson for the Home Shopper (in collaboration with fellow S.U.C.K.er, Shane O'Neill) had its NYC premiere in August at the Wild Project in the East Village. www.jillpangallo.com
David Perez is a Brooklyn based writer, performer, comic, and breakfast sandwich eater. He is a former theatre Director and Producer who founded the Chicago entity Pavement Group. He has worked with places like Steppenwolf Theatre Company, About Face Theatre, Teatro Vista, American Theatre Company, Upright Citizens Brigade, Joe's Pub, The Goodman Theatre, and a lot of bars where he was paid in drink tickets and stromboli. He was the center of a popular internet experiment called "David on Demand" where for seven days everything he did was controlled by tweets. It was great and also super terrible and he has a bad tattoo to prove it. www.cargocollective.com/mrperezident
Related Articles
More Hot Stories For You
VIDEO: James Corden, Patti LuPone, and More Celebrate 'One Day More' of the Trump Era with a LES MISERABLES Parody
James Corden is celebrating the imminent departure of the Trump administration with a Les Miserables parody! ...

VIDEO: Watch 30 Broadway Stars Make Music with Muppets!
Since Jim Henson first burst onto the scene over six decades ago, Muppets have taken center stage in pop culture, appearing on film, television, and b...

10 BRIDGERTON The Musical TikToks That We're Obsessed With
This idea started by songwriter Abigail Barlow who asked the question, 'Okay, but what if Bridgerton was a musical?'...

Javier Munoz, Leslie Uggams and More Stars Set to Perform 'Seasons of Love' as Part of Tonight's Inauguration Festivities
Javier Munoz and Leslie Uggams have shared via social media that they will be joining a group of Broadway talent to perform 'Seasons of Love' as part ...

VIDEO: Broadway Celebrates Biden with A Moving Mashup of RENT and HAIR!
Tonight, many of Broadway's brightest stars united to celebrate the inauguration of President Joe Biden and Vice President Kamala Harris with a medley...

VIDEO: Amanda Gorman References HAMILTON in Inaugural Poem 'The Hill We Climb'
Today at President Joe Biden's inauguration, 22 year old Amanda Gorman took to the stage to deliver the inaugural poem, entitled 'The Hill We Climb'. ...