Click Here for More Articles on NEW YORK CITY
FINDING FELLINI to Address Apartheid South Africa at United Solo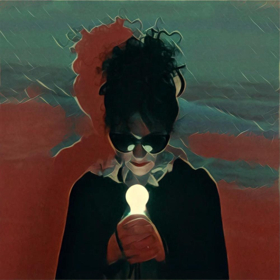 The 2017 United Solo festival includes the award-winning "Finding Fellini" theater production in September and October this year.
Megan Metrikin is both playwright and performer in this hour long ode to Italian Film maestro Federico Fellini who is the muse to a young girl trapped in the horrors of Apartheid South Africa. Guy de Lancey is both director and designer of this visually lush gem that expertly marries film and theater in a heady mix of memory and mosaic.
"Finding Fellini" centers around a Jewish woman's escape from the brutal realities of apartheid South Africa into a Fellini infused cinematic landscape. Projection images from the maestro's films, as well as Fellini quotes, weave together representing the creativity, freedom and vibrancy Fellini symbolizes to a woman running from the horrors of her home country where repression is the suffocating norm.
Over the course of a lyrical hour, Metrikin takes us on a journey of poignant, powerful and comic stories of growing up in a conflict ridden country. Intertwined with magical moving images, we wind up in Italy, toggling between Rome and Venice, on a glorious adventure of self- discovery through the cinematic world of the one and only Federico Fellini.
The show garnered three awards at the Midtown International Theater Festival in 2017 including Outstanding Solo Show (MITF) Outstanding Set Design (MITF) and Outstanding Sound Design (MITF)
Running time is 60 minutes. Performances are set for Theatre Row, 410 West 42nd Street, New York, NY 10036, Tuesday, September 26th, 9 PM and Sunday October I, 2 PM.
ABOUT THE ARTISTS:
MEGAN METRIKIN (playwright / performer): Metrikin was born in South Africa and worked extensively at the Market Theatre. She played Ruth, the leading role, in "Sophiatown", which performed at the Chicago Festival, San Francisco, St Paul, Toronto Festival, Glasgow Festival, Montpellier, Nice, London, Paris, Amsterdam, Basil, Frankfurt, Soweto, Johannesburg and Cape Town. She also acted in "Speed the Plow", "The Dybbuk", "The Tempest", "The Lulu Sex Tragedies", "Love Story in Maputo", "Hamlet", "Cowboy Mouth", "Exit the King" and "Man is Man". Film includes "Shot Down" and "The Howling IV." She is currently based in New York. "Finding Fellini" is her first solo show. meganmetrikin.weebly.com
GUY DE LANCEY (director): Guy completed his theatre studies at Rhodes University. Was awarded a grant to attend FABRICA the Benetton Arts and Communication Research Centre in Italy under the directorships of Godfrey Reggio (Powaqatsi, Koyaanisqatsi) and Oliviero Toscani. He also studied creative and screenwriting at New York University. He works as a director, cinematographer, photographer and designer. Both lighting and set design. Occasionally as an actor. He played in the world premiere of Athol Fugard's "The Birdwatchers" directed by Athol Fugard, and recently in the film of Stephen King's "The Dark Tower" with Idris Elba and Mathew McConaughey.
A founder member of the Mechanicals Theatre Collective he has directed and designed: Shakespeare's "King Lear" (This time it Hurts) "A Midsummer Nights Dream" described by critic Peter Tromp as "One of the most enjoyable, inventive and strangest Shakespeare productions I have seen, probably ever". Sarah Kane's "Blasted," Jaan Tatte's "Highway Crossing". He designed the Fugard Theatre and Edinburgh productions of Edinburgh productions of Athol Fugard's "Statements After an Arrest under the Immorality act".
2017 United Solo, the world's largest solo theatre festival, currently in its 8th year, will present 120 shows from six continents at Theatre Row: 410 West 42nd Street, New York City. Tickets, with a price of $35 (plus a $2.25 theatre restoration charge) are available at Theatre Row box office, 410 West 42nd Street, New York, NY 10036, as well as over the phone at 212.239.6200 and online at telecharge.com. More details can be found at www.unitedsolo.org.