Ego Actus Presents GIVE 'EM HELL, HARRY!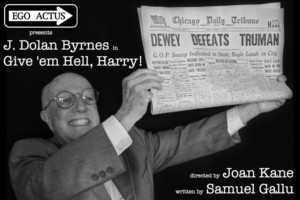 Ego Actus presents Give 'em Hell, Harry! J. Dolan Byrnes in a Joan Kane production of Samuel Gallu's rousing one-man show about the little president that could!
The prolific theatre company presents a revival of Samuel Gallu's exploration of the president that got us out of a war and not in one - Harry S. Truman.
In these trying times, we need a president who will take command of the nation and lead us to victory and renew the spirit of patriotism ... even if its just on stage!
Stage and film actor, J. Dolan Byrnes takes command of the role from October 18 - 28 (Thursday - Saturdays at 8:00 p.m. and Sundays at 3:00 p,m.) at the Episcopal Actors Guild, 1 East 29th Street, NYC. Tickets are $20 and can be purchased at www.Artfull.y/Ego-Actus. Learn more at http://egoactus.com/harry.html
In a younger life J. Dolan Byrnes worked as a Congressional Aide for a Member of Congress who stood up to the Reagan administration on a very important moral issue of the time and at great cost to her own career, a very Trumanesque thing to do. Coming from a working-class family with a keen interest in politics and an active involvement in local affairs, Byrnes says "It is the role of a lifetime to be able to portray this giant of a man. Truman fought for my parents and perhaps yours as well, average Americans working in the factories of post-World War II. He never forgot his farm roots, never lost his integrity, and always put "the folks" first; not the banks, not big business, not big unions, just "the folks"
Joan Kane (director) is the founding Artistic Director of Ego Actus and directed I Know What Boys Want at Theatre Row, Six Characters in Search of an Author in Oslo, Norway and Kafka's Belinda in Prague. She also directed both Safe and what do you mean at 59E59 Theaters and in the Edinburgh Festival Fringe, getting four star reviews for each. Joan was awarded Best Director in the 2016 United Solo Festival was named to the Indie Theatre Hall of Fame by nytheatre.com. She has also directed plays and readings for the Lark, Ensemble Studio Theatre, the NY Fringe Festival, Theater for the New City, Urban Stages, Workshop Theater, Nylon Fusion, Abingdon Theatre, Oberon Theatre, the Samuel French Short Play Festival, the Midtown International Festival and The Actors Studio. Joan has an MFA in Directing from The New School, an MS in Museum Education from Bank Street College. She is a member of The New York Madness Company, the Dramatists Guild and the Society of Stage Directors & Choreographers. Joan currently serves as a Vice President for Programming on the Board of Directors of the League of Professional Theatre Women.
J. Dolan Byrnes is a New York based actor and singer. He has appeared in dramas, comedies, and musicals throughout the country and across the pond. He is two-time recipient of the Outstanding Actor Award from The Planet Connections Theatre Festivity for his roles in what do you mean by Bruce A! Kraemer, and When The Party's Over by Glory Kadigan. He is a member of Articulate Theatre Company and recently appeared in their productions of White House Fairy Tale (directed by Joan Kane) in which he portrayed an out of control President who loves to golf (hmmmm) and The Long Way Home, a haunting tale of Christmases past. Other recent New York productions include The Unsalable Thing, (Best Actor nomination in The Strawberry One-Act Festival), Houseless in Paradise (NY Fringe Festival) Titanic Voices, Bitten, Hamlet Bound and Unbound, Lady Liberty's Worst Day Ever, Brattleboro, Avalon (Spotlight On Award, Best Ensemble), Spinmeister, Heidi, the Musical, Ice Floes (Audience Award, Best actor), Any Which Way Thou Wouldst Have It, Debauchery - Thy Name is Stevie Chase, and The Sons of Molly Maguire. He has toured nationally in 1776 and Footloose. During 10 years of treading the boards in California he appeared in a number of regional theater musical productions including My Fair Lady, and Phantom at Music Theatre of Southern California, and West Side Story, Dr. Jekyll & Mr. Hyde, and the West Coast premier of Eleanor at Musical Theatre West. While in California, he was member of the award-winning The Road Theatre Company. The Road's seven-hour production of Tankred Dorst's epic, Merlin, received the Los Angeles Artistic Director Achievement Award for Best Ensemble. In that production, Byrnes played the roles of Mark Twain, a blind pope, and a frightened chambermaid. He also appeared at the Los Angeles Theatre Center in Knick Knacks, in which he portrayed a sexual predator.