Click Here for More Articles on Debut of the Month Features
Debut of the Month: We're Mad About Her! Peppermint Makes Her Broadway Debut in HEAD OVER HEELS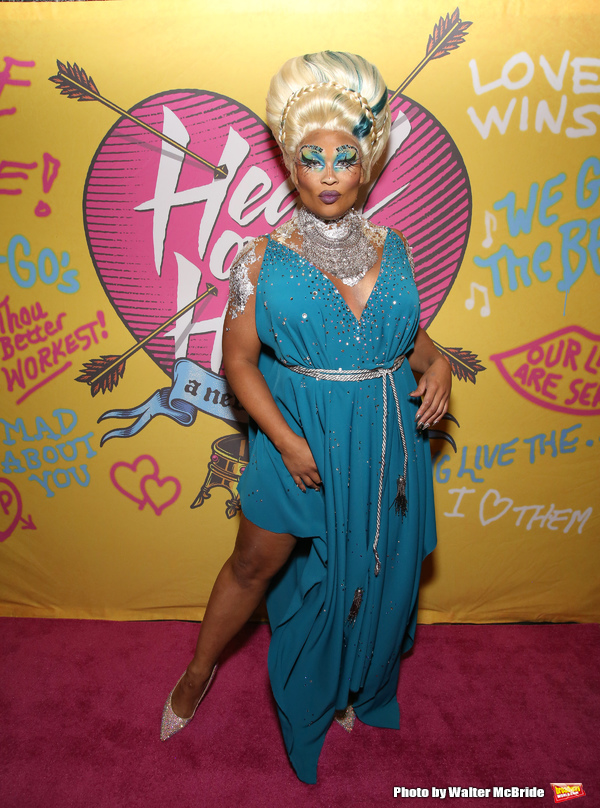 From RuPaul's Drag Race to the lights of Broadway, Peppermint has been wowing audiences in her Broadway debut as 'Pythio' in the bold, new musical Head Over Heels. Featuring the music of the iconic 1980's all-female rock band The Go-Go's, the musical follows the escapades of a royal family on an outrageous journey to save their beloved kingdom from extinction, only to discover the key to their realm's survival lies within each of their own hearts. Today, Peppermint speaks to BroadwayWorld about making her debut and explains why performing on a Broadway stage "feels like home."
What first inspired you to become a performer?
You know I don't know that I was inspired. It's probably hokey to say, but it came very naturally. I was told by everyone else that I was a performer - family members, my mom. I would do these little acting skits in my living room and do performances, and I think a lot of kids do that, but I just never stopped. It was very clear to me that performance was in my blood, being a showgirl was in my blood. I once organized all the kids in the neighborhood in a production of 'Wizard of Oz' that took place in our living room. I got all the kids to come over and we went through my mom's closet for costumes, and I cut out little construction paper yellow bricks and laid them all down in the living room. We didn't even have a rehearsal or a script. I was just like, 'we're doing Wizard of Oz - now perform it!!'
Many people are familiar with you from your season on RuPaul's Drag Race and the tour that followed. Did those experiences help you prepare for Broadway?
Yes, the Drag Race touring had been very rigorous, as any type of touring show would be. And one of the things I was able to do during that tour was really get into the groove of making it work, whether it's really supposed to be working or not! And that goes for your costumes, that goes for your voice, that goes for your energy, whatever. And many of those things are applicable here on Broadway of course. And luckily, even though Broadway is a grueling schedule, there's such a great staff and of course the creatives are wonderful, the stagehands, the crew, the costumers, the dressers and everyone that's there working hard to help lift the show up, they make it really easy. So it feels kind of cushy. I hate to use that word, but it just feels very comfortable. And it allows me the opportunity to focus on just the work.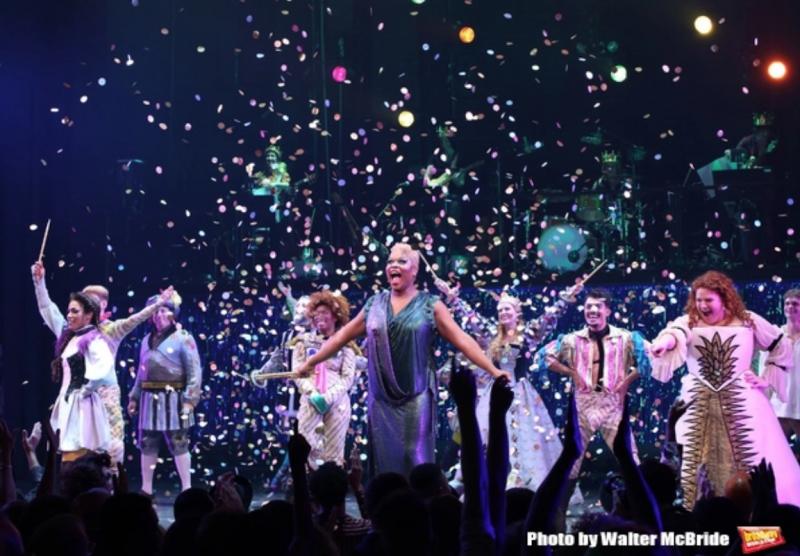 I understand you were not necessarily looking to come to Broadway as a next step in your career.
Oh no, honey! If somebody said Broadway to me, I would run in the other direction! To me Broadway was just a few legendary musicals, none of which would ever have a part for me. I learned pretty quickly that the Broadway life, the life of a Broadway actor, were not very desirable for me because even if I did feel good about getting up everyday and pounding the pavement, and going in for many auditions, which is the norm, there were historically just never any good parts for black, trans women. And so I just didn't feel like there was a spot for me. So Broadway was not on my radar, to say the least. And then when my agent called and said that there was an audition for me and told me about this part, I was interested but I wasn't really that optimistic. Not because of the audition, but just because I was like, 'what is this material? It's not going to be the right material for me.' But I was proven wrong. It was the right material for me!
You are the first open transgender woman to originate a principal role on Broadway. Can you talk about the significance of that and what it means to you?
Well on the short end of it, it's a dream come true and I'm on Cloud 900 because like I said, I never thought that I would be here. So it's a huge opportunity for me to get to know more about myself, get to know more about this Broadway community, which is such a wonderful community of artists, creatives and actors. And it also allows me the opportunity to connect so many issues that are important to me to a larger platform that wouldn't have necessarily had the same light shown on them in other circumstances. So that's great. It's an honor, and it's much bigger than me. It is really an historic moment, not only because I'm a trans woman cast but also because the role that I'm playing, the character themselves are non-binary. So that too is something that is very rare, especially in a mainstream Broadway way.
I do want to say though that I'm not necessarily the first. I know I've been credited as the first, and it is the first in a way, but we don't know who may have identified as trans going back ten, twenty, thirty, forty, a hundred years ago because there may have been creative trans folk who have been in the field but were kind of operating under the radar for fear of rejection. In the past, the Broadway industry wasn't writing parts for and wasn't necessarily supportive or welcoming of trans identities. And so it is very possible that there have been trans people on Broadway that we just don't know about. So I think that's something that's important to say because it highlights how few opportunities there have been for trans folk.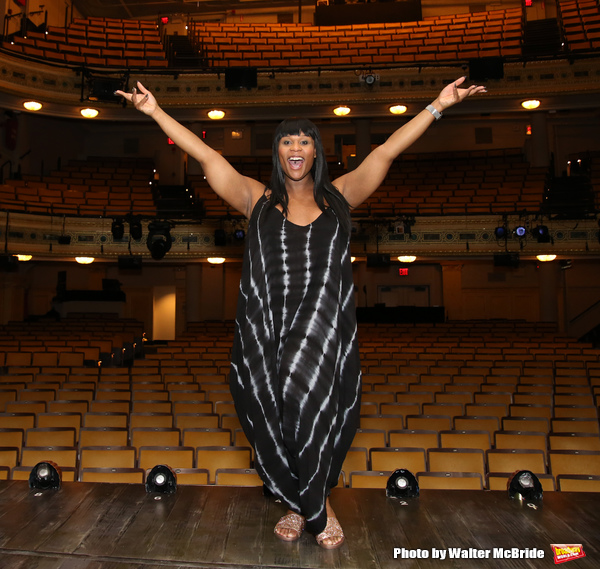 And along those lines, it must feel very rewarding to hear from fans who you have inspired.
Yes, as I said, it is a dream come true and it's so great to be able to meet people at the stage door who resonate with this character and who identify as gender non-conforming, trans or non-binary. And to see the tears in their eyes, the tears of joy that they are being represented on stage, they seem so very appreciative of that. I know I've always been really thankful to be able to see myself reflected. And it's really too rare that it does happen. So this is great.
Another unique thing about this show is that it's a 16th century story, set in ancient Greece and featuring music from the 1980's, yet all these time periods somehow mesh so well together.
Yes, the book was so brilliantly written and the entire idea was something that shouldn't have necessarily worked on paper, but it all works so well together. You know all art is cyclical and you can always find a way to tie most things into what is happening today and in modern times. It's an historic piece of work yet there are so many parallels that could be drawn to today, it's just unbelievable and uncanny. I think it serves us very well and honestly, it's just perfect for me. To do a show that has such great, fun music and a wonderfully talented cast, but also a show that gives me the opportunity to talk about gender issues and challenges the patriarchy in a very new way, is just wonderful for me. And learning blank verse, which is this sort of Shakespearean text, was a challenge. Well luckily my character is the only one who doesn't speak in blank verse. But everyone else does. And it's funny because during rehearsal, the equation is ten beats per line, and so you'd see people kind of counting each syllable on their fingers, it felt like we were in math class!
The music of the Go-Go's translates so well into this story. How familiar were you with these songs prior to becoming involved with the show?
Oh my gosh, I don't know who wouldn't be familiar with the music of the Go-Go's! I was born at just the right time to absorb basically their entire catalog. I was a great, big Go-Go's fan and it's funny - some of their songs would play on repeat on my playlist that I used to use to get ready and I still listen to that playlist that I created. And now we all kind of chuckle when a Go-Go's song comes on and it happens to be the same song that's going on in the show, literally on stage at the same time! So yes, I love the Go-Go's and I think they represent now. Back then when they first formed they were a fun all-girl band, but now it's so great to look back on the legacy they created. There's such a revolutionary feeling about an all-female band playing their own instruments, singing their own songs, writing their own material and performing it well for so many decades. They are legendary and it's a dream come true to perform their music every night. And truthfully it wouldn't have been my first thought for a Broadway show. I wouldn't have said, 'oh Go-Go's music - that's Broadway!' But I think it translates really well onto the stage and when you get to see pop music or rock music in a different context, it really is great to be able to see the writing come to life in a whole new way.
I agree, these songs seem to flow so naturally into the storyline.
They do! And I have to be honest with you. Of course I was a big Go-Go's fan and Belinda Carlisle fan and knew most of the hits, but there are a few songs in the show that I just hadn't heard before. And during the first few weeks of rehearsal I honestly believed they were written just for the show. I thought, 'oh they must have written this one to kind of explain this or that.' That's what I honestly thought! And then obviously I was gravely wrong but it was just so funny because I honestly did believe that.
What was it like to make your Broadway debut in HEAD OVER HELLS?
Again, I was on Cloud 900. I was nervous but not in the way that most people would expect. I wasn't quite so nervous because I didn't know what was happening, I was new to all of this, so it was a first for me to see what opening night was all about, and see all the buzz that was happening around the show, and see all the folks that were coming out to support us and the press and all that. The legacy robe ceremony, which was very touching, was great. And so being able to take part in a lot of these Broadway traditions, many of which I had no idea what they were, was so great for me. So I felt like a spectator as much as I was a participant, and it was so great to be able to sit back and watch what a Broadway company does to prepare for a show and then stand on that stage when the curtain rose on opening night.
Well from an audience member's perspective, you looked like a Broadway veteran!
Are you calling me old? [laughing] I'm just joking - of course I love it! I feel like the home that I've always been waiting to get to come to is here and I feel very much at home. And I just hope that I have more opportunities in the professional theater world and Broadway because this is a gift that I never expected. So to hear that I even seem to wear it, at least a little bit well, is great!
BroadwayWorld congratulates Peppermint on her Broadway debut in Head Over Heels. Fans know her from Season 9 of "RuPaul's Drag Race." An established entertainer and recording artist, she regularly performs to sold -out crowds around the world. Her albums include Hardcore Glamour, Servin' It Up, Sugar & Spiked and Black Pepper.