Danielle Brooks To Lead Cast Of Shakespeare In The Park MUCH ADO ABOUT NOTHING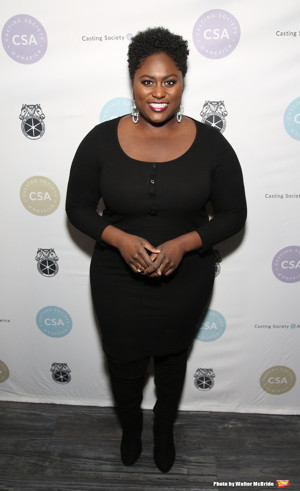 The Public Theater announced casting today for the 2019 Free Shakespeare in the Park production of MUCH ADO ABOUT NOTHING.
The cast of MUCH ADO ABOUT NOTHING will include Jamar Brathwaite (Ensemble), Danielle Brooks (Beatrice), Grantham Coleman (Benedick), Chuck Cooper (Leonato), Javen Crosby (Ensemble), Denzel Fields (Ensemble), Jeremie Harris (Claudio), Tayler Harris (Ensemble), Erik LaRay Harvey (Antonio/Verges), Kai Heath (Ensemble), Daniel Croix Henderson (Balthasar), Tyrone Mitchell Henderson (Friar Francis/Sexton), Tiffany Denise Hobbs (Ursula), Lateefah Holder (Dogberry), LaWanda Hopkins (Dancer), Billy Eugene Jones (Don Pedro), Margaret Odette (Hero), Hubert Point-Du Jour (Don John), Jaime Lincoln Smith (Borachio), Jazmine Stewart (Ensemble), Khiry Walker (Conrade/Ensemble), Olivia Washington (Margaret), and Latra A. Wilson (Dancer).
Directed by Tony Award winner Kenny Leon, the beloved comedy will officially open on Tuesday, June 11 and will run through Sunday, June 23.
In this modern production, we find the community of Messina celebrating a break from an ongoing war. But not all is peaceful amid the revelry, as old rivals engage in a battle of wits, unexpected foes plot revenge, and young lovers are caught in a tumultuous courtship until love proves the ultimate trickster, and undoes them all.
MUCH ADO ABOUT NOTHING will feature scenic design by Beowulf Boritt; costume design by Emilio Sosa; lighting design by Peter Kaczorowski; sound design by Jessica Paz; wigs, hair, and make-up design by Mia Neal; and choreography by Camille A. Brown.
MUCH ADO ABOUT NOTHING was first staged at the Delacorte in 1972 and was directed by A. J. Antoon, featuring Sam Waterston as Benedick and Kathleen Widdoes as Beatrice. It was also performed at the Delacorte in 1988, directed by Gerald Freedman, and featuring Kevin Kline as Benedick, Blythe Danner as Beatrice, David Hyde Pierce as Don Juan, and Jerry Stiller as Dogberry. It was staged at the Delacorte in 2004, directed by David Esbjornson, featuring Jimmy Smits as Benedick, Kristen Johnston as Beatrice, Sam Waterston as Leonato, Elisabeth Waterston as Hero, and Jayne Houdyshell as Ursula. In 2013, the comedy was presented as part of The Public's Mobile Unit, bringing Shakespeare to audiences in the five boroughs who have limited or no access to the arts. The beloved comedy was last seen at the Delacorte in 2014, with a production directed by Jack O'Brien, and featuring Lily Rabe as Beatrice, Hamish Linklater as Benedick, and Brian Stokes Mitchell as Don Pedro.
Since 1962, over five million people have enjoyed more than 150 free productions of Shakespeare and other classical works and musicals at the Delacorte Theater. Conceived by founder Joseph Papp as a way to make great theater accessible to all, The Public's Free Shakespeare in the Park continues to be the bedrock of the Company's mission to increase access and engage the community.
This season, The Public proudly welcomes the return of Jerome L. Greene Foundation and Bank of America as season sponsors. The generous support of Jerome L. Greene Foundation and Bank of America helps to sustain The Public's mission of inclusion, creating great theater, boldly conceived, and free for all.
The Public Theater's Annual Gala, WOMEN OF THE PUBLIC will be celebrated on Monday, June 3 at the Delacorte Theater. To receive an invitation to The Public Theater's Gala, please call (212) 539-8634 or visit www.publictheater.org.
Related Articles
More Hot Stories For You