Click Here for More Articles on STUDENT CENTER - COLLEGE EDITION

Columbia University School of the Arts Will Present the MFA Acting Class of 2020 In Thesis Production of Where Do We Live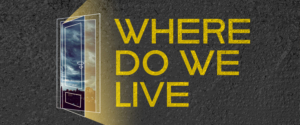 Columbia University School of the Arts will present the MFA Acting Class of 2020 in their thesis production of Where Do We Live directed by Ron Van Lieu that will open this fall at The Lenfest Center for the Arts at 615 W. 129th St.
It's August, 2001. The stock market is humming.
Rudy Giuliani
is cleaning up New York City. Drugs and sex are pervasive. Love is hard to come by. Suspicion of "the other" is rampant. A group of young New Yorkers are looking to define themselves.
Christopher Shinn
's Where Do We Live explores all of this with compassion and humor; a rare opportunity to see this 2005 Obie Award-winning play by one of America's most incisive writers.
Note: This production is for mature audiences and contains mature subject matter.
SCHEDULE:
Nov 20, 2019 - 8:00PM
Nov 21, 2019 - 8:00PM
Nov 22, 2019 - 8:00PM
Nov 23, 2019 - 2:00PM
Nov 23, 2019 - 8:00PMFEATURING:
Roberta Ahrens, Anya Banerjee, Robert Barlow, Christian Goodie, Michael Khalid Karadsheh, Clayton McInerney, Brian Patterson, Titus Van Hook, and
Jae Woo
PRODUCTION TEAM:
Director
Ron Van Lieu
, Production Stage Manager
KAIT MAHONEY
, Assistant Stage Managers Alison Savino, Scenic Designer
Anna Driftmier
, Costume Designer Alexandra Soiseth, Lighting Designer
Eric Norbury
, Sound Designer Kimberly O'Loughlin, Props Master Emmett Grosland, Projections Designer Taylor Stuart, Director of Production
Joe Novak
, Production Manager CB Shotwell, and Graphic Designer Annie Jin Wang.Tickets: $15 General Admission/ $5 Seniors/ FREE with Student ID (enter code: "SHINN").
Ticketing Info:
https://lenfest.arts.columbia.edu/events/acting-thesis-where-do-we-live