Click Here for More Articles on NEW YORK CITY
Cast Announced for Robbie Florian's THE CADAVER SYNOD: A POPE MUSICAL at NYMF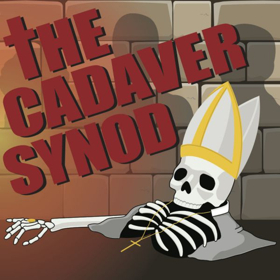 Robbie Florian's farce, The Cadaver Synod: A Pope Musical will debut at this year's New York Musical Festival, playing from July 17 - 23 at The Acorn Theatre at Theatre Row (410 W 42nd Street). The Cadaver Synod is directed by Ryan Emmons with musical direction by Dan Garmon and choreography by Gina Duci. Tickets are $27.75 and can be purchased by visiting NYMF.org.
In the year 897 A.D., Pope Stephen VII dug up the rotting corpse of his predecessor, Pope Formosus, and placed it on trial in front of the entire Roman Clergy, Senate, and Aristocracy. After screaming at it for hours, Stephen had the body dismembered, disrobed, and thrown in the Tiber River. Why would he do this? Your guess is as good as ours. But, here's our guess. Brought to life with a sensuous mix of pope-punk, Catholic pop, and inarguably melodic ecclesiastical mandible-flappings, we invite YOU to the trial of the 9th century.
Cast includes Charnette Batey (National Tour: The Book Of Mormon ), John Paul Cardenas (National Tour: Fiddler on the Roof ), Brad Greer (Broadway: The Bridges of Madison County), Richard Jarrett (National Tour: Legally Blonde), Kate Ferber (NY: One Child Born: The Music of Laura Nyro), David Larsen (Broadway: Hand on a Hard Body, American Idiot), Evan Maltby (NY: Puffs, A Burial Place), Jeremy Pasha (National Tour: Jesus Christ Superstar), Sarah Beth Pfeifer (Off- Broadway: The Lightning Thief: The Percy Jackson Musical), Ethan Gabriel Riordan,Staci Stout (National Tour: How the Grinch Stole Christmas), Forest VanDyke (The Waterman at Ars Nova), Noah Zachary (Regional: Peter And The Starcatcher),
Creative team: Nate Bertone (Set Designer), Ryan Hauenstein (Lighting Designer), Daryl Stone (Costume Designer), Kevan Loney (Projection Design), Marte Ekhougen (Puppet Design), Jenny Ainsworth (Production Stage Manager), Abbie Betts (Assistant Stage Manager) Lisa Dozier King (General Manager).
IF YOU GO:
The Cadaver Synod: A Popes Musical
Book, Music, and Lyrics by Robbie Florian, Directed by Ryan Emmons
Choreography by Gina Duci, Musical Direction by Dan Garmon
Performances Schedule:
Monday, July 17, 2017 at 8:00 pm
Thursday, July 20, 2017 at 1:00 pm
Friday, July 21, 2017 at 9:00 pm
Saturday, July 22, 2017 at 5:00 pm
Sunday, July 23, 2017 at 1:00 pm
Tickets are $27.50 and can be purchased by visiting NYMF.org.
Acorn Theatre at Theatre Row is located at 410 W 42nd Street
ROBBIE FLORIAN (Composer/Lyricist/Book Writer) is certainly a person. Oh boy, is he. Robbie hails from Illinois, but sails on the high seas with quite an assemblage of characters. Since graduating from Duke University, Robbie has worked on combating botulism, unionizing disparate famuli, and shelling nuts for sick frippers. He is me and me is pleased to meet you!
Ryan Emmons is a founding member and Co-Artistic Director of No.11 Productions. Directing credits include Groundhog Day (AD), Matilda the Musical (RD) and Ghost the Musical (SDC Observer). Ryan has directed many shows with No.11 (www.no11productions.com) as well as regional, educational and NY theatre with various companies. Recent credits include Quest for the West, A Christmas Carol and Coosje. Ryan holds a BS in Theatre from Skidmore College.
Gina Duci (Choreographer) is a NY based performer (TOUR - A Chorus Line; DiAna Morales) and Choreographer. She recently was the assistant choreographer on the 2017 Roundabout Theatre Gala and the James M. Nederlander Tribute. She is also the associate Director/Choreographer for Broadway's After Midnight on board the Norwegian Escape. A proud PSU grad. Thank You to Ryan for having me on your team! Love to Mom, Dad, Vic, Mike and Jason. www.ginaduci.com
Dan Garmon (Musical Director) is a Brooklyn-based MD, multi-instrumentalist, and educator. Upcoming: Goddess: A Cleopatra Remix (Theater for the New City), Kerrigan-Lowdermilk's fully immersive musical The Bad Years. NYC MD credits: The Other Side of Paradise (Ars Nova), Oliver Houser's XY (ASCAP), The Bad Years (2016 workshop), an immersive production of Cabaret (Secret Theatre). Additional non-MD credits: Finding Neverland, Mira Nair's musical Monsoon Wedding, and the new John Denver jukebox musical Back Home Again. www.dangarmon.com
The New York Musical Festival nurtures the creation, production, and public presentation of stylistically, thematically, and culturally diverse new musicals to ensure the future vitality of musical theater.
Now in its fourteenth year, the Festival is the premier musical theater event in the world. The preeminent site for launching new musicals and discovering new talent, the Festival provides an affordable platform for artists to mount professional productions that reach their peers, industry leaders, and musical theater fans. More than 90 Festival shows have gone on to productions on and Off-Broadway, in regional theaters in all 50 states, and in more than 24 countries worldwide. Festival alumni have received a wide array of awards including the Tony Award and the Pulitzer Prize. In 2013, NYMF received a special Drama Desk Award in recognition of its work "creating and nurturing new musical theater, ensuring the future of this essential art form."
NYMF is the flagship program of National Music Theater Network, Inc., a 501(c) (3) not-for-profit organization. 2017 NYMF is sponsored by The City of New York Mayor's Office of Media and Entertainment, PRG, TheaterMania, Clear Channel Outdoor and the Village Voice, and is supported, in part, in part, by an award from the National Endowment for the Arts, and by public funds from the New York City Department of Cultural Affairs.
The NYMF PASS is a great way to experience The New York Musical Festival. With a NYMF PASS, you can get into the theater before individual ticket holders. Passes also offer the exclusive ability to book tickets before they go on sale to the public. Individual tickets on sale now.
The 2017 New York Musical Festival will take place July 10 - August 6. For more information, visit www.nymf.org.