Carnegie Hall's Weill Music Institute presents A TIME LIKE THIS: MUSIC FOR CHANGE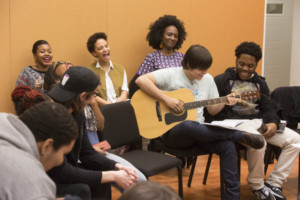 As part of Carnegie Hall's The '60s: The Years that Changed America festival, the Weill Music Institute (WMI) is launching A Time Like This: Music for Change, a citywide creative learning project that encourages young people to harness music as a meaningful tool for social change.
Participants in Carnegie Hall's wide range of education and social impact programs will have the opportunity to share their stories and write new music through songwriting projects in a variety of settings, including New York public schools, Carnegie Hall's Resnick Education Wing, and other sites across the city.
The project culminates in a dynamic event in Carnegie Hall's Stern Auditorium / Perelman Stage on Sunday, March 11, 2018 at 3:00 p.m. that will feature young performers sharing the stage with celebrated artists, including poet/emcee Lemon Andersen. The concert will include songs from the '60s that anchor, encourage, and inspire the newly composed songs on the program.
A Time Like This: Music for Change celebrates and builds off of nine years of
Carnegie Hall
's partnership with city and state agencies to offer songwriting workshops in hospitals, homeless shelters, schools, and justice settings that are designed to have a powerful impact on participants' daily lives. More than 500 songs are written each season, many of which are available for listening at
carnegiehall.org/OurSongs
and
carnegiehall.org/Lullabies
. The concert on March 11, 2018 will showcase newly-written pieces from this rich body of music on Stern Auditorium / Perelman Stage for the very first time. The performance also kicks off the third Create Justice forum, a national initiative led by
Carnegie Hall
and the Arts for Incarcerated Youth Network that focuses on the intersection of arts and juvenile justice reform. "Over the past nine years, we have offered intensive songwriting workshops for people from all walks of life, giving participants a platform to tell their stories and express themselves artistically. Incredible songs have been created, and we could not be more excited to showcase this work on
Carnegie Hall
's main stage for the first time," said
Sarah Johnson
, Director of
Carnegie Hall
's Weill Music Institute. "This year, our programming is guided by the 1960s, a decade of turmoil, protest, social change, and above all, groundbreaking music. Taking inspiration from that time, young people and other community members will create a new body of music that speaks to the issues and challenges of today. We can't wait to hear what they create." Songwriting kicked off this fall, with young people and adults creating, performing, and producing original music. Music residencies across New York City explore how a new generation can draw strength from what came before, and leverage the stage to advocate for social change. Themes from the 1960s are incorporated into the following programs:
Future Music Project - Teens from 68 zip codes across New York City take part in free afterschool and weekend workshops in Carnegie Hall's Resnick Education Wing and in justice settings. Weekly classes ranging from songwriting and digital music creation to concert production incorporate themes from the 1960s, with monthly performances showcasing new songs.
Musical Connections - In Carnegie Hall's ninth year of partnership, men at Sing Sing Correctional Facility create and perform original music, guided by the themes of the 1960s. A series of workshops focuses on developing composition and instrumental skills, while several concerts for the facility's general population will feature new works composed and performed by the men alongside visiting artists.
NeON Arts - NeON Arts, a free program of the Neighborhood Opportunity Network (NeON) that is open to the entire city, offers youth in seven New York City communities the chance to explore the arts through a variety of creative projects at local community-based sites and NeONs. Winter/Spring 2018 projects will incorporate the music of the 1960s and the movements for social justice that continue today.
Music Educators Workshop - Music educators in the New York City area who work in school and community settings with K-12 students are encouraged to incorporate the themes of the 1960s into their classrooms. Carnegie Hall is providing supporting materials and professional development to help integrate songwriting into curriculum and lesson planning.
Musical Explorers - In fall 2017, New York City students in grades K-2 are exploring Freedom Songs with composer, vocalist, and cultural worker Imani Uzuri. After learning anthems of the Civil Rights Movement such as "We Shall Overcome" and "Ain't Gonna Let Nobody Turn Me Around," kids have the opportunity to write their own freedom songs in their classrooms.
Spring Family Day - Children and families will discover how music can create change in the world as part of Spring Family Day, with interactive activities celebrating "The Power of Music and You." Creative music-making experiences round out this free musical extravaganza on Sunday, April 8, 2018, with live performances, instrument building, singing, and dancing.

A Time Like This: Music for Change is the latest in a series of WMI creative learning projects designed to bring New York City students and community members together with world-class artists for musical exploration around a common theme or major work. Past projects have centered on Stravinsky's The Rite of Spring (2007, in partnership with the Berliner Philharmoniker Education Project); Bernstein's Mass (2008); Too Hot to Handel, a gospel-influenced re-invention of Handel's Messiah (2010); Orff's Carmina Burana (2012); Osvaldo Golijov's La Pasión según San Marcos (2013); Ellington's Sacred Music (2014, in partnership with Jazz at Lincoln Center); and most recently, The Somewhere Project, a citywide exploration of West Side Story that culminated in a critically acclaimed production in spring 2016.
About The '60s: The Years that Changed America Festival (January 14-March 24, 2018)
It was a watershed decade in America's history, a period in which the country was torn apart by the struggle for social justice, the fight for civil rights, and a war in which more than half a million Americans were fighting on the other side of the world. As a restive younger generation was finding its voice, the world witnessed a revolution in long-held values and social norms, from culture and fashion to politics and identity. Half a century later, as many of the hard-won victories of the 1960s are being debated,
Carnegie Hall
turns for the first time to a figure outside the music world-Pulitzer Prize-winning author and historian Robert A. Caro, famed biographer of Robert Moses and Lyndon B. Johnson-for inspiration, presenting a citywide festival examining this pivotal decade. Music, of course, was at the center of it all, providing an outlet for resistance as much as it inspired change. As part of its festival offering,
Carnegie Hall
presents a thrilling series of concerts and education projects that draw inspiration from the '60s, and explore the decade's nexus of music, protest, and change. Beyond the Hall, the festival includes film screenings, dance performances, talks, and exhibitions presented by more than 35 partner organizations across the city-including the Apollo Theater, Brennan Center for Justice at New York University School of Law, New-York Historical Society, and The New York Public Library-that focus on a decisive moment in our country's history, a decade that changed America in ways that still reverberate in our lives today. For more information, please visit:
carnegiehall.org/60s
About
Carnegie Hall
's Weill Music Institute
Carnegie Hall
's Weill Music Institute (WMI) creates visionary programs that embody
Carnegie Hall
's commitment to music education, playing a central role in fulfilling the Hall's mission of making great music accessible to as many people as possible. With unparalleled access to the world's greatest artists, WMI's programs are designed to inspire audiences of all ages, nurture tomorrow's musical talent, and harness the power of music to make a meaningful difference in people's lives. An integral part of
Carnegie Hall
's concert season, these programs facilitate creative expression, develop musical skills and capacities at all levels, and encourage participants to make lifelong personal connections to music.
The Weill Music Institute generates new knowledge through original research and is committed to giving back to its community and the field, sharing an extensive range of online music education resources and program materials for free with teachers, orchestras, arts organizations, and music lovers worldwide. More than half a million people each year engage in WMI's programs through national and international partnerships, in New York City schools and community settings, and at Carnegie Hall. This includes more than 400,000 students and teachers worldwide who participate in WMI's Link Up music education program for students in grades 3 through 5, made possible through partnerships with over 100 orchestras in the US, Canada, Japan, Kenya, Puerto Rico, and Spain.
For more information, please visit:
carnegiehall.org/Education
.