CIRCLE LINE Kicks Off Summer in the City with New Cruises
CIRCLE LINE Kicks Off Summer
Editor's Note: We're excited to bring our readers all the news of Circle Line's latest summer season offerings. Whether you're visiting the city or enjoying a staycation, make plans for a memorable boat ride.
Circle Line, home of the iconic NYC sightseeing boat tours, announced a brand-new lineup of epic cruises to kick off summer in the city. With summer being the ultimate time of year to get out on the water, Circle Line's new offerings include an expanded schedule with additional cruise times available, specialty programming with live on-board entertainment and a magical 4th of July cruise offering the best views in NYC for fireworks on the Hudson.
Circle Line's summer announcements include:
New Summer Schedule - Running from May 21 - September 16, Circle Line's new Summer Schedule introduces additional departure times for the cruise that made it world-famous, the Best of NYC Cruise, with tours now departing at 10:00AM, 12:00PM, 1:30PM and 3:30PM offering ample opportunities for guests to set sail and enjoy the ocean breeze during the hottest months of the year. Starting at $44, the Best of NYC Cruise brings guests on a voyage along all three NYC rivers, passing under 20 bridges, showcasing over 130 of the city's most iconic landmarks like Little Island, One World Trade Center, the Brooklyn Bridge, the United Nations, and the legendary Yankee Stadium, and delivers an up-close look at the Statue of Liberty and Ellis Island.
The Beast - The jet-powered thrill ride is out of hibernation with cruises departing at every hour Tuesdays - Sundays with tickets beginning at $30. Guests will experience a 30-minute adrenaline rush as you take in the incredible views at a heart-pounding 40 knots (45 mph) all summer long. The roller-coaster-like speedboat attraction brings visitors roaring down the Hudson River from Pier 83 to the Statue of Liberty making wild twists and turns along the way for tons of splashy action.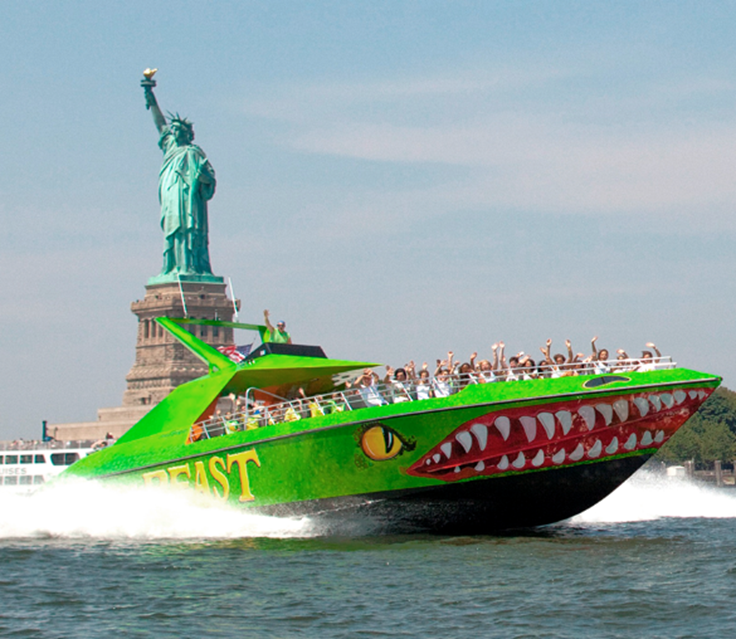 Summer DJ Events - Circle Line has also announced the return of their widely popular Summer DJ Series, offering guests a way to take their night out on the town to a new level. In partnership with local NYC promoters, passengers are invited to enjoy a night of food, drinks, and fun as they listen to sounds from the city's hottest DJ's soaking in the illuminated NYC skyline. Interested partygoers can review the full list of events at https://circleline.com/dj-summer-events.
July 4th Fireworks Cruise - Circle Line's summer roster also includes a special July 4th Fireworks Cruise where guests can declare their independence from holiday crowds and celebrate the 4th of July from the water. This fun-filled event spans five hours of cruising along the Hudson River culminating with over 40 minutes of unbeatable views of New York's Fourth of July fireworks. Early-bird ticket pricing starts at $229/adult and $179/child (under 12) and is available until June 1. Tickets include access to a summer buffet of 4th of July favorites including fried chicken, hamburgers, hot dogs and mac 'n cheese, as well as unlimited beer, wine and soda, with spirits and cocktails available for purchase.
"There's nothing better than being out on the water in the summer. We are thrilled to announce this exciting new lineup of cruises, providing guests with endless opportunities to be outdoors and take in what this iconic city has to offer," said Craig Kanarick, CEO of New York Cruise Lines. "At Circle Line, we are always looking for new ways to fit the needs of our guests, from the July 4th Fireworks Cruise to the Summer DJ Series, our epic summer line up has a fit for everyone."
Circle Line is the only cruise company in New York Harbor dedicated to sightseeing and entertainment with boats specifically designed to let passengers see as much as possible in any weather conditions. In addition to the Best of New York cruise, the company currently has three other popular resident cruise options including, Landmarks, Liberty Midtown, and Harbor Lights, which will all continue to be available throughout the summer months as well.
For full details on Circle Line or to book a boat ride, please visit here.
About New York Cruise Lines
New York Cruise Lines (NYCL) is the industry leader in marine-based sightseeing, transportation, entertainment and dining that emphasizes the ultimate in hospitality set to the beauty of the New York City skyline. NYCL owns and operates 24 ships, including the most extensive and modern fleet in the sightseeing industry. NYCL's iconic brand, Circle Line Sightseeing Cruises, is a fixture in global tourism, hosting more than 80 million passengers since 1945. Recognized as "America's Favorite Boat Ride," Circle Line is world-famous for sightseeing and special events including concerts and private parties. Operating from Pier 83 in Hudson River Park at 42nd Street and 12thAvenue, (convenient to Times Square, The High Line and Hudson Yards) and Slip 6 in Battery Park, Circle Line is the oldest and largest provider of sightseeing cruises using the most modern vessels. NYCL also operates the iconic New York Water Taxi private transportation fleet, New York's only maritime thrill-ride, The Beast, and New York's only floating, moving restaurants-North River Lobster Company and La Barca Cantina.
Photo Credit: Courtesy of New York Cruise Lines