Bronx Arts Ensemble Presents Chamber Music Month
Featuring BAE String Quartet and Woodwind Quintet.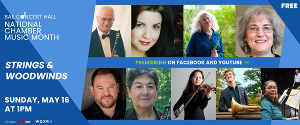 BAE celebrates National Chamber Music Month with members of the Bronx Arts Ensemble Woodwind Quintet and String Quartet.
The musicians will present a dynamic, uplifting, and soothing concert featuring beloved chamber music repertoire. The string quartet will perform Samuel Barber's Adagio for Strings in commemoration of the lives lost due to the COVID-19 pandemic.
This video premiere also features the beautiful artwork of Marsha Heller, BAE's longtime oboe player.
Free online premiere to stream Sunday, May 16th, 1:00 pm EST. Streaming at facebook.com/bronxartsensemble and at youtube.com/user/BronxArtsEnsemble
Performers:
BAE Woodwind Quintet
Theresa Norris, flute
Marsha Heller, oboe
Mitchell Kriegler, clarinet
Wilden Dannenberg, french horn
Atsuko Sato, bassoon
BAE String Quartet:
Jorge Avila. violin
Evelyn Petcher. violin
Sally Shumway. viola
Eliana Mendoza. cello
For more information, please visit https://www.bronxartsensemble.org