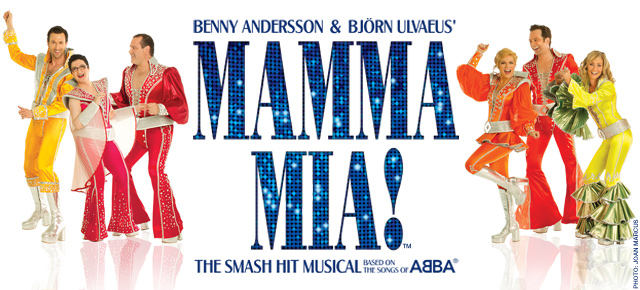 Click Here for More Articles on MAMMA MIA!
Broadway's MAMMA MIA! Sets New Closing Date
Benny Andersson and Björn Ulvaeus' global smash hit musical MAMMA MIA!, inspired by the songs of ABBA, will now end its historic, record-breaking run on Broadway on Saturday, September 12, 2015, following 5,773 performances. (September 5 was the previously-announced closing date.)
MAMMA MIA! is one of the most successful musicals of all time anywhere in the world, the eighth longest running show in Broadway history and one of only five current musicals to have run for more ten years on Broadway. The show recently passed the long runs of Rent, Miss Saigon, 42nd Street, Grease and Fiddler on the Roof, establishing the musical as a Broadway legend.
MAMMA MIA! opened at Broadway's Winter Garden Theatre on October 18, 2001, following the meteoric success of the London premiere which debuted in 1999 and continues to play to packed houses at the The Novello Theatre in the West End.
"MAMMA MIA! has celebrated a passionate 14-year love affair with New York City," said producer Judy Craymer. "I am thrilled that Mamma Mia! has brought the music of ABBA to Broadway and so grateful to the hundreds of wonderful actors, musicians, stage managers, crew, front of house staff and the other people of the theatre who have given their professional lives and souls to be part of the Mamma Mia! family and adventure on Broadway. And a huge thank you to our fans who have come from all over the world to see the show. It's an honour to be recognised as one of the most popular shows in Broadway history and we're looking forward to celebrating our last summer at the Broadhurst Theatre."
The Broadway run of Mamma Mia! has grossed more than $600 million at the box office, and the show has taken in over $2 billion worldwide. Under Craymer's guidance, MAMMA MIA! has become a world-wide phenomenon, seen by over 54 million people in 16 languages in 49 productions and over 400 cities around the world.
The 2008 blockbuster feature film adaptation of MAMMA MIA!, starring Meryl Streep and Pierce Brosnan and produced by Judy Craymer and Gary Goetzman, is the most successful live movie musical of all time, grossing $600 million worldwide. The soundtrack of the movie has been certified platinum in over 20 countries.
The North American productions of Mamma Mia! combined have played nearly 20,000 performances. More than 20 million people have seen Mamma Mia! in North America, including over 7 million on Broadway alone. The North American companies of Mamma Mia! have raised over $5 million for Broadway Cares Equity Fights Aids.
The current Broadway company of MAMMA MIA! stars Judy McLane ("Donna Sheridan"), Elena Ricardo ("Sophie Sheridan"), Mary Callanan ("Rosie), Alison Ewing (Tanya"), Victor Wallace ("Sam Carmichael"), Paul DeBoy ("Harry Bright"), John Hemphill ("Bill Austin") and Jon Jorgenson ("Sky") and features Thomasina E. Gross ("Lisa"), Traci Victoria ("Ali"), Neil Starkenberg ("Pepper"), Taurean Everett ("Eddie") and Deanna Aguinaga, Sydni Beaudoin, Brent Black, Natalie Bradshaw, Allyson Carr, Felicity Claire, Tony Clements, Antoinette Comer, Mark Dancewicz, Stacia Fernandez,Tony Gonzalez, Jennifer Hemphill, Ben McHugh, Corinne Melançon, Christopher Hudson Myers, Patrick Ortiz, Jacob Pinion, Terra-Lee Pollin,Gerard Salvador, Santina Umbach and Jason Watson.
Inspired by the story-telling magic of ABBA's timeless songs and directed by Phyllida Lloyd, MAMMA MIA! is Judy Craymer's vision of writer Catherine Johnson's sunny, funny tale of family and friendship unfolding on a tiny Greek island. On the eve of her wedding, a daughter's quest to discover the identity of her father brings 3 men from her mother's past back to the island they had last visited 20 years ago. Songs including "Dancing Queen," "The Winner Takes It All," "Money, Money, Money" and "Take a Chance on Me" are all featured in this feel-good night of fun and laughter.
With music and lyrics by Benny Andersson and Björn Ulvaeus, MAMMA MIA! is written by Catherine Johnson and directed by Phyllida Lloyd. MAMMA MIA! is choreographed by Anthony Van Laast, with production design by Mark Thompson, lighting design by Howard Harrison, sound design by Andrew Bruce and Bobby Aitken, and musical supervision, additional material and arrangements by Martin Koch.
MAMMA MIA! is produced by Judy Craymer, Richard East and Björn Ulvaeus for Littlestar in association with Universal.
Related Articles
More Hot Stories For You
Actors' Equity Has Rejected Walt Disney World's Virus Safety Plan For Performers
Deadline has reported that Actors' Equity has rejected Walt Disney World's reopening safety plan for workers due to the fact that the proposal does no...

Ramin Karimloo, Rachel Tucker, Rachel John, and Cedric Neal Will Lead Virtual Production of SONGS FOR A NEW WORLD
A virtual production will be streamed of Jason Robert Brown's Songs For A New World, filmed entirely in isolation. Séimí Campbell directs Rachel John ...

QUIZ: Can You Guess the Hamilton Character from These Blurry Images?
These Hamilton pictures are a bit blurry... can you figure out which characters they are?...

Spotlight on HAMILTON: Catching Up with Christopher Jackson
History may have its eyes on Hamilton, but today, we have our eyes on the history of its stars. Below take a deep dive into the career of the general ...

Oliver Dowden Meets With Andrew Lloyd Webber at the London Palladium to Test Safety Measures
Oliver Dowden, Secretary of State for Digital, Culture, Media and Sport, has shared photos on Twitter of a meeting that recently took place between hi...

HAMILTON Cast Album Returns to #1 Spot on the iTunes Chart
The Hamilton Original Broadway Cast Recording has returned to the #1 spot on iTunes' Top Albums chart, ahead of the musical's premiere on Disney+ tomo...