Click Here for More Articles on Broadway by Design
Broadway By Design: Bob Mackie, Christine Jones & Brett Banakis Bring THE CHER SHOW from Page to Stage
Who is Annie without her red dress? Or Eva with out her balcony? It is the charge of the Broadway designer to transport the audience into the world of a show, whether it be Great Depression-era New York City or outside of the Casa Rosada.
In Broadway by Design, BroadwayWorld is shining a spotlight on the stellar designs of this Broadway season, show by show. Today, we continue the series with Christine Jones & Brett Banakis and Bob Mackie, who acted as scenic and costume designers for the Broadway musical we all believe in, The Cher Show.
---
For six straight decades, only one unstoppable force has flat-out dominated popular culture - breaking down barriers, pushing boundaries, and letting nothing and no one stand in her way. The Cher Show is her story, and it's packed with so much Cher that it takes three women to play her: The kid starting out, the glam pop star and the icon.The Cher Show is 35 smash hits, six decades of stardom, two rock-star husbands, a Grammy, an Oscar, an Emmy, and enough Bob Mackie gowns to cause a sequins shortage in New York City, all in one unabashedly fabulous new musical.
How did the design process begin? Jones and Banakis began with the lady herself. "We began by revisiting Cher's TV shows, as well as watching her concerts, music videos, films, and various interviews with her. It's an incredible body of work! One of our favorite moments we stumbled upon was during one of her concerts, where she was talking to the crowd about creating her Farewell Tour in competition with Madonna and Britney Spears. 'Follow this, you bitches,' was her motto. It became ours as well," they explain.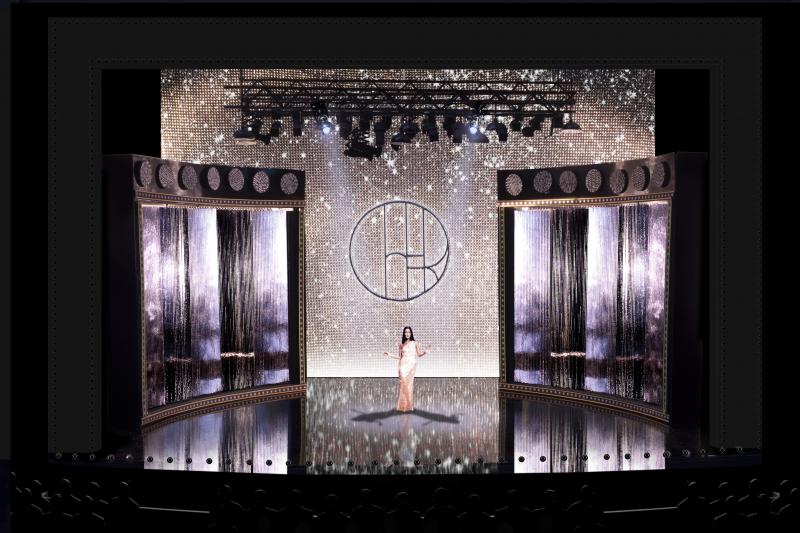 "The designs for her variety shows were inventive, minimalist, maximalist, eye popping and kaleidoscopic. In as a show about all the sides of her we wanted create an envelope with a design that could be as multi faceted as she is. There are big, bright numbers and then stripped down ones, like when she auditions for Mike Nichols on an empty stage with a ghost light."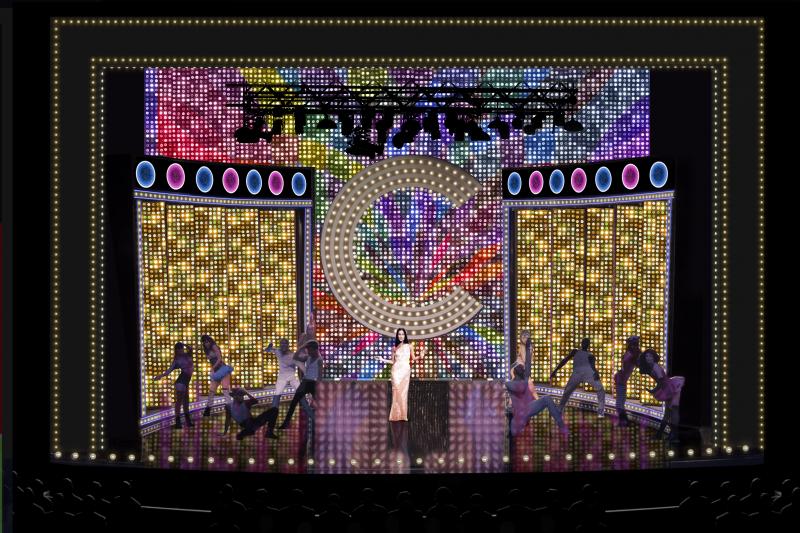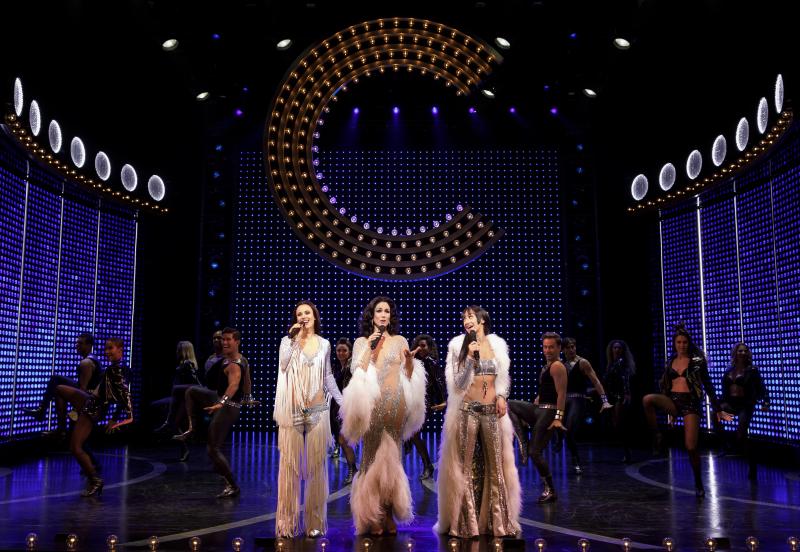 What was their biggest challenge? "The script was evolving throughout the process from start to finish," they explain. "Jason Moore, our director, and Rick Elice, our book writer, were incredible in their dedication to the craft of finding the best way to tell her story. We wanted to be an asset to that process. It was a challenge to make a world that could adapt along with the ever-changing text. In a way though, that is that best challenge we can wrestle with as set designers, because we are all working together towards the same goal, making improvements, adjustments both small and large, every step of the way."
Mackie on the other hand has his own history with Cher to draw from. "After more than 50 years of designing for that special Icon, Legend and Charismatic Talent called Cher, it was challenging and fun to re-examine the past and look to the future." he explains.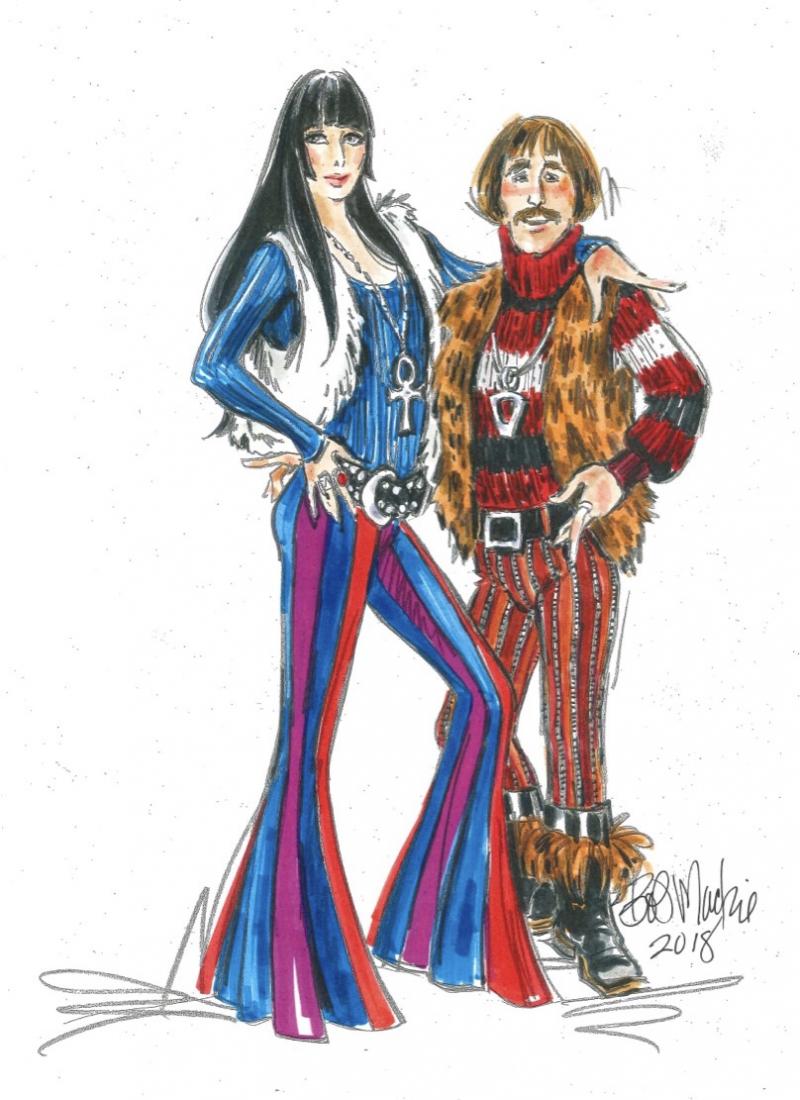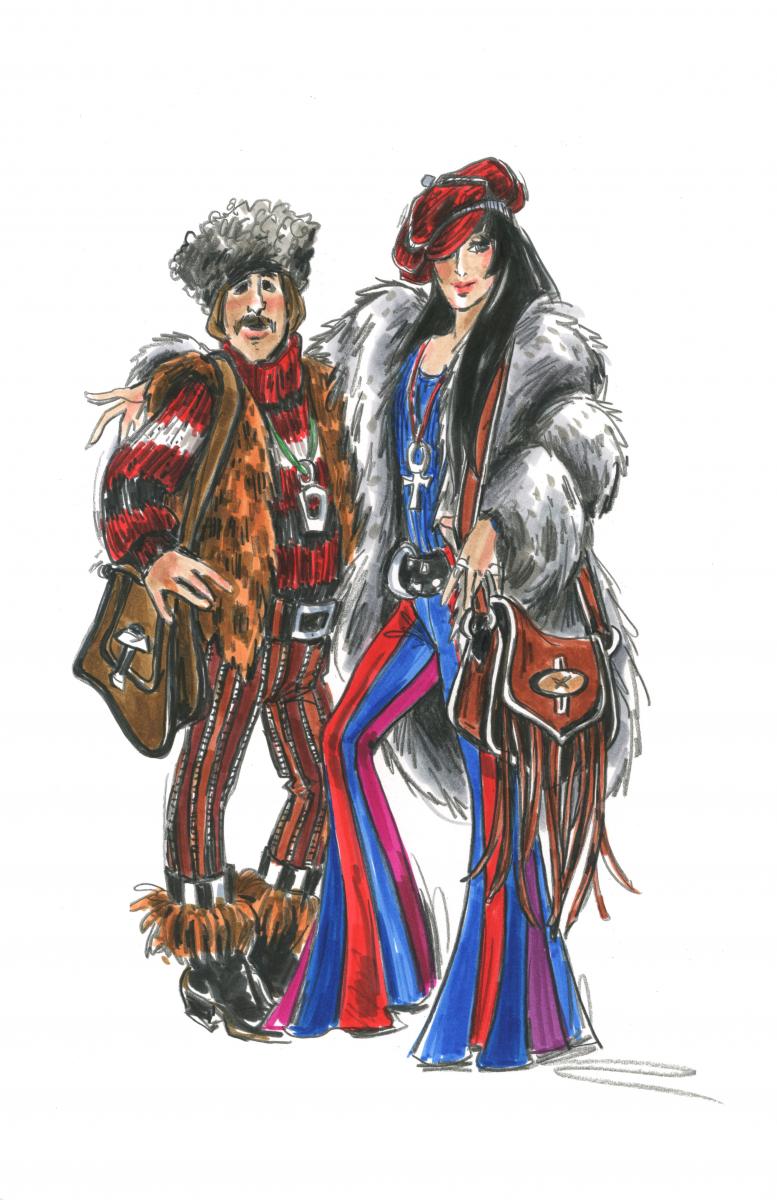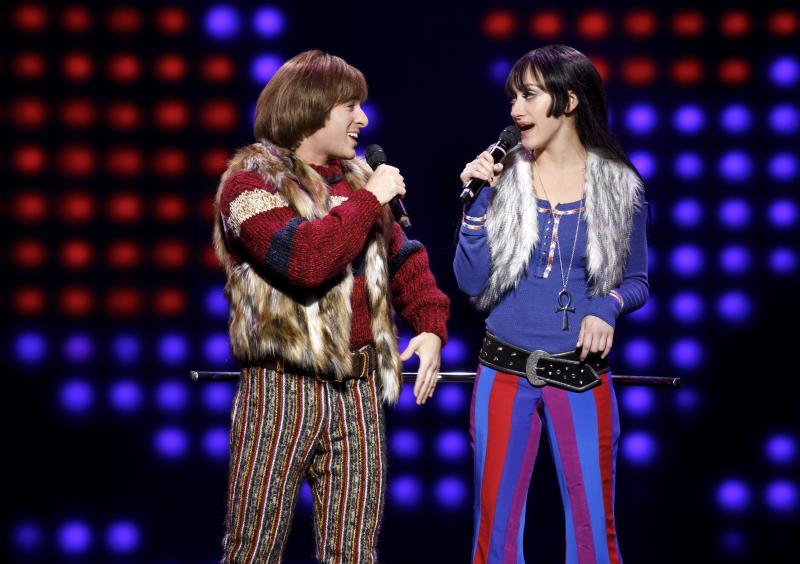 "The one thing I could never change were the rather famous red carpet outfits. The real hard-core fans know those get-ups better than I do and if I changed a thing I would be put on a Hit List!"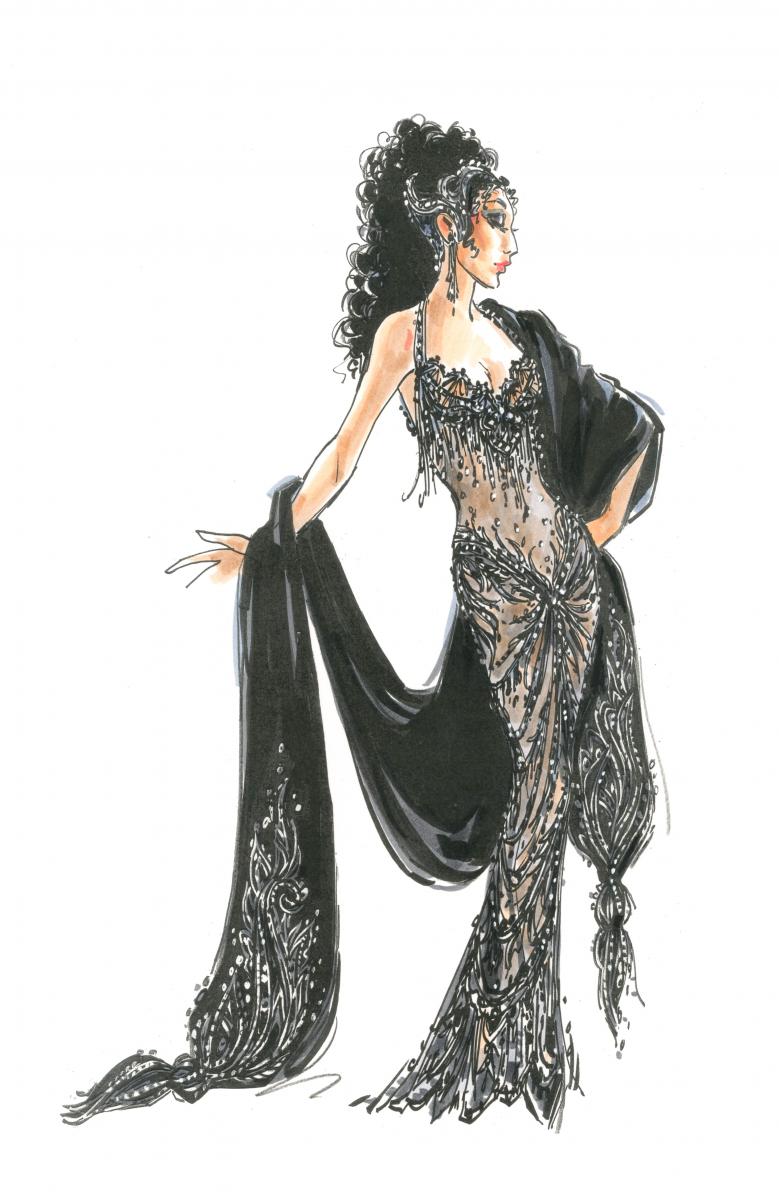 "The biggest challenge was to hold back the crazy glamour on the highly dramatic moments in the script," says Mackie. "Fortunately, nothing looks as good on the lady than classic jeans and a tee shirt!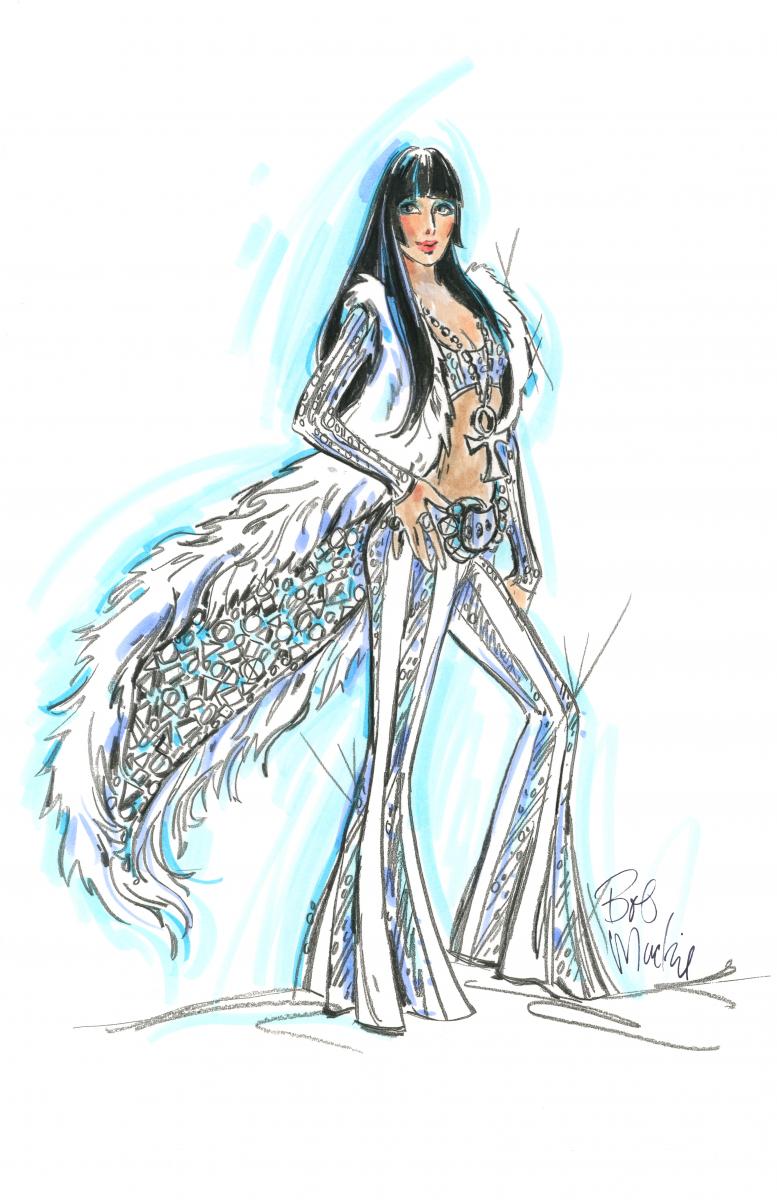 Want more Broadway By Design? CLICK HERE.
---
The Cher Show stars Tony Award nominee Stephanie J. Block (Falsettos, The Mystery of Edwin Drood), Teal Wicks (Wicked, Finding Neverland), and Micaela Diamond (Broadway debut) in the role of the iconic singer and actress at various times in her life and career. They are joined by Tony Award nominee Jarrod Spector (Beautiful, Jersey Boys) as Sonny Bono, Tony Award nominee Michael Berresse (Kiss Me, Kate; A Chorus Line) as Bob Mackie, Michael Campayno (Wicked) as Rob Camilletti, Matthew Hydzik (West Side Story, Side Show) as Gregg Allman, Tony Award nominee Emily Skinner (Prince of Broadway, Side Show) as Georgia Holt, and Dee Roscioli (Wicked, Fiddler on the Roof) as the Standby for Star and Lady.