Broadway Actor Quentin Maré Passes Away Age 49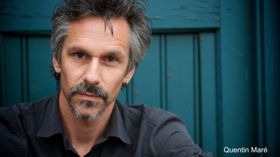 Quentin Maré, a versatile and daring stage actor cast in such wide-ranging productions off and on Broadway as King Lear, Coram Boy, Tom Stoppard's Rock n Roll, Happy Now?, and most recently, Lost Lake, passed away early Sunday morning, April 21, of natural causes. Maré was 49 and lived in New York City.
The Chicago native, whose friends called him "Q," moved to New York over 20 years ago to pursue his true passion. As he told Theater in the Now magazine in 2015 during his run in SCHOOLED at the Soho Playhouse, Maré was always drawn to the theater because of its intimacy and immediacy. "It's ephemeral, it's communal, audience and actors are all breathing the same air ... and it ties me to the very roots of Western civilization," said Maré, whose self-deprecating wit artfully married bohemian romance with gentle cynicism. He trained at Juilliard and became "a poet's actor-smart, acerbic, prone to darker modes, yet open and warm and loyal," says actress Martha Plimpton, a close friend, who performed with him in the Longwharf production of Hedda Gabler. "I believe he was one of the most talented actors of his generation," says Kate Maguire, Artistic Director of Berkshire Theatre Group, who produced him in Lost Lake. "His considerable skills onstage were complemented by a knowing smile, wry wit, and best of all-a very dear heart."
Deeply beloved by his peers in the theater world, Maré was as devoted to his tribe of friends as he was to his craft. "His passing is not only a personal tragedy for his friends and loved ones but also a reminder of the impossible conditions actors in New York have to endure, trying to sustain a career in the theater and keep body and soul together," says Brian Cox, who starred with Maré in Rock n Roll. "I don't think any of us who knew and loved him had any idea how many hundreds of other people loved him," says Plimpton. "He just never let on."
Maré is survived by his daughter, Ella; his partner, costume designer Sarah Laux; his parents, Roberta Catherine Jackson and Petrus Maré; his sisters, Nicole Maré Kochackis and Traci Maré Pryhuber, and half-sister, Penny Bunton; and a tremendous network of friends in New York, and all over the world. Memorial announcement to follow.
Related Articles
More Hot Stories For You