Click Here for More Articles on SEA WALL/A LIFE
Breaking: SEA WALL/A LIFE, Starring Jake Gyllenhaal & Tom Sturridge, Will Transfer to Broadway This Summer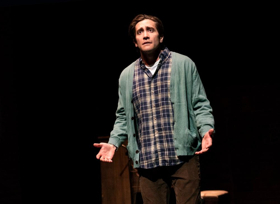 It was announced today that the critically-acclaimed production of Sea Wall / A Life, which recently played to sold-out audiences at The Public Theater, will open on Broadway this summer.
Written by Simon Stephens and Nick Payne respectively, directed by Carrie Cracknell, and starring Academy Award nominee Jake Gyllenhaal, who received a Drama League Award nomination for his performance in the show at The Public Theater, and Tony Award nominee Tom Sturridge who received a Lucille Lortel Award nomination for his performance in the show at The Public Theater, Sea Wall / A Life will begin performances on Friday, July 26 at Hudson Theatre (141 West 44th Street), with the opening night set for Thursday, August 8.
The Broadway production of Sea Wall / A Life will be produced by Nine Stories, Ambassador Theatre Group, Seaview Productions, Benjamin Lowy Productions, and The Public Theater (Artistic Director, Oskar Eustis; Executive Director, Patrick Willingham), and will play a limited engagement through Sunday, September 29.
"This gorgeous, soul-stirring evening of theater deserves to be seen by as many people as possible," said Public Theater Artistic Director Oskar Eustis. "I'm so proud that Tom Sturridge and Jake Gyllenhaal's brilliant performances will live on at the Hudson!"
"The longstanding artistic relationships we share and beautiful material from Nick and Simon make this production an especially meaningful collaborative journey," said Jake Gyllenhaal. "Carrie Cracknell has crafted a true theatrical event from two distinct monologues, which, together, shine a light on the universal experience and heart-filled exploration of the beauty of life and meaning of love. Tom and I are incredibly proud to bring this story to Broadway, and to be returning to the beautiful and historic Hudson Theatre."
Sea Wall / A Life is a heart-filled exploration of the beauty of life and meaning of love. Sturridge, in his third collaboration with Tony and Olivier Award winner Simon Stephens (The Curious Incident of the Dog in the Night-Time), performs Sea Wall, an astonishing monologue about love and the human need to know the unknowable. Gyllenhaal continues his artistic collaboration with Olivier Award-nominated playwright Nick Payne (Constellations) in A Life, an emotional examination of how sons become fathers and the transformative power of love. Together, under the direction of Carrie Cracknell, Sea Wall / A Life is a must-see evening of dramatic storytelling at its best.
A New York Times Critic's Pick, Jesse Green calls Sea Wall / A Life "Beautifully acted - Tom Sturridge is so natural and convincing. Jake Gyllenhaal is priceless." Entertainment Weekly states it is "an evening that will emotionally wreck you, convince you of Sturridge's acting prowess, and further consider that Gyllenhaal is one of the finest actors of his generation." Variety exclaims "The powerful writing is excellent in this emotional, stark production. Tom Sturridge and Jake Gyllenhaal are commanding."
Sea Wall / A Life will feature scenic design by Laura Jellinek, costume design by Kaye Voyce, lighting design by Guy Hoare, and original music by Stuart Earl.
Tickets for Sea Wall / A Life on Broadway will go on sale exclusively for American Express Card Members on Wednesday, April 24, 2019 at 10am EDT, before the general public on-sale. American Express Card Members can exclusively purchase tickets through Wednesday, May 1 at 9:59am by visiting www.SeaWallALife.com.
Presale tickets to Sea Wall / A Life will then be available exclusively to Audience Rewards® members from Wednesday, May 1, 2019 at 10am EDT through Monday, May 6 at 9:59am EDT. It's free and fast to join at www.AudienceRewards.com.
Audience Rewards® is the Official Rewards Program of Broadway & the Arts™. It's a standing ovation for ticket buyers across the nation. Earn valuable ShowPoints every time you buy tickets to participating theatrical productions, live entertainment, and more. Save money by redeeming ShowPoints for free tickets to the events you love or, even better, securing unique experiences and merchandise exclusively curated for Audience Rewards® members.
Tickets will go on sale to the general public beginning Monday, May 6, 2019 at 10am EDT, and will be available at or www.SeaWallALife.com, www.HudsonBroadway.com or by calling 855-801-5876.
Broadway's Hudson Theatre, the oldest and newest theatre on Broadway, originally opened in 1903 by Henry B. Harris with a production of Cousin Kate, starring Ethel Barrymore. After 114 years, the landmark venue was restored to its former glory as a Broadway playhouse by Ambassador Theatre Group (in association with Millennium Hotels and Resorts) and it re-opened in February 2017 with Sunday in the Park with George as the 41st Broadway venue.
Photo Credit: Joan Marcus