Anais Mitchell, Jeremy O. Harris, and More Pen Letters Urging the Biden Administration to Prioritize the Arts
Among the personal missives are letters from Lynn Ahrens, Eve Ensler, Aleshea Harris, Andrew Lippa and more.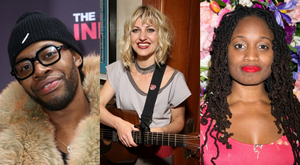 As part of the #BeAnArtsHero initiative hundreds of America's most esteemed playwrights, composers, lyricists and librettists have penned personal missives for the nationwide letter writing campaign, "Dear Mr. President and Madam Vice President."
Organized in partnership with The Dramatists Guild of America, the letters implore the incoming administration to prioritize commitment to the Arts, urge the establishment of the Secretary of Arts & Culture and vow to serve President Biden's mission to "build back better" and "heal the soul of America."
The campaign includes letters from a number of familiar names including Anaïs Mitchell, Lynn Ahrens, Joe DiPietro, Rick Elice, Amanda Green, Jeremy O. Harris, David Ives, Rajiv Joseph, Lisa Kron, Ken Ludwig, Marsha Norman, Robert O'Hara, Theresa Rebeck, Sarah Ruhl, Robert Schenkkan, Heidi Schreck, Madhuri Shekar, V (formerly Eve Ensler), Bess Wohl, Doug Wright, and more.
The Dramatists Guild of America President Doug Wright said, "In our country, the arts exist not only as the soul, the very conscience of the nation, but as a crucial economic engine as well. Currently, they face an unprecedented crisis due to the global pandemic. The Dramatists Guild of America is only too happy to work with Be An #ArtsHero to offer the visionary words of some of our greatest authors, whose letters prescribe a future that restores the arts to the proper place in our culture and ensures their vitality for generation."
These letters set the stage for Inauguration Day as "Day One" of Arts Workers Unite: 100 Days of Art and Activism, calling on our nation's Arts & Culture Workers to stand up, be counted, and be heard. The roll out of 100 Days of Art and Activism will mirror the first 100 days of the Biden/Harris administration, engaging the nation with legislation, hard data, and various initiatives which include Arts & Culture Workers from a multitude of disciplines and congressional districts.
Read excerpts from the letters here:
Anaïs Mitchell
Tony Award- winning composer/lyricist, Hadestown

"Coming up as an indie folk musician, and later in the competitive world of New York theatre, I've seen artists struggle through all kinds of hardship. No one does it for the money; it's too hard. We do it because of a passion for creativity that can't be denied. Creativity-the desire to make something out of nothing, a new thing out of an old thing. A beautiful thing. A better thing. How do we 'Build Back Better?' We need creative thinking to approach this question. We need artists at the table of this conversation. The establishment of a cabinet-level agency would go a long way toward recognizing the vital importance of this sector/community, and allow us into the 'writer's room' of the healing of the nation."
Jeremy O. Harris
Tony Award-nominated playwright, Slave Play
"Let's not take this moment as a cue to meet those who only have the worries of wealthy white men and women at the forefront of their agendas 'in the middle.' As I said before, this is white supremacy. I hope that as a party and an administration this moment is used to mobilize and truly set in action legislation that will help the most Americans who voted for you, those Americans being young earners of less than $100K, who are primarily people of color."
Lynn Ahrens
Tony Award- winning lyricist, Ragtime. Anastasia, Once on this Island

"'Your sword can be a sermon, or the power of the pen.' Thankfully, 'the power of the pen' is now in your hands. And I hope with all my heart that you will use it for the good of our devastated, courageous and irreplaceable Arts community. Make them hear you: Recognize the importance of an industry that pumps hundreds of billions of dollars into the U.S. economy each year."
Andrew Lippa
Tony Award-winning composer, The Wild Party, The Addams Family

"Mr. President and Madam Vice President, you can raise the arts in America to a cabinet-level position. Heck, I'd even lead it for you. You can do this. YOU. I want you to know I am standing in support of this with thousands of colleagues, hundreds of thousands of jobs, and millions of Americans who look to music, theater, visual art, literature, film, poetry, photography-all the countless ways we as humans express ourselves to find meaning in our lives, to find pride in our communities, and to find purpose in our national life."
Robert Schenkkan
Tony Award-winning playwright, All The Way
"It is not a coincidence that when every repressive regime arises, be they fascist or communist, they first seek to stifle the arts. That is because the Arts give a powerful voice to all peoples and all communities. And they do so, not just through criticism and protest but even more importantly by providing humor, compassion, tolerance, and above all, Hope."
Heidi Schreck
Tony Award-nominated playwright, What the Constitution Means to Me
"We cannot achieve a full economic recovery without the recovery of arts and culture. Beyond that though we need art for a different kind of recovery. We need art because... Well because we're human. We need art to delight us and to make us laugh. We need art to remind us of our mortality. We need art that doesn't do anything useful at all. We need art that tells us the stories of our ancestors and art that helps us imagine our futures. We need art that shows us how the hell we ended up in this terrifying predicament. We need art that reminds us that who we are now does not have to be who we become."
Robert O'Hara
Tony Award- nominated director, Slave Play

"We are an $877 billion dollar industry. I live and work in New York, where I know each of you have enjoyed the richness of my industry's talent and its commitment to giving the world stories and truths and diversions and catharsis. We have brought laughter and tears to the world. Yet we are no longer laughing and trying not to cry as many of us have been forced to leave this profession altogether."
Theresa Rebeck
Playwright, Bernhardt/Hamlet, The Realistic Joneses

"Our leaders still seem to think that the arts are extra-curricular, except for military bands. Nothing could be further from the truth. We are the beating art of every major city, and small city, and small town in America. We are in the schools and the churches and the community centers and the prisons. We are everywhere, helping people understand history and community and themselves, and helping them spend their money, too."
John Weidman
Tony Award-nominated librettist, Assassins, Pacific Overtures
"Your administration represents an opportunity, long overdue and without question ignored for the last four years, to recognize the central role which not just theater artists, but all artists, play in driving our nation forward, economically, intellectually, and spiritually. America's artists were never going to be centered in a Trump/Pence administration. It is my fervent hope that America's artists will find themselves centered in a Biden/Harris administration."
Jonathan Tollins
Playwright, Buyer & Cellar
"The pandemic has given us all a crash course in what life without a communal culture feels like. We miss laughing together, crying together, being astonished together. For those things to return, and to thrive, will require all of our commitment and your leadership."
Bess Wohl
Tony Award-nominated playwright, Grand Horizons
"Now I think about the children-including my own-who can't experience watching live performance at their school, in their community, or in the professional theatre during such important, formative years. How many budding artists have we already lost to Zooms and virtual reality? What is the cost to the future of the arts in this country? You can and must lead us into a new, more inclusive and more robust future for America's Arts Sector. Our souls depend on it."
Rick Elice
Tony Award-winning playwright/librettist, Peter and the Starcatcher

"Young people need activities where they learn to collaborate in creating something greater than themselves. Sports, yes, but also music, dance, debate, speech, theatre, film, video. I teach young people, and I despair at so much isolation (pre- and during COVID quarantine) and its effect on young people: depression, social anxiety, low self-esteem, and a lack of ambition or desire for independence. This can be mitigated if we return to funding live, collaborative arts from pre-school onward."
Hunter Bell
Tony Award-nominated librettist, [title of show]
"Arts and culture lead to economic prosperity. Arts & culture lead to connection, empathy, understanding, respect, collaboration, and humanity. Bedrocks of our democracy. Not far from our nation's Capitol, which bore the recent horrific attempted coup, there is a quote from President Kennedy etched in glass at the John F. Kennedy Center for the Performing Arts that reads, 'I see little of more importance to the future of our country and our civilization than full recognition of the place of the artist.' I hope you both agree and will show up for us. We artists will continue to show up."
Amanda Green
Tony-nominated lyricist/composer, Hands on a Hardbody, Bring It On
"The Arts" are not just the cherry on the top of a civilized humane society - the Arts are a bedrock of our society. They build empathy, community, show us where we come from, how we are, and help us dream how we could be. Theater has the power to transform society and change lives."
Rajiv Joseph
Playwright, Bengal Tiger at the Baghdad Zoo
"The Arts Sector in the U.S. accounts for $877 billon, more than Agriculture and Mining combined. It is in the economic interest of this country that the Federal Government support the Arts and one of the surest ways to help this country rebound economically is by immediate and sustainable relief to the Arts Sector and its community."
Jenny Koons
Theatre director, Burn All Night
&
Rachel Chavkin
Tony Award-winning director, Hadestown
"Arts and culture are the heartbeat of our nation. We re-discover ourselves by the stories we tell about ourselves, both as individuals and as a society; this is a time for transformation and recovery, and we will need vibrant new stories told by a diverse range of voices in order to move forward."
Aleshea Harris
2021 Hermitage Greenfield Prize-winning playwright, Is God Is
"Sixty-three percent of arts workers are unemployed right now. Forty-one percent of arts venues are in danger of being lost, and nearly every arts worker has suffered loss of income. Unfortunately, those who feel the greatest burden of these losses are doubly impacted as members of vulnerable communities including Black, Indigenous and other folx of color along with members of the LGBTQIA community. Without sustained and thoughtful relief, we will not survive."
Lisa Kron
Tony Award-winning playwright, Fun Home, Well
""I know you both care deeply about rebuilding our ravaged civil society. I offer you this story as evidence of the role of the arts, culture and craft in that rebuilding and urge you to invest substantially and meaningfully in the civic soul of our nation."
V (formerly Eve Ensler)
Playwright, The Vagina Monologues
"In a deeply atomized and lonely society, theater is one of the few places where we come together. It has the capacity to get us to see and acknowledge what is right in front of us. It breaks the binaries of right and wrong, left and right and asks us to dig deeper. It invites questions and debate, challenges the status quo. It makes us uncomfortable and it breaks us out of our numbness by getting us to feel. It opens our hearts."
Be An #ArtsHero invites America's Arts Workers to learn about their socioeconomic value and use their skills to push the new administration to pass sweeping relief and recovery legislation. Arts & Culture Workers from across the country will call on the new administration to engage with the colossal socio-economic value of the Arts & Culture sector, which brings a massive $877 billion in value added to the U.S. economy while providing 5.1 million American jobs. Currently, 2.7 million Arts Workers are unemployed due to the economic devastation wreaked by the COVID-19 pandemic.
The Arts & Culture sector adds more to the GDP than Transportation, Agriculture, Construction and Tourism. With an economic growth rate nearly double that of the rest of the economy, it's clear that relief and recovery for the Arts & Culture sector must be made an economic and legislative priority.
Full letters are available to read at beanartshero.com/letters-100days.