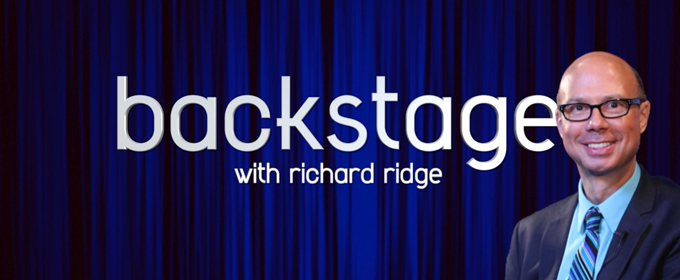 Click Here for More Articles on BACKSTAGE WITH RICHARD RIDGE
BWW TV EXCLUSIVE: BACKSTAGE WITH RICHARD RIDGE: Hunter Parrish on Being Jesus; Talks WEEDS & GODSPELL
Welcome to BroadwayWorld's new feature, and first-ever talk show, BACKSTAGE WITH RICHARD RIDGE. Follow Richard as he visits Broadway's best and brightest in their Broadway dressing rooms and favorite hang outs to talk about their lives, careers and all of the things you don't know, but want to know.
To date, Richard has chatted with Spidey lovebirds Reeve Carney and Jennifer Damiano, visited with UK's First Lady of musical Theatre, Elaine Paige, headed downtown to meet up with Jonathan Groff, and has spent quality time with fan favorite Jan Maxwell. Richard's latest guest is Godspell star Hunter Parrish, who has charmed audiences on Showtime's Weeds since 2007 and was last seen on Broadway in Spring Awakening, which marked his Broadway debut. Now, back on Broadway as "Jesus" in Godspell, Parrish gets candid about life as a young Hollywood star and why he always hopes to come back to the stage.
Godspell officially opens tonight, November 7 at Circle in the Square Theatre. To catch Hunter on stage, visit www.godspell.com.
On television, Parrish is currently reprising his role as Silas Botwin on the seventh season of Weeds opposite Mary-Louise Parker, Justin Kirk and Kevin Nealon. The series was nominated in 2006 and 2007 for a Golden Globe for Best Television Series - Music or Comedy, a SAG Award in 2007 and an Emmy Award in 2009 for Outstanding Performance by an Ensemble in a Comedy Series. His other television appearance include guest starring roles on "Law & Order: SVU," "CSI: Crime Scene Investigation" and the CBS drama "Close to Home."
On the big screen, he starred in director Nancy Meyers' 2009 hit It's Complicated opposite Meryl Streep, Alec Baldwin and Steve Martin; in Burr Steers' 17 Again opposite Zac Efron, Matthew Perry and Leslie Mann; and in Kieran Mulroney and Michele Mulroney's Paper Man opposite Ryan Reynolds, Jeff Daniels and Lisa Kudrow. His other film credits include Richard LaGravenese' Freedom Writers opposite Hilary Swank and Patrick Dempsey; Barry Sonnenfeld's RV opposite Robin Williams, Jeff Daniels and Kristen Chenoweth; David Jacobson's Independent feature Down in the Valley opposite Edward Norton and Evan Rachel Wood; Joe Nussbaum's Sleepover and Melissa Painter's Steal Me which garnered him a 2005 Los Angeles Method Fest Award for Best Actor.
Related Articles
Richard Ridge fell in love with the theatre at the age of five when he went through his parents record cabinet and stumbled upon their (read more...)