Click Here for More Articles on FALSETTOS
BWW Review: William Finn and James Lapine Offer A Revised Look At FALSETTOS
The fact that William Finn and James Lapine's 1992 Broadway musical Falsettos began as two separate one-act musicals - parts two and three of a trilogy - that premiered Off-Broadway nine years apart makes it a unique theatre piece, especially when you consider that the heightened awareness of the AIDS epidemic that occurred during those nine years gave each one, despite being about the same characters, significantly different tones.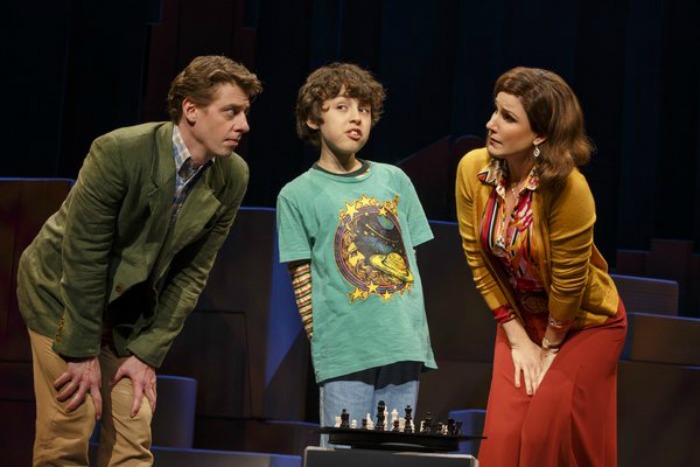 Finn was first noticed by New York's theatre community as the author and director of IN TROUSERS, which premiered Off-Broadway at Playwrights Horizons in 1979. A four person, mostly sung through one-act musical, it told the story of a married father named Marvin who looks back at his awkward years of developing sexual awareness and starts cheating with a guy named Whizzer.
Two years later, Finn returned to Playwrights Horizons with MARCH OF THE FALSETTOS, a better-written, faster and funnier sequel directed by Lapine. This one begins with the self-centered, but irresistibly charming Marvin advising the audience that he's divorced his wife, now named Trina, but wishes to maintain a tight-knit family with her, their son Jason and Whizzer. His psychiatrist, Mendel, gets unprofessionally involved in the matter.
Finn's smart and glib lyrics, steeped in Jewish references and grounded by moments of shattering sincerity, suggested the characters to be part of the 1980s yuppie movement gentrifying Manhattan's Upper West Side.
In 1990 Playwrights Horizons premiered FALSETTOLAND, with Lapine not only directing but serving as co-bookwriter. As Jason prepares for his bar mitzvah, Marvin's neighbor, Cordelia, is trying to nail a gig catering the affair. Meanwhile, her lover, Dr. Charlotte has grown concerned about the sharp increase of single men who have been dying in her hospital of a disease nobody has been capable of defining. By the final blackout, AIDS has affected all of their lives.
When the two were combined for Broadway into Falsettos, minor lyric revisions gave greater connection between the two pieces, but it was still essentially a very funny first act with solid dramatic moments followed by a warmly humorous second act that delved into tragedy.
Lapine serves as director for the terrific new Broadway revival of Falsettos that, through more lyric revisions and interpretations that provide a greater unity of tone, finally fuse the two acts into a singular piece of romance, wit, jaunty melodies and realistic characters trying to keep their neuroses in check.
Michael Rupert, Chip Zien and Stephen Bogardus originated the roles of Marvin, Mendel and Whizzer in MARCH OF THE FALSETTOS, FALSETTOLAND and Falsettos and to many their performances seem about as intrinsic to the characters as Rex Harrison's is to Henry Higgins and Barbara Streisand's is to Fanny Brice. But Lapine's new cast takes Falsettos into intriguing new directions.
Two time Tony winner Christian Borle has proven with performances in SOMETHING ROTTEN and PETER AND THE STARCATCHER that he has no shortage of irresistible charm, but he also displayed fine dramatic acting chops in the 2010 Off-Broadway revival of ANGELS IN AMERICA. His understated Marvin is his most complex New York stage performance to date, presenting a character who attaches himself to lovers he can subtly control, like the desperate-to-please Trina and the vapid pretty boy Whizzer. In his mind he's a romantic, and Borle beautifully handles the score's touching post-coital ballad, "What More Can I Say?", but by intermission you may find yourself wondering why anyone would put up with him. In the second act, Borle brings forward a Marvin who is learning to be open with others.
Andrew Rannells' boyish good looks and coltish gait sell the notion that Whizzer knows his worth in the late 1970s dating market, mixing a sweet innocence with the cynicism that comes from experience. Brandon Uranowitz's philosophical Mendel is less Zabar's and more Anatevka and young Anthony Rosenthal plays Jason's precociousness and rebellious streak on a realistic level.
Decades ago, Finn would explain that his use of the word "falsettos" was meant to suggest men who go beyond society's designated male boundaries. With a bit of tweaking the new production has the word suggesting male emotional immaturity. This may explain David Rockwell's scenic design; a simple Manhattan skyline with set pieces that the characters form with large interlocking toy blocks.
Stephanie J. Block does a sensational job with Trina, who spends the show trying to be the grownup who can provide her son with a healthy, normal upbringing. Her performance of the showcase comedy solo, "I'm Breaking Down" (lifted from the score of IN TROUSERS) is worthy of every cheer it receives, but she's also extremely moving when singing of her dissatisfaction with romance and her desire to be loved.
In smaller roles that don't appear until act two, Betsy Wolfe makes for a fun and perky Cordelia and Tracie Thoms adds gravitas as the doctor who is one of the first to understand the seriousness of this new mysterious illness.