Falsettos - 2016 - Broadway Tickets, News, Info & More
William Finn and James Lapine's groundbreaking, Tony Award-winning musical FALSETTOS comes back to Broadway this fall in an all new production from Lincoln Center Theater. Lapine returns to direct an extraordinary cast featuring Stephanie J. Block (The Mystery of Edwin Drood, Tony nom.), Christian Borle (Something Rotten!, Tony Award), Andrew Rannells (The Book of Mormon, Tony nom), Anthony Rosenthal, Tracie Thoms, Brandon Uranowitz (An American in Paris, Tony nom.) and Betsy Wolfe.
FALSETTOS revolves around the life of a charming, intelligent, neurotic gay man named Marvin, his wife, lover, about-to-be-Bar-Mitzvahed son, their psychiatrist, and the lesbians next door. It's a hilarious and achingly poignant look at the infinite possibilities that make up a modern family... and a beautiful reminder that love can tell a million stories.
Video preview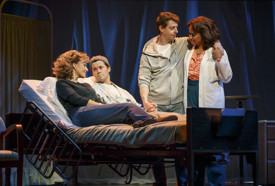 Photo preview
Schedule
Running Time:
Two hours and 40 minutes, with one intermission
Featured Reviews For Falsettos
Falsettos: EW stage review - Entertainment Weekly
There's no shortage of laughs, from tuneful one-liners (Jason: "My father's a homo, my mother's not thrilled at all") to entire numbers (a knife-wielding Trina cracks up with a cutting board in "I'm Breaking Down"). And act two's "The Baseball Game" - "We're watching Jewish boys who cannot play baseball play baseball," the company sings as Jason haplessly swings - is a work of lyrical comic genius. Bonus points for the Sandy Koufax and Hank Greenberg references.
BWW Review: William Finn and James Lapine Offer A Revised Look At FALSETTOS - BroadwayWorld
Lapine serves as director for the terrific new Broadway revival of Falsettos that, through more lyric revisions and interpretations that provide a greater unity of tone, finally fuse the two acts into a singular piece of romance, wit, jaunty melodies and realistic characters trying to keep their neuroses in check.