Falsettos - 2016 - Broadway
William Finn and James Lapine's groundbreaking, Tony Award-winning musical FALSETTOS comes back to Broadway this fall in an all new production from Lincoln Center Theater. Lapine returns to direct an extraordinary cast featuring Stephanie J. Block (The Mystery of Edwin Drood, Tony nom.), Christian Borle (Something Rotten!, Tony Award), Andrew Rannells (The Book of Mormon, Tony nom), Anthony Rosenthal, Tracie Thoms, Brandon Uranowitz (An American in Paris, Tony nom.) and Betsy Wolfe.
FALSETTOS revolves around the life of a charming, intelligent, neurotic gay man named Marvin, his wife, lover, about-to-be-Bar-Mitzvahed son, their psychiatrist, and the lesbians next door. It's a hilarious and achingly poignant look at the infinite possibilities that make up a modern family... and a beautiful reminder that love can tell a million stories.
Video preview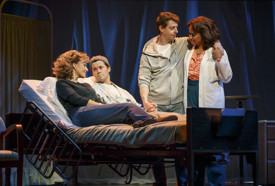 Photo preview
Schedule
Running Time: Two hours and 40 minutes, with one intermission
Featured Reviews For Falsettos
Review: 'Falsettos,' a Perfect Musical, an Imperfect Family - New York Times
There's hardly a moment in the exhilarating, devastating revival of the musical "Falsettos" that doesn't approach, or even achieve, perfection. This singular show, about an unorthodox family grappling with the complexities of, well, just being a family - unorthodox or otherwise - has been restored to life, some 25 years after it was first produced, with such vitality that it feels as fresh and startling as it did back in 1992. The achievement seems almost miraculous, because in the intervening years, America has gone through cultural changes that might, in theory, have made the show, with its sweet-and-sour score by William Finn, and its economical book by Mr. Finn and James Lapine, seem a relic.
'Falsettos' fills Broadway with music, laughter and tears - NY Daily News
Finn's alternately lighthearted and poignant score in this mostly sung-through show is another major asset. While things get a bit heavy-handed as one man's life ends while another begins at a bar mitzvah, it's hard to grouse when you're being moved to tears. There are plenty of those - laughs, too - thanks to the uniformly wonderful cast. Borle, a two-time Tony winner, is very affecting as Marvin comes out and, finally, comes of age. Rannells, of "Girls," brings swagger and sweetness to the pragmatic Whizzer. Block is blessed with a couple of the show's best songs - "I'm Breaking Down" and "Holding to the Ground" - and does them proud. Both are stuck in my head. Even the scenery is eloquent in its own way. A huge gray Rubik's Cube-like set piece underscores the idea that the world is puzzling. Fitting since Trina sings: "Life is never what you planned." Plan on being deeply touched and richly satisfied at this show.