BWW Review: Marin Ireland Delivers a Must-See Performance in Tennessee Williams' SUMMER AND SMOKE
Despite only three Broadway credits, Marin Ireland must be regarded as one of the absolute best actors to regularly grace New York stages during this century. Through her steady work Off-Broadway (15 productions since 2001 and playing leading roles for several of the city's major non-profits) local audiences have seen her portrayals grow from young women of the past sporting underestimated brilliance (SABINA, THE RUBY SUNRISE) to emotionally frazzled contemporary types (MAPLE & VINE, REASONS TO BE PRETTY) and struggling survivors (KILL FLOOR, IRONBOND).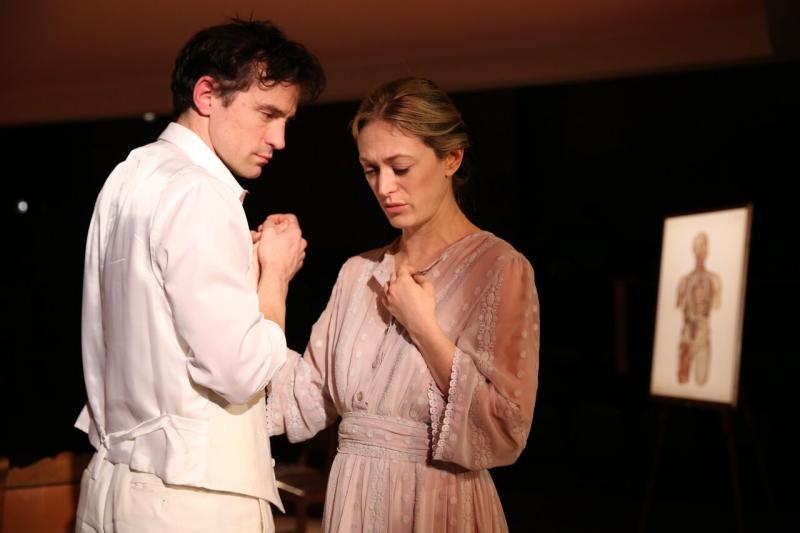 But as showcased in Tennessee Williams' SUMMER AND SMOKE, presented at Classic Stage Company as a co-production with Transport Group, Gotham gets its first glimpse of the exceptional theatre artist in a leading role penned by one of America's great masters.
So how good is Marin Ireland as the troubled Southern belle Alma Winemiller? So good she just might have you leaving the theatre thinking that SUMMER AND SMOKE should be regarded right up there with A STREETCAR NAMED DESIRE as one of the playwright's master works.
No mean feat when you consider that it was the success of "Streetcar" that nearly regulated this very fine character study to perpetual obscurity.
Dubbed "A Kiddycar Named Desire" by Daily News critic John Chapman, SUMMER AND SMOKE had it's 1948 Broadway premiere while Blanche DuBois was still depending on the kindness of strangers in its original run. But its three month long engagement was shortly followed by a hit 1952 Jose Quintero-directed Off-Broadway stint that made a star out of Geraldine Page. And though Williams himself gave the script a total rehash in 1964, renaming it THE ECCENTRICITIES OF A NIGHTINGALE, the play in its original form is nevertheless one of the strongest and most engrossing of his not-quite-classics, giving a leading actress a complex and passionate role that is not especially familiar to most audiences
Set in the early years of the 20th Century, in the town of Glorious Hill, Mississippi, a childhood crush on a neighbor has grown into a challenge dance of sexual attraction, pitting the spiritual against the physical.
At first glimpse, Ireland's Winemiller prettily exudes the familiar fashion of fresh-faced deep south primness, dressed in a lovely white summer dress (costumes by Kathryn Rohe) and speaking in delicately refined tones. The daughter of an overbearing minister (T. Ryder Smith) and his mentally unstable wife (Barbara Walsh), Alma has, from an early age, taken over the social responsibilities that would normally be performed by a religious leader's spouse.
Contributing art appreciation to the town by giving music lessons to children and leading literary salons for adults, she solemnly identifies with the Spanish meaning of her name, which is "soul" and feels a spiritual connection to the statue of the angel Eternity that adorns a public fountain.
But by continually "reaching up to something beyond attainment," Alma has also deprived herself of physical pleasures. She owns up to suffering attacks of nervous heart trouble, which Ireland conveys through giddy gasps of faint laughter, so realistically emitted that at one point this critic thought she may have really lost control.
The boy next door is John Buchanan Jr. (Nathan Darrow), begrudgingly following in his physician father's footsteps, but preferring to spend his time boozing it up and enjoying the company of sexually available women.
The action begins on a Fourth of July when John starts showing Alma a bit of attention. Is he attracted to her? Looking for something new? For much of their first scene together he is the observer, seeming to be amused by her incredulously embarrassed responses when he offers her a drink or brings up her reputation for being an affected intellectual. Darrow's nicely underplayed performance gives the impression John is subtly using a well-honed skill in breaking down a woman's confidence in order to get her to sexually surrender.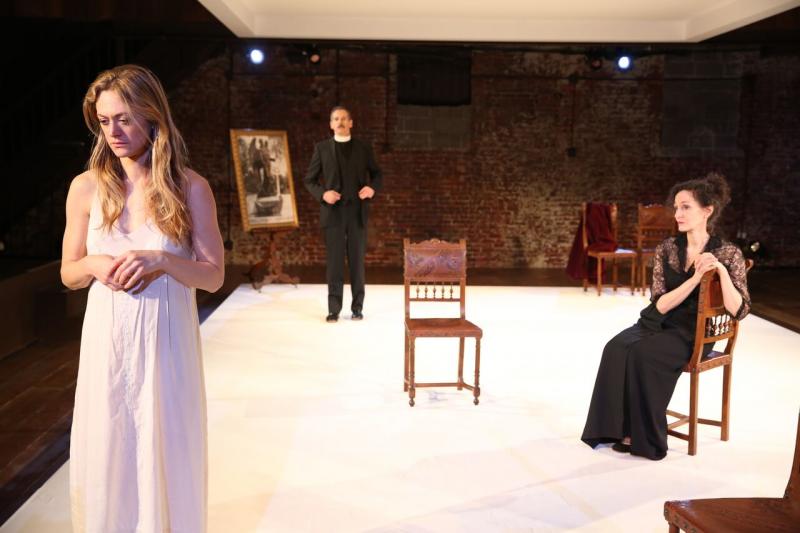 Ireland's Alma is clearly at war with her own passions; infatuated with the John she imagined and fighting how intrigued she is with the man he actually is, even as she tries to change him. But she is also charming and empathetic, trying her best to keep displaying the cheery exterior that's expected of her.
But as John's attentions gradually have an effect on Alma, her expressions of devotion to her moral and spiritual beliefs affect him as well, climaxing in a high-powered scene where the frustrated young doctor uses a diagram of the human anatomy to reject the existence of the spiritual in favor of only what is tangible.
While the volatile chemistry between Ireland and Darrow is what primarily propels this wondrous production, they're supported by a fine ensemble; particularly Elena Hurst as the sensual young woman John gets involved with and Tina Johnson as a tartly-opinionated local.
Director Jack Cummings III, who is the artistic director of Transport Group, creates a minimalist production that effectively focuses on Williams' words and the captivating performances. The audience sits on three sides of designer Dane Laffrey's white rectangular stage, which is capped by an identical roof hanging above. Aside from chairs and two easels, one displaying an image of the angel Eternity and another displaying the anatomy chart, there is nothing to designate location. Props are all mimed.
The only problem with the staging is that there are too often periods where sections of the audience can be obstructed from seeing major moments. A look at the theatre's seating chart indicates seats may have been priced with this in mind. This critic was seated in the far end of the 300 section, which provides a full-faced view of Ireland's searing performance of a self-discovery monologue near the play's end.
This is the fourth New York area production of SUMMER AND SMOKE this critic has seen since its 1996 Broadway revival and this sultry and sensitive mounting is far superior to the rest in every way. And this isn't the first time you can say that Marin Ireland is giving the finest performance to currently be seen on or Off-Broadway.