Review: Lois Smith Brings Tenderness to Darkly Comic Dysfunctional Family Drama PEACE FOR MARY FRANCES
The fact that Broadway hasn't seen fit to provide a role for Lois Smith in over twenty years can be regarded as one of the top arguments denouncing the popular assumption that Times Square is where you go to take in the best of New York theatre.
Working steadily on Manhattan stages since 1952, the 87-year-old master at the craft has been spending the past couple of decades lending her superior skills to a dozen Off-Broadway productions, mostly in the service of new plays, making her a beloved favorite of theatre-goers in the know.
In The New Group's production of Lily Thorne's darkly comic dysfunctional family drama, Peace for Mary Frances, she's joined by two other outstanding stage actors, J. Smith-Cameron, who might very well find herself in Smith's exalted position in another twenty or thirty years, and Johanna Day, a Tony nominee last season for her dangerously volatile performance in Lynn Nottage's SWEAT.
They're joined by a fine ensemble in director Lila Neugebauer's rather straightforward production and there are times when the acting talent on stage does indeed elevate the effectiveness of the material, but film producer Thorne's first stage play is more of a promising outline of a drama without sufficient embellishments to make it interesting.
The setup is that the 90-year-old Mary Frances is suffering an unnamed ailment and is at a point where she can no longer live without being watched over continually. Wishing to find her ultimate peace under hospice care in her own Connecticut home, and not wanting to be alone with strangers, the major issue of the play is how her three adult children will divvy up taking responsibility for her care.
The oldest, Eddie (Paul Lazar), is of little use, popping in for a few hours now and then and taking care of mother's taxes. Former drug addict Fanny (Day) has too many anger issues and is just plain forgetful when it comes to things like making sure that Mary Frances' oxygen machine is turned on.
The financially struggling Alice (Smith-Cameron), who lives in New York, has two daughters; Rosie (Natalie Gold), who has a new baby, and OCD-suffering television star Helen (Heather Burns), who is at the mercy of her shooting schedule. With Helen taking care of her bills, Alice moves in to take care of her mother full-time, a sacrifice made more from duty than from compassion.
As explained by hospice nurse Bonnie (Mia Katigbak) and social worker Michael (Brian Miskell), two characters who will eventually find themselves unwillingly thrusted into the roles of family peace-makers, medication will only be used to increase the patient's comfort, not to sustain her life.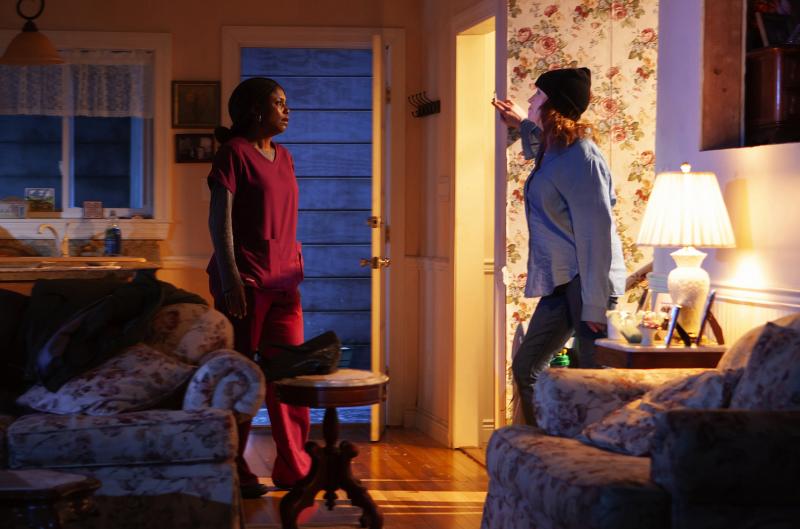 But as Mary Frances keeps going far longer than expected, Alice cracks under the pressure of being the only one capable and willing to take care of her increasingly demanding and critical mother, becoming frustrated with Mary Frances' desire to treat her children equally despite the disproportionate division of responsibility. Eventually, a professional caretaker (Melle Powers) is hired.
With all the ruckus surrounding her, what Smith brings out so tenderly is Mary Frances' sadness at not being able to be done with it all. Bonnie mentions her observance of patients whose bodies won't allow them to die with taking care of unfinished business and in the play's best scene Mary Frances deals with the business of her personal history before allowing herself the peace she desires.
To its author's credit, Peace for Mary Frances makes seamless glides from its funnier moments of family angst to its more subdued scenes, but the end result is more perfunctory than emotional. Still, the talents of Smith, Day and Smith-Cameron keep the proceedings interesting.