Click Here for More Articles on SHAKESPEARE IN THE PARK
BWW Review: Director Lear deBessonet's Luscious, Lusty and Laugh-Out-Loud Funny A MIDSUMMER NIGHT'S DREAM
It was fifty years ago that The Summer of Love attracted throngs of lunatics, lovers and poets to New York's Central Park in a free-spirited embrace of life's passions and pleasures.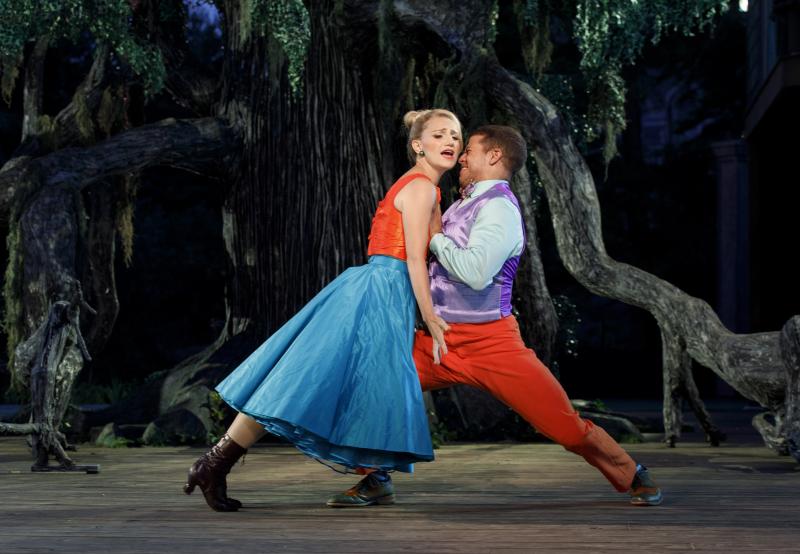 That same spirit is now joyously celebrated in the park's Delacorte Theater, where director Lear deBessonet's luscious, lusty and laugh-out-loud funny production of Shakespeare's fantasy comedy, A MIDSUMMER NIGHT'S DREAM offers an evening of ravishing enchantment.
With a complicated plot involving four distinct groups of characters, deBessonet pounces on the opportunity to create four distinctive atmospheres, accented by jazzy musical themes composed by Justin Levine that are played in set designer David Rockwell's mossy tree house by a six-piece combo, with Marcelle Davies-Lashley occasionally supplying brassy vocals.
The production begins with De'Adre Aziza, as Amazon Queen Hippolyta, striking a pose of regal sensuality center stage, full of poise and power. In four days, she is to marry Athenian Duke Theseus, played by Bhavesh Patel with a hearty passion that admires his bride-to-be for strength and skill with the bow. Though the text designates Hippolyta's hand as a prize for victory in battle, their relationship is played as one of mutual respect and attraction.
Meanwhile, young Hermia (rambunctiously funny Shalita Grant) flees into the forest to elope with her beloved Lysander (Kyle Beltran), after her father insists that she either marry the full-of-himself Demetrius (Alex Hernandez) or become a nun. Annaleigh Ashford, truly one of the top physical comics working on The New York stage, plays hilarious over-dramatics as Helena, who, lovesick for Demetrius, follows him into the forest in pursuit of his intended.
Once again, as in her Broadway performances in KINKY BOOTS, YOU CAN'T TAKE IT WITH YOU (Tony Award), SYLVIA and SUNDAY IN THE PARK WITH GEORGE, Ashford displays her skill for quirky inflections and physicality that are grounded in realism.
Then there's the troupe of would-be players, led by their director Peter Quince (Robert Joy in Actors Studio mode), preparing a production of "The Most Lamentable Comedy and Most Cruel Death of Pyramus and Thisbe" in hopes it will be accepted as entertainment for Hippolyta and Theseus' wedding.
Danny Burstein is a kick as the hammy Nick Bottom, who, though cast as the leading male lover, would envision himself making a one man show of the proceedings. Jeff Hiller, an actor who excels at getting laughs through oddball nerdiness, plays Francis Flute, who is at first reluctant to play the ingenue but then goes full-out diva.
All of this is overseen by the forest's fairy inhabitants, led by the classically regal pairing of Phylicia Rashad and Richard Poe as Queen Titania and King Oberon, who can be viewed as older versions of Hippolyta and Theseus. Though still vibrant and passionate, the fits of bickering that have permeated their marriage have led to a practical joke played by the husband involving a flower enriched with the power to cause people to fall in love.
He's assisted by another terrific stage comic, Kristine Nielsen, who sports a Buster Brown wig and a befuddled disposition as the magical Puck, who accidentally complicates matters when Oberon orders her to assist Helena by applying the flower power to Demetrius.
Perhaps the most charming aspect of this delightful production is that all the fairies are played by older actors, who merrily romp through the evening dressed in designer Clint Ramos' comfy-looking pajamas. In a play inhabited by many who act foolishly, the happiest seem to be those who choose to do so.