BWW Review: Christopher Wheeldon Stages a Thrilling City Center Mounting of Lerner and Loewe's Sumptuous BRIGADOON
Like the city where it was born and nurtured, the American musical play differs from similar stage entertainments because it was developed by a combination of cultures merging into a unique new art form. It would be difficult to find greater evidence of this fortunate merger than in the musicals of Alan Jay Lerner and Frederick Loewe.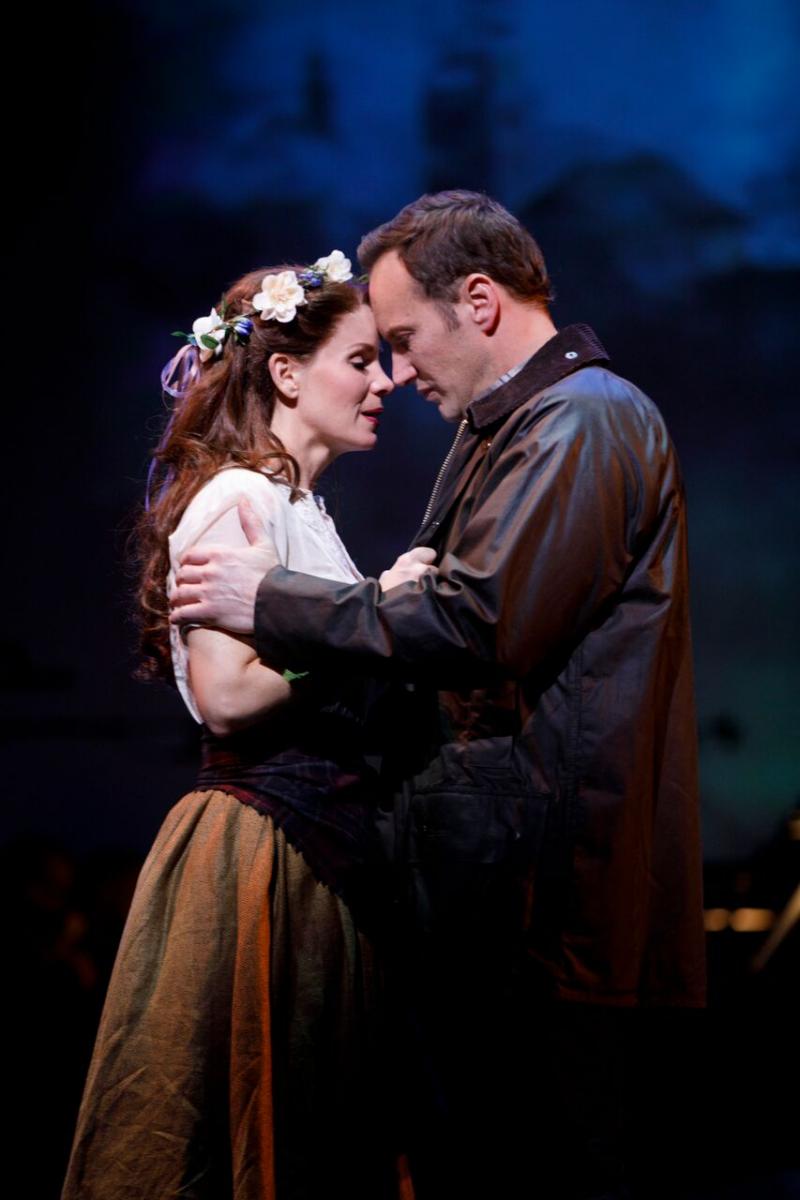 Bookwriter and lyricist Lerner was an acerbic Ivy League intellectual, but his composer partner, Lowe, was born of Viennese parents and schooled in operetta. When combined, the wit of the words and the romance of the music feed on each other to artistically satisfy both the head and the heart.
Nine years before their masterpiece MY FAIR LADY made the Hellinger box office the most popular destination in town, the team scored their first big hit in 1947 with Brigadoon, an original musical that mixed urbane humor with sumptuous romance to tell the story of a village that has been unusually blessed.
New York City Center's gala concert staging of Brigadoon has also been unusually blessed, beginning with the exciting, dance-driven staging by director/choreographer Christopher Wheeldon and the superlative work by music director Rob Berman, who conducts the on-stage 29-piece orchestra playing Ted Royal's original orchestrations.
The story concerns two New Yorkers, Tommy (Patrick Wilson) and Jeff (Aasif Mandvi) who, on a hunting trip in the Scottish Highlands, come across a small, but bustling village named Brigadoon that doesn't appear on their map. There they encounter a population dressed in the fashion of 200 years ago.
Tommy, who has been having second and third thoughts about his engagement to a Manhattan socialite, gets his fourth and fifth when he meets the charming Fiona (Kelli O'Hara). Jeff, one of those clever alcoholics who generally populated mid-20th Century comedies, takes a more sarcastic view of his new surroundings, especially when the boys are told that the people of Brigadoon sleep for 100 years every night, and the town, now ensconced in the 1700s, only materializes for one day every century.
As people must do in musicals, Tommy and Fiona fall for each other quite quickly, and few lovers have had such rapturous songs with which to fall. Before they even meet, O'Hara gives a perfectly lovely rendering of Fiona's hopefully romantic "Waitin' For My Dearie."
"The Heather On The Hill," known today as a jazz instrumental standard, is a charming, innocently flirtatious folk tune that shows the pair warming up to each other, then the robust strength of Wilson's baritone matched with the passion of O'Hara's heart-stopping soprano brings down the house with the musically soaring, lyrically tentative "Almost Like Being In Love."
Second act dramatics introduce Wilson's beautifully earnest observation of his character's good fortune in "There, But For You, Go I," and the pair once again blend superbly for the rueful ballad of impossible love, "From This Day On."
But Brigadoon is very much an ensemble show, and the City Center ensemble is quite glorious. Mandvi, in his non-singing role, cracks wise with a dour Oscar Levant-like precision. The edited book cuts some of his lines, such as the character's remark about Russia's presence in Europe and a joke about witches that would not fare well in this century.
Stephanie J. Block also supplies plenty of laughs as the high-spirited Meg, who sings of her scandalous romantic past in "The Love Of My Life," and of the rowdy time that was had when her parents made it legal in "My Mother's Weddin' Day."
Ross Lekites' tenor is achingly tender in the haunting ballad, "Come To Me, Bend To Me." He plays Charlie, who is to marry his sweetheart Jean (Sara Esty), breaking the heart of the young lady's other suitor, Harry. With the blessing placed upon Brigadoon promising disaster if any of its citizens venture to the outside world, Harry envisions a loveless future for himself with no opportunity to find happiness elsewhere, and considers something drastic.
Harry is played by the thrilling ballet star Robert Fairchild (who also proved to be a formidable actor and singer while on Broadway in AN AMERICAN IN PARIS) and Wheeldon places him at the center of some show-stopping dance sequences, where he displaces magnetic strength and sexiness.
There are those who would call Golden Age musicals like Brigadoon dated, and to them I say a pox be upon you, for when such open-hearted sincerity and wonderfully textured music is regarded as dated, it's time to take a nap for 100 years and hope to wake up in better times.