BWW Review: Austin Pendleton Directs N.C. Hunter Rarity A DAY BY THE SEA With Deft Delicacy
Though his name is scarcely remembered on American shores, N.C. Hunter was one of the more popular English playwrights during the 1950s. His genteel dramas would feature such distinguished cast members as John Gielgud, Sybil Thorndike, Ingrid Bergman, Ralph Richardson, Vanessa Redgrave and Michael Redgrave, but his work fell out of favor with the rise of Britain's "angry young men" playwrights.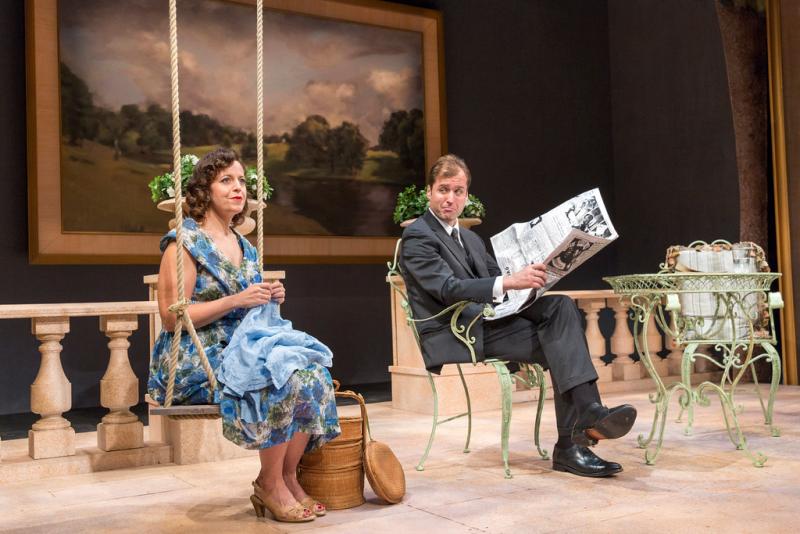 Hunter's brief fling on Broadway came in 1955, when Hume Cronyn and Jessica Tandy played the leading roles in his Chekhovian drama, A DAY BY THE SEA, which is now receiving a jewel of a production by the Mint Theater Company, directed with deft delicacy by Austin Pendleton.
Set in the play's contemporary time, Charles Morgan's scenic design offers a portrait-like depiction of the seaside home owned by middle-level diplomat Julian Anson (Julian Elfer). Since Julian is usually abroad on business, the residence is tended to by his mother, Laura (Jill Tanner). The first of the play's three acts introduces the visiting characters, including the alcoholic Dr. Farley (Philip Goodwin), who cares for Julian's ailing uncle (George Morfogen).
A few years younger than Julian, Frances Farrar (Katie Firth), a recently divorced widow with two children from her first marriage, grew up in that very home after she was orphaned at age nine. Caring for young Elinor (Kylie McVey) and Toby (Athan Sporek) is the governess, Miss Mathieson (Polly McKie).
It's the second act when the sparks starts flying and the drama gets intense. The forty year old Julian, whose workaholic dedication to his career is unquestioned, is nevertheless not very successful at his job and is informed that he is being removed from his position. Face to face with a reminder of a happier time, and perhaps a new beginning, he makes a romantic confession to Frances, who answers him with an unexpected revelation.
Elfer and Firth are both excellent. Immersed in his work all of his life, Elfer's stuffy Julian, inexperienced at human relations, awkwardly tries to express juvenile emotions of passion while Firth's Frances, jaded by romantic failures, tries guarding herself against a rush of long-buried feelings. There is truly lovely empathy and warmth in watching them maneuver through old and new territory.
Meanwhile, McKie is just devastating, though understated, as the 35 year old caretaker who is grasping at anything to avoid the loneliness of spinsterhood, including Dr. Farley. With straightforward dignity that hides self-loathing, she offers herself as a wife to the elderly doctor, assuring that while he may not find her desirable, she can take care of him.
While missed opportunities and dim futures are the major themes of the play, they contrast with Hunter's language and the setting's nostalgic elegance, giving A DAY BY THE SEA a bucolic beauty that tries to defend against the darkness of reality.