BWW Review: Anna Deavere Smith's NOTES FROM THE FIELD; Voices From America's School-To-Prison Pipeline
Placed throughout Anna Deavere Smith's revealing new theatre piece, NOTES FROM THE FIELD, are violent video clips that have become all too familiar to any American with access to YouTube.
There's a look at the brutal arrest of Freddie Gray and of the riots that followed his death. The 14-year-old Texas girl in a bathing suit being held to the ground by gunpoint by a police officer. The South Carolina student being thrown across her classroom by a school security officer.
A theatrical treasure known for decades for her solo performances that paint large pictures from small stories by utilizing texts created from personal interviews, Smith uses the familiarity of these scenes to offer an intimate look at America's school-to-prison pipeline that systematically directs its citizens of color to a life of poverty through substandard education and imbalanced treatment by the legal system.
She begins with President and Director-Counsel of the NAACP Legal Defense and Educational Fund, Sherrilyn Ifill, who explains how the country has made a decision to invest in the prison system at the expense of other programs that would decrease the necessity of prison.
From there, we hear from a trio of speakers involved with the Freddie Gray story. Kevin Moore, the Baltimore deli worker who used his cell phone to video the beating, describes a social movement where people are arming themselves with video recorders to combat injustice through public exposure.
She then transforms herself into Allen Bullock, a protester who was videoed smashing a police car with a traffic cone during the ensuing riots. He tells of a culture of mistrust between black men of Baltimore and the police. ("It ain't no black or white situation... I done seen plenty of black officer doin' it, and I'm black... And I seen plenty of white police do it. And I done seen 'em do it together. I don't see no racist thing comin' into play. I think it's a hatred thing.")
She completes the section with the evening's showpiece, Gray's eulogy, passionately delivered by Pastor Jamal-Harrison Bryant. It's a call to break free from the box of stereotypes that young black men may fall into because of a lack of opportunities. So rousing and uplifting are Smith's performance and the pastor's words that audiences have been verbally responding with approval throughout the speech.
This call and response mood is echoed by the on-stage contributions of composer and bassist Marcus Shelby, who subtly accents reactions to the words of Smith's characters as well as providing smooth transitions throughout director Leonard Foglia's graceful production.
We hear from Bree Newsome, who explains the carefully planned demonstration that had her climbing the flagpole outside the South Carolina Capitol to take down the Confederate banner. Taos Procter, a Native American former inmate who describes the prison system's ineffectiveness in rehabilitation. Philadelphia emotional support teacher Stephanie Williams tells of an 11-year-old student who had bottled up so much anger in his young life that he once pulled a tree out of the ground.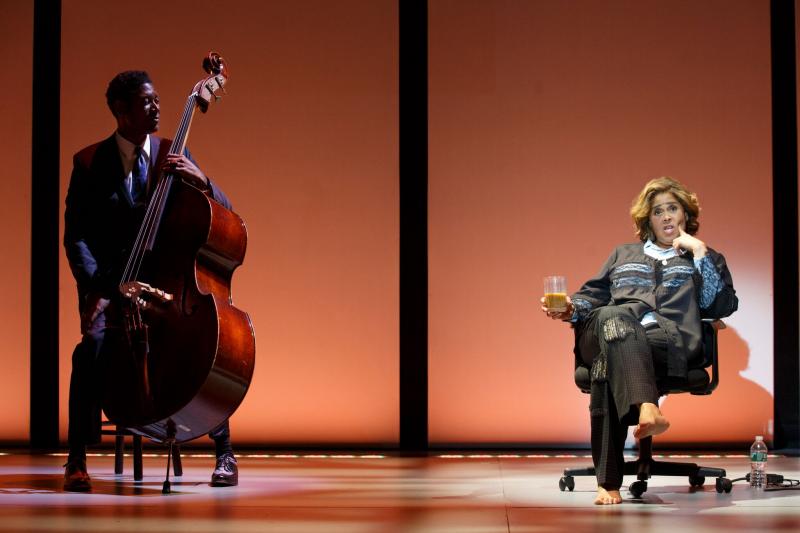 Stockton, California councilman and mayoral candidate Michael Tubbs tells of a time when he was addressing a group of first graders about DR. Martin Luther King Jr. and the lesson evolved into a group conversation where every one of the six-year-olds matter-of-factly volunteered how they had a relative or loved one who was either shot or was the victim of a violent death.
While Smith's superb acting skills give each contrasting character an individual completeness, the strength of her art is that she never allows the performance to overwhelm the words.
The piece concludes with moving recollections by Georgia Congressman John Lewis, a leader among the non-violent civil rights activists who were attacked in Selma, Alabama. First he tells of a recent visit to Montgomery's First Baptist Church, where a young police chief issued an official apology on behalf of the force and detailed how all new officers are educated about the civil rights movement. The congressman then describes how a former Klansman who had beaten him in 1961 sought him out nearly 50 years later to ask for forgiveness, ending NOTES FROM THE FIELD with a note of hopefulness.