BWW Preview: The Park Avenue Chamber Symphony Presents INSIDEOUT at DiMenna Center
The Park Avenue Chamber Symphony Presents: INSIDEOUT: Haydn's "Surprise" Symphony and Stravinsky's "Firebird" Suite.
DiMenna Center for Classical Music: Mary Cary Flagler Hall
SATURDAY, 4 FEBRUARY 2017 - 5:00 PM
As more and more arts organizations around the country (and the world) seek out new and exciting ways to attract and maintain the interest of new audiences, The Park Avenue Chamber Symphony may have struck creative gold. Last year they performed the first of their "Inside Out" concerts at the DiMenna Center and by any criteria it was a smashing success. This season, Music Director David Bernard continues the series with an exciting performance of Haydn's Symphony No. 94 in G, ("Surprise") and Stravinski's "The Firebird" Suite.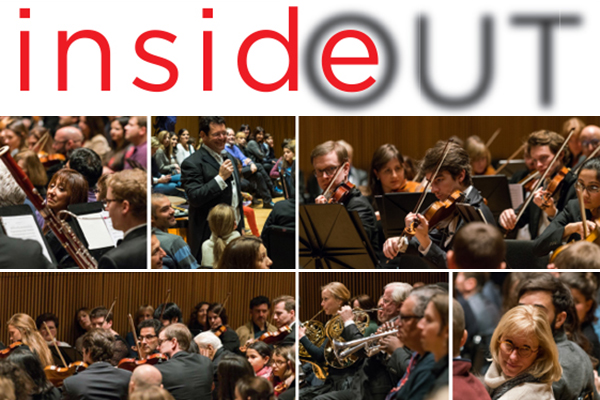 What is "Inside Out?" It is the world's first totally immersive symphonic concerts, with the audience actually sitting in and with the orchestra as they perform.
In the theater world, immersive performances have become extremely popular over the last few years with several successful theatrical companies mounting productions in New York: "Sleep No More," Punchdrunk Theater's staging of Macbeth, Third Rail Projects' The Grand Paradise, The Alving Estate, a staging of Ibsen's Ghosts by Journey Lab. But a theatrical performance could never hope to match the kind of visceral power of live music performed by a 60-piece orchestra.
"There's electricity between the musicians," said Maestro Bernard. "And you simply cannot feel it unless you are there among them." And he chooses his words correctly. "The sound is dramatically different onstage among the musicians than it is in the audience. There is more than just sound, there is energy! It also provides a far deeper connection to the music as well because there is a 360-degree engagement. It's unlike anything else you have ever experienced and it's something completely new and fresh for even the most experienced concertgoers.
The Immersive concerts are designed to make individual audience members feel as though they are a uniquely personal part of the performance, that they are participants and not merely spectators.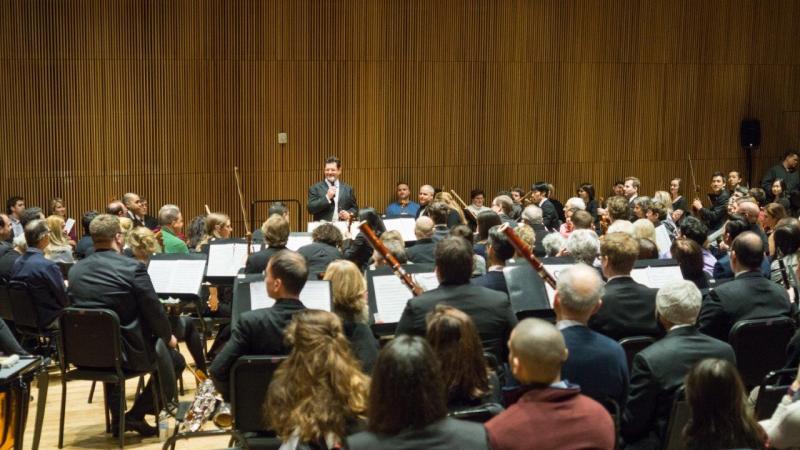 The concept is really an experiment in audience empowerment. Even the conductor is sometimes a spectator. "Often, although I'm guiding and leading the orchestra, a good deal of my work is to not get in the way! Ultimately, I'm creating the framework within which the musicians create," Bernard said.
As society becomes more and more disconnected and passive, the InsideOut concept was a bit of a gamble, but last season's performance of Beethoven's 5th Symphony was a mammoth success, artistically, commercially and according the Maestro Bernard, spiritually. "It's impossible to describe the sensation, when you pour yourself into the music and it comes back at you ten-fold. I really believed that if audiences could feel just a little bit of that magic, they'd get hungry for it and come back again and again."
PACS is promoting the concert as "A CLASSICAL CONCERT EXPERIENCE THAT IS BETTER THAN IMAX AND SENSURROUND COMBINED!" That's quite a statement, but it appears the audience agrees! Last year's concert was a total sell-out and this year's performance is already almost sold.
If you want to feel a bit of the power and the majesty of sitting within a full symphony orchestra to see, hear and feel the music performed all around you - you better hurry! The Park Avenue Chamber Symphony's latest InsideOut event on February 4th will be a truly unique opportunity to sit in "the best seats in the house!"
This concept is groundbreaking but this critic strongly suspects that as audiences demand a more and more collaborative and participatory experience, it is destined to become the way of the future.
DiMenna Center for Classical Music: Mary Cary Flagler Hall
New York, New York
SATURDAY, 4 FEBRUARY 2017 - 5:00 PM
Note: Tickets are only available in advance. Tickets cannot be purchased at the door.
Related Articles