Click Here for More Articles on WAKE UP WITH BROADWAYWORLD
BWW Morning Brief July 13th, 2017 - Oscar Isaac-Led HAMLET Opens and More!
Good morning, BroadwayWorld! Because we know all our readers eat, sleep and breathe Broadway, what could be better than waking up to it? Scroll down for the latest news, and click HERE to learn more about how we've revamped our morning brief for 2017! Want our morning reports delivered via email? Subscribe here!

1)
PBS Announces Air Dates for SHE LOVES ME, PRESENT LAUGHTER, HOLIDAY INN & More!
by Caryn Robbins - July 12, 2017
PBS today announced its fall 2017 lineup, as well as the January 2018 broadcast of TONY BENNETT: THE LIBRARY OF CONGRESS GERSHWIN PRIZE, a PBS music special taping this fall to honor the singer, this year's recipient of the Library of Congress Gershwin Prize for Popular Song. Also announced is a weekly Friday night salute to Broadway from October 20 to December 1st. PBS raises the curtain on three of the Great White Way's most acclaimed recent musical productions.. (more...)
---
2)

Breaking: Jackie Burns Will Make Long-Awaited Return to WICKED This Summer; Amanda Jane Cooper, Rondi Reed & More Also Join Cast!
by BWW News Desk - July 12, 2017
Good news! The Broadway blockbuster WICKED will welcome new cast members to the Gershwin Theatre beginning Monday, July 31.. (more...)
---
3)

Kristin Chenoweth Announces Intimate Show at London Palladium this October
by BWW News Desk - July 12, 2017
EMMY and Tony Award-winning singer and actress Kristin Chenoweth will bring her boundless talent and charisma to London Palladium on 20 October 2017 for an unforgettable evening of song.. (more...)
---
4)
Euan Morton to be Crowned King George III in HAMILTON on Broadway
by BWW News Desk - July 12, 2017
Tony Award-nominee Euan Morton will join the Broadway cast of HAMILTON as King George III on Friday, July 28, it has been announced by HAMILTON producer Jeffrey Seller.. (more...)
---
5)

Here She Goes Again! Christine Baranski to Reprise Role in MAMMA MIA Movie Sequel
by BWW News Desk - July 12, 2017
Broadway alum Christine Baranski has signed on to reprise her role of 'Tanya' in Universal's recently announced MAMMA MIA! sequel, subtitled 'Here We Go Again!'. (more...)
---
---
Today's Call Sheet:
- Ruby Rakos, Jason Danieley, Max von Essen and more take part in 'CHASING RAINBOWS' labs in NYC.
- Lucie Pohl brings HI, HITLER to Cherry Lane this evening...
- And HAMLET, starring Oscar Isaac, opens tonight at The Public Theater!
---
BWW Exclusive: Check out our interview with Anthony Rapp on his role in the film DO YOU TAKE THIS MAN and more!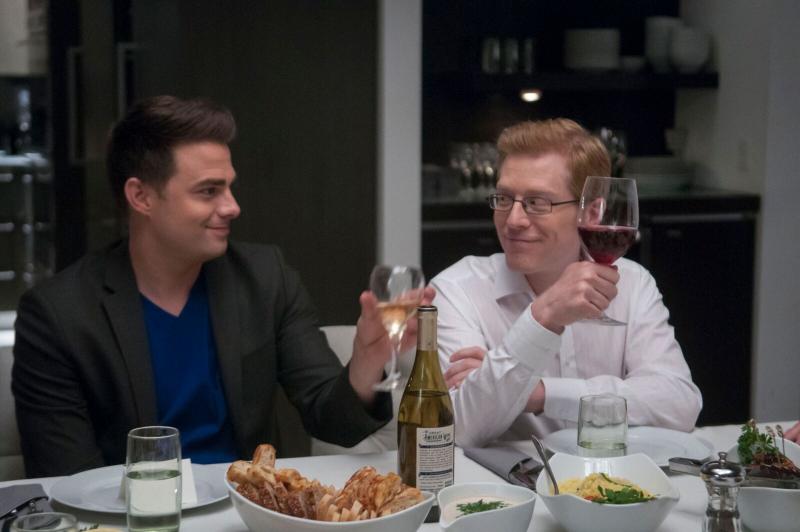 ---
Set Your DVR... for the Primetime Emmy Nominations, announced this morning - BWW will be bringing you news of which Broadway stars received nods!

---
#ThrowbackThursday: We're excited for Uma Thurman's upcoming Broadway debut - flash back to her role in the 2006 film version of THE PRODUCERS!
---
What we're looking forward to listening to: Orfeh & Andy Karl's LEGALLY BOUND live album, out this August!
---
What we're watching: Watch Terence Archie roll the dice for 'Luck Be A Lady' in The Old Globe's GUYS AND DOLLS!
---
Social Butterfly: See Iain Armitage announce Euan Morton as HAMILTON'S next king!
---
And a Happy Birthday shout-out to Sir Patrick Stewart, who turns 77 today!
Tony nominee Patrick Stewart last starred on Broadway opposite Ian McKellen in NO MAN'S LAND and WAITING FOR GODOT. Before that, he appeared in A LIFE IN THE THEATRE, MACBETH, THE CARETAKER, A CHRISTMAS CAROL, THE RIDE DOWN MT. MORGAN, THE TEMPEST and A MIDSUMMER NIGHT'S DREAM. He launched his career with the Royal Shakespeare Company and won Olivier Awards for ANTONY AND CLEOPATRA and HAMLET in the West End. The actor is best known for his role as 'Captain Jean-Luc Picard; in STAR TREK: THE NEXT GENERATION and its successor films, as well as 'Professor Charles Xavier' in the X-MEN series.
---
See you bright and early tomorrow, BroadwayWorld!