BWW Interview: Frankie J. Grande Is Throwing Back to the 90s in CRUEL INTENTIONS
Actor, singer and television personality Frankie J. Grande recently stepped into the role of Blaine Tuttle in CRUEL INTENTIONS - the new musical nightlife experience based on Roger Kumble's 1999 cult-hit film, now playing at downtown hotspot (le) Poisson Rouge (158 Bleecker Street).
Known worldwide for starring in the hit CBS show "Big Brother" and "Celebrity Big Brother UK," Frankie J. Grande began his Broadway career on stage in Mamma Mia!, and was most recently seen as Franz in the Tony-nominated hit musical Rock of Ages. Grande has served as co-host of Amazon's fashion program "Style Code Live", "Access Hollywood Live", and the American Music Awards' red carpet coverage for "Entertainment Tonight". He was recently seen in Nickelodeon's "Henry Danger", and in 2015 had his own television specialWorst.Post.Ever with Frankie Grande (Oxygen Network).
Grande's other stage credits include the Off-Broadway revival of Pageant, "Bobby" in a regional production of Crazy For You, and cabaret acts throughout New York City, including Birdland Jazz Club, 54 Below, and at the Laurie Beechman Theatre in his own show "Living La Vida Grande". Grande's credits as a Broadway producer include Hamlet starring Jude Law, La Bête starring David Hyde Pierce, and Born Yesterday starring Jim Belushi. He's a founding member of the charity Broadway in South Africa, a global arts outreach group, and in 2014 was honored by buildOn with a Global Impact Award for his work building a school in a rural village in Malawi
BroadwayWorld checked in with Grande following his Cruel Intentions debut to talk all about what it's like being Blaine...
---
You only began performances a few days ago... how is it going so far?
Oh, it's amazing. I love the show. I love the people. I love the material - my god, it's the dream to sing all these songs. It's been a great experience so far!
I know being thrown into a show that's already open is a crazy thing, but you've done it before.
Yeah, I'm a replacement pro.
But that can't be something you get used to. What was the first show in like for you?
It's funny, because I was doing an industrial for e.l.f. Cosmetics in New Orleans and I had to take a 7am flight, arrive in New York, go straight to the theater for rehearsal and then do two shows.
Wow!
It was very much like an out-of-body experience. I felt like I was watching myself do the show. I was like, "What's going on?" [Laughs] But the great thing about it was I immediately started having fun. There was no point in being stressed or nervous because the cast was so supportive. We just started having fun... immediately. It's that kind of show.
The space that you guys perform this in is so cool because it's so unconventional. Has that been difficult for you to navigate at all?
Actually, I just came from doing Rocky Horror at the Rockwell Table & Stage in Los Angeles. It's very much like an immersive experience inside of a restaurant/bar, so it was organic for me to come from that straight to this. I was like, "Oh, cool. I know what I'm doing!" You really have to watch my track because I am in it all the time. Even when I'm in the back of the house doing absolutely nothing, I am giving you full Blaine moments.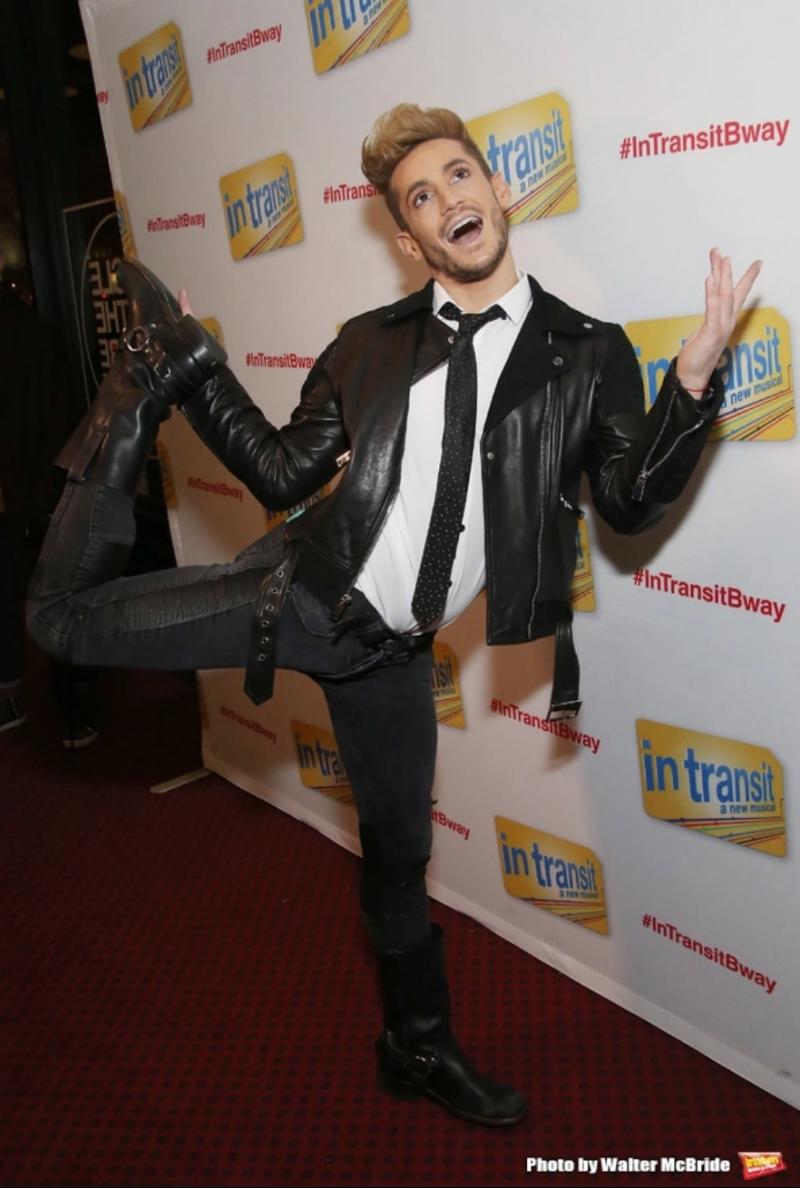 You're a child of the '90's, so this movie must have been a big part of your life.
Absolutely. I was in love with Ryan Phillippe. I mean, like, who wasn't?
Yes!
This movie was... definitely informative. It's interesting when you're looking back at it. I rewatched it for the show, and when I watched it, I realized that I had zero idea what was happening all those years ago. I had no idea what anything was. I was like, "Wow, look at all this!" I didn't know what any of the sexual references were, none of the drug references. So it was interesting watching it now and being like, "Oh, that's what that was! I had no idea!"
Let's talk more about Blaine.
It's been very rewarding. I feel like the cool thing about Blaine is that he's only in one scene in the movie, so I really had a blank canvas. I didn't have to do a shoutout to the film because there's really not much to draw from. So I kind of got to do my own take on Blaine and I'm living my "What it would be like if I was out in high school"-life. I wanted to make him so gay and so proud and so confident with his sexuality and get to experience that feeling in a high school environment. I think that's a good choice for today in general - to not have him be closeted in any way, shape, or form.
Yeah, I love that.
I'm really embracing that very out, very loud, very free persona that I am now, but that I didn't get to be in high school. It's cathartic in a way.
This show is filled with all of these amazing hits from the '90's. Is there a favorite in there takes you back?
I know Max Martin personally, and I get to sing all of Max Martin's songs. So I told him and he was like beyond thrilled. I mean, "I Want It That Way" is the best song ever written and I get to sing it in the show! My mind is blown. And "Foolish Games"! Jewel is now a really good friend of mine and as soon as that piano intro happens, everything in my body, like shakes. It quivers. I'm throwing things. I've been a fan of Jewel my entire life and I screamed when that happened in the show the first time I saw it. It's really unique to feel like all of these bookmarks and benchmarks in my life all playing out before me, in front of my eyes.
Do you miss being in musicals?
I love working in TV. And I love the adrenaline of hosting things like Access Hollywood with like, zero preparation and just going straight on. And I love being in Henry Danger, my Nickelodeon TV show. It's really fun. But there's nothing that quite fills you up like a live audience. When things happens in live theatre, and you hear that reaction live, it changes - it makes my heart sing. You can't see the people behind the lens, you know? You know they're gonna see it eventually, but you don't get that instant gratification of knowing what they're thinking. I love applause, what can I say? [Laughs]
You have this huge social media following and this whole following of fans that exist outside of the world of theatre, which inevitably means that you're going to be the reason a lot of new people get introduced to live theatre. Do you feel the weight of that?
I love it because the projects that I've been involved in are really something that everyone can gravitate towards and really leave being a theatre fan. After Big Brother, I immediately went into Rock of Ages. People who've never seen a Broadway show saw Rock of Ages and they were like, "This is the best thing that's ever happened to the world!"
It's really nice that I get to be in these kind of jukebox musicals filled with hits because non-theatregoers think it's the greatest thing that's ever happened. And I completely agree! I love that responsibility too. I want people to be obsessed with Broadway and theatre as much as I am.
What are you most looking forward to in the run that you have ahead of you in Cruel Intentions?
To continue to work with the cast. I know every single person in the show. I did Rock of Ages with Lauren [Zakrin], Emma Hunton is my best friend from ten years ago, so is Constantine [Rousouli]... so just getting to create these relationships onstage for the world to see is so fun. I look forward to going to work everyday.
Following two sold-out runs in Los Angeles, the new musical nightlife experience CRUEL INTENTIONS - created by Jordan Ross, Lindsey Rosin & Roger Kumble - recently announced the third and final extension of its New York Premiere engagement, now playing through Sunday, April 8, 2018. The musical, which began as a ten-week run in November 2017, will now play twenty-one weeks by its conclusion. Due to demand from several presenters across the country, a national tour is now being planned, to launch in Fall 2018. Tickets for the final weeks of the NYC run are on sale now via CruelMusical.com.
Set to the greatest pop and rock hits of the '90s, CRUEL INTENTIONS is an exhilarating and deceptively funny new musical that pulls you into the manipulative world of Manhattan's most dangerous liaisons: Sebastian Valmont and Kathryn Merteuil. Seduced by revenge and fueled by passion, the two diabolically charming step-siblings place a bet on whether or not Sebastian can deflower their incoming headmaster's daughter, Annette Hargrove. As the two set out to destroy the innocent girl - and anyone who gets in their way - they find themselves entangled in a web of secrets, temptation, and the cruelest game of all: love. The first-ever theater production staged at (le) Poisson Rouge, complete with bar and table service, audience members are thrown into '90s euphoria as the intoxicating story unfolds around them, set to the greatest throwback hits of the decade by such artists as Goo Goo Dolls, No Doubt, R.E.M., Ace of Base, Jewel, 'NSYNC and more - in addition to songs from the film's iconic soundtrack such as "Bittersweet Symphony" by The Verve and "Colorblind" by Counting Crows.
Related Articles
More Hot Stories For You