BIG APPLE CIRCUS Debuts New Food and Beverage Program for their 41st Season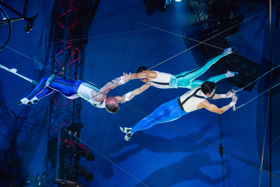 BIG APPLE CIRCUS will be rolling out a new, elevated food and beverage program that will be worth leaving your seat for! The menu, curated by Chef Harrs Mayer-Selinger and his hospitality group, Hospitality Made Simple will feature classic favorites with an all-natural twist. Imagine, Popcorn made with organic kernels, real butter, and sea salt, and all-natural Fresh Spun White Cloud Cotton Candy made from fair trade sugar, without dyes and preservatives. Chef Harris and Hospitality Made Simple are expanding the BIG APPLE CIRCUS food and beverage programming to include locally sourced items like Fresh Baked Soft Pretzels from Leske's Bakery in Brooklyn and meal-worthy menu items like delicious Corn Dogs and Pulled Pork Nachos with Cheddar Cheese sauce. Make sure to bring your appetite to the circus this year!
The cocktail program, spearheaded by mixologist Pamela Wiznitzer, will feature circus inspired craft cocktails available in the circus' VIP tent. Her inspiration stem from the various components of the BIG APPLE CICRUS experience; from the acts, to the performers, food, sounds, smells and sights. The drinks are striving to emulate the whimsy of being ringside while enjoying flavors that will tantalize your palate.
Cocktails Include:
-The flossy, flossy * - This cocktail was inspired by the iconic circus treat, Cotton Candy - otherwise known as 'Floss'
Ingredients: Hendricks Gin, Lemon, blood orange, soda water and Solerno Blood Orange floss hair.
-The Grand Illusion - No smoke and mirrors at this circus, the magic of the acts speaks for themselves. The only smoke you'll find here is in this old-fashioned style cocktail.
Ingredients: Monkey Shoulder Scotch, Demerara, bitters, vermouth, and smoke.
-Pop It Like It's Hot * - Another circus treat inspiration; this cocktail pulls all the taste and smells of delicious popcorn and makes it an adult treat.
Ingredients: Milagro Tequila, Montelobos Mezcal, popcorn syrup, lime, salt tincture, and a healthy side of specialty salted popcorn.
-Swing Time - Inspired by the whimsy and excitement of performers swinging from the ceiling with bright shining lights, this drink combines bubbles and bright ingredients to provide a POP of flavor!
Ingredients: Flor de Caña rum, Lime, hibiscus, pearl luster, and bubbly wine
-Howl at the Moon * - Ingredients: Tullamore Dew Whiskey, cemon, cinnamon, chai, Honey, and Bitters.
-The Big Apple (Circus) * - The signature cocktail for the Big Apple Circus!
Ingredients: Reyka Vodka, Lemon, rosemary, sparkling apple juice and complete with a redline straw and apple gummy candies.
-Hot Apple Cider (alcoholic and non!) * - An iconic fall-time treat, the multi-spiced apple cider can be served as is or with some Sailor Jerry Spiced rum or Hudson Whiskey..
Can be made non-alcoholic using Seedlip
Chef Harris and his team at Hospitality Made Simple came in with two goals in mind; to create an all-natural menu, locally sourced when possible, and to provide a stellar hospitality experience. The menu is chock-full of classic circus favorites thoughtfully sourced with the guests' overall experience in mind.
Locally Sourced:
-Soft Pretzel from Leske's Bakery
-Nathan's Famous ¼ lb Hot Dog
-Ice Cream Sundae topped with a mini, red chocolate apple ('apple on top', instead of 'cherry on top') from Li-Lac Chocolates.
-The Little Apple - candy apple from Li-Lac Chocolates in the West Village
-Pulled Pork from Rich's in Buffalo, New York. Available as an add-on for nachos, sidewinder fries, and hot dog.
-Spiced New York Apple Cider
Using more 'natural' ingredients:
-All-natural cotton candy, using organic fair-trade sugar and no dyes or preservatives, resulting in a white, fluffy, cloud-like appearance.
-Popcorn made with organic kernels, real butter, and sea salt
-All-natural Slushie made from fresh fruit puree and natural simple syrup.
-All-white meat chicken tenders
Two additional, fun, stand-out item is the easy to eat Funnel Cake Fries. These sweet treats are a no-mess solution to a classic circus confection, alongside a chocolate dipping sauce, the fries are perfect for one-hand dipping and eating! The Little Apple, a caramel apple from Li-Lac Chocolates is a play on the iconic logo of the BIG APPLE CIRCUS, a candy apple that is sure to satisfy any sweet tooth.
Chef Harris and Hospitality Made Simple are also behind Creamline, the 'American Classics' fast casual restaurant known for fresh-from-the-farm ice cream, all-natural and humanely raised beef, housemade sauces and more. Chef Harris is a graduate of Cornell University School of Hospitality Management and the Culinary Institute of America.
The objective of the new rollout is to further enhance the BIG APPLE CIRCUS experience through yet another layer of excitement. Attendees will now be able to enjoy a full foodie-adventure while at the circus, sharing these re-imagined, nostalgic favorites with loved ones. With the surge in elevated dining experiences are performances such as sporting arenas and movie theaters, it was only fitting that BIG APPLE CIRCUS follow suit. Wonder Awaits both in the ring and the concessions at this year's BIG APPLE CIRCUS!
For more information visit www.bigapplecircus.com.
Follow Big Apple Circus on Instagram: @BigAppleCircus - Facebook: /bigapplecircus - Twitter @BigAppleCircus
About the Big Apple Circus
World renowned for its one-ring, intimate and artistic style - where no seat is more than 50 feet from the performers - the show will feature a roster of super hero talents, including Iron woman Virginia Tuells & her husband Ihosvanys Perez in DUO FUSION, a breathtaking acrobatic act that combines dance, strength, flexibility and passion in which Virginia handles a majority of the lifts; the wildly fun SPICY CIRCUS, created by Andréanne Quintal, whose team of performers will (literally) bounce off the walls in her feisty trampoline act; THE FLYING TUNIZIANIS, a double wide trapeze act showcasing seven fliers & two catchers in addition to the quadruple somersault by Ammed Tuniziani - a feat only successfully landed by ten people in the world - alongside his wife Estefani, brothers Gamal & Dandino, and more; DESIRE OF FLIGHT, a daring and balletic dual aerial straps act; a free-standing ladder balancing act by Emil Faltyny; for the first time in America, the gravity-defying horizontal juggler Victor Moiseev; Big Apple fan-favorite Jenny Vidbel; and the hilarious Mark Gindick & Adam Kuchler.
About Hospitality Made Simple
"Hospitality Made Simple delivers excellence in food, hospitality, and operations, to our partners, team members, and guests. Our team has extensive experience in information technology, data & financial analysis, and cooking. Our unique combination of creative and business backgrounds enables us to deliver inspired F&B while still maintaining a focus on operational efficiency and profitability."
About Pamela Wiznitzer
Since 2006, Pamela Wiznitzer has been working throughout NYC, and most recently as the Mixologist for Henry at the Life Hotel in Manhattan. She has been nominated as one of the top 10 bartenders for the 2014, 2015 and 2016 "American Bartender of the Year" award at Tales of the cocktail and was named the "2014 Bartender of the Year" by the Village Voice. Additionally, was named as one of Food & Wine Magazine's top 10 Rising Star Mixologists, an inductee to the "Dames Hall of Fame" in 2015 and Wine Enthusiast Magazine's ""40 Under 40" in 2015.

Pamela is currently working towards a master's degree in Food Studies, with a concentration on spirits and alcohol, at NYU's Steinhardt School. Additionally, she presents her research at seminars and conferences around the world. Pamela is a dual BA graduate of both Barnard College and the Jewish Theological seminary as well as the Beverage Alcohol Resources 5-day program earning top honors by passing the course "Bar Ready."

Pamela has been featured in multiple publications including The New York Times, Wall Street Journal, The Tasting Panel, Travel & Leisure, Bar Business Magazine, The Village Voice, Zagat, Glamour, Cosmopolitan, Shape, Self, ABCNews.com, Bloomberg and Esquire, as well as reoccurring media appearances on the the Food Network, Vh1, NBC, LXTV, Fox & Friends and BetterTV.
Photo Credit: Courtesy of Big Apple Circus