BC Beat Announces Choreographers From Tony Nominated Shows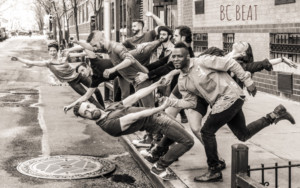 BC BEAT, an evening that sells out and is yet intimate, dynamic, and playful, continues to stimulate new collaboration between choreographers, performers, directors, composers, and producers like no other event in New York City. Just ask Patrick McCollum. He was introduced to Steven Hoggett as a possible performer for his BC BEAT piece in 2011. Following their BC BEAT process, McCollum worked nonstop with Hoggett as an Associate Broadway Choreographer and this year, made his Broadway choreographic debut with THE BAND'S VISIT. McCollum is one of the many Broadway artists who have performed and choreographed at BC BEAT and have made the most of the opportunity at hand.
Creative director, Jennifer Jancuska, curates the evening, which the New York Times calls an opportunity to "reimagine the possibilities for dance in musical theater." "BC BEAT is crafted to feature choreographers who are making bold choices and moves in their careers," says Jancuska. She adds, "catching folks in growth spurts is exciting. They bring a level of confidence, risk, play and technique that is matched in support for their peers and determination to discover." Jancuska's mission for BC BEAT has folded in Andy Blankenbuehler, Sonya Tayeh, Stephanie Klemons, Al Blackstone, Daniel J. Watts, The Kuperman Brothers and more, at moments when their creativity was stunningly raw, grounded, and inspiring to everyone at BC BEAT.
The BC BEAT mission certainly continues on Monday May 14th with the following line up of choreographers who took on new roles and projects in 2018 that have propelled their dreams forward: Rickey Tripp (ONCE ON THIS ISLAND, JESUS CHRIST SUPERSTAR LIVE, HAMILTON), Mayte Natalio (JESUS CHRIST SUPERSTAR LIVE, QUEEN OF THE NIGHT, THIRD RAIL), Corey John Snide (The Juilliard School, CAROUSEL), Ricky Ubeda (CAROUSEL, CATS, SYTYC winner), John Alix (FUERZA BRUTA, Gala Theater), Karla Puno Garcia (Prospect Theater, HAMILTON), Mike Kirsch (Roundabout Theatre Company), Keith Kuhl (JESUS CHRIST SUPERSTAR LIVE), Matthew Steffens (Kennedy Center, Doctor Zhivago), Breton Tyner-Bryan (Breton Follies) and creative director and producer of BC BCEAT, Jennifer Jancuska.
The new work will be performed by a company of more than 25 Broadway dancers, singers and actors including Melanie Moore, Ryan VanDenBoom, Reed Luplau, Rosie Lani Fiedelman, Austin Goodwin, Jonathan Wade, Monette McKay, Hollie Wright, Charles McCall, Abdiel Jacobsen, Claire Camp, Chloe Davis, David Ferguson, Albert Guerzon, Holly Heiser, Katherine Roarty, Julius Anthony Rubio, Jamal Shuriah, Kaitlynn Edgar, Eloise Kropp, Jordan Lang, Alessandra Marconi, Rhaamell Burke-Missouri, Jordan Chin, Timothy Edwards, Pierre-Jean Gonzalez, Claude Johnson, Maleek Washington, Shiloh Goodin, Sandy Shelton, Morgan White, Vivake Khamsingsavath, Julienne "Jules" Rencher, Christina Belinsky, Alle-Faye Monka, Hope Easterbrook, Gina DePool, Khadija Griffith, Karma Jenkins, Marie Rose, Roddy Kennedy, Eddy Lee, Avery Sobczak, Sam Cieri, and Voltaire Wade-Greene.
BC BEAT returns to Cielo (18 Little West 12th Street) on Monday May 14, 2018. Doors open at 7pm. Online tickets ($15) are now available through Brown Paper Tickets. Tickets at the door ($18 cash only) are not guaranteed. BC BEAT is a 21 and over event. Expect to enjoy a drink from the full service bar, connect with choreographers and enjoy the dance floor before choreographers are introduced at 7:40pm to kick off the performances. For those who attend and contribute to BC BEAT, the evening is as much about conversation as it is dance, performance and party.
BC BEAT has been conceived and created by Jennifer Jancuaka. The BC BEAT Team includes Full Out Creative (Video), Eli Fendelman (photographer) and James Jin (photographer), Sarah C. Lucier (PSM), Justin Johnston (DJ) and Broadway Connection.
Videos of all BC BEAT performances are available for viewing on the BC BEAT website and YouTube Channel.
Photo Credit: Eli Fendelman