Anthony Dean Griffey and Amy Owens Will Perform In A George London Foundation Recital At The Morgan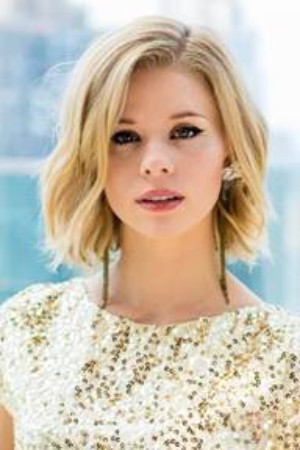 Anthony Dean Griffey, Tenor, and Amy Owens, Soprano, with Warren Jones, Piano, join for a George London Foundation Recital at The Morgan an Sunday, March 24, 2019, at 4:00 PM.
Griffey performs American and English songs, Owens sings Strauss, Milhaud, and Donald Waxman, and they finish with Spamalot and Showboat. David Heiss, cello, and Cindy Wu, violin, are guest artists.
Two American opera singers noted for their theatricality - one on the rise, the other an international star - headline the second George London Foundation recital of the season. Anthony Dean Griffey, the renowned tenor whose searing interpretation of the title role of Britten's Peter Grimes, among others, has brought him worldwide acclaim, and Amy Owens, a "scene-stealing" (Broadway World) "radiant soprano" (Opera News) who won an award at the 2018 George London Awards competition, perform the second George London Foundation Recital of the season at The Morgan Library and Museum on Sunday, March 24, 2019, at 4:00 pm. They are joined by Warren Jones at the piano, and guest artists David Heiss, cello, and Cindy Wu, violin.
The George London Foundation for Singers, named for the great American bass-baritone, has been honoring, supporting, and presenting the finest young American and Canadian opera singers since 1971. The foundation's annual recital series, which celebrated its 20th anniversary with a star-studded gala in 2016, presents pairs of outstanding singers, many of whom were winners of a George London Award, the prize of the foundation's annual vocal competition.
Anthony Dean Griffey sings Three Songs for Tenor, Cello, and Piano by Frank Bridge, joined by cellist David Heiss; Mitch's Aria from André Previn's A Streetcar Named Desire (Griffey created the role of Mitch in the opera's premiere production); Sam's Aria from Carlisle Floyd's Susannah; and songs by John Jacob Niles and Charles Ives. Amy Owens performs Donald Waxman's Lovesongs for soprano, violin, and piano (1989, texts by Rilke, Herrick, and Hardy) joined by violinist Cindy Wu; the 1912 version of "Grossmächtige Prinzessin" from Strauss's Ariadne auf Naxos (a longer and more virtuosic version than the more standard 1916 revision); and Milhaud's Chansons de Ronsard. The two singers conclude the program with three numbers: "The Song That Goes Like This..." from Eric Idle's Spamalot, "Drink, My Darling, Drink to Me!" from Strauss's Die Fledermaus; and "You Are Love" from Jerome Kern's Showboat. (The complete program is below.)
Anthony Dean Griffey's "clarion tenor" (The New York Times) was heard in this season's premiere production of Nico Muhly's Marnie. Amy Owens's performance in a Bernstein Centennial Concert at the Library of Congress in May elicited praise from Anne Midgette in The Washington Post, who said, "Amy Owens was marvelous in the show-stealer 'Glitter and Be Gay,' cracking up not only the audience, but the other singers on stage, so that they had to take a break before finishing...." Of her performance of the same number in an April Utah Symphony performance of Candide, Utah Theater Bloggers observed, "During the extended applause that resulted, the man next to me exclaimed, 'That's why I came! To see that right there!'"
The George London Foundation's 2018-19 season concludes with the final recital of the season:
Julie Adams, soprano, and Emily D'Angelo, mezzo-soprano, with Ken Noda, piano, and special guest artist David Chan, concertmaster of the MET Orchestra. Adams, a 2015 George London Award winner, starred in the West Coast premiere of Kevin Puts's Silent Night with Opera San Jose last year, prompting Opera Today to say, "Her rich, creamy, agile soprano was of the highest quality, the kind that prompts excited 'who-is-she?' intermission chatter (and beyond)." When D'Angelo won her 2018 George London Award, and was praised thus by New York Classical Review: "D'Angelo [was] among the most impressive, with a sublime rendition of Rosina's 'Una voce poco fa' fitting her smoky mezzo-soprano over the contours of the aria like an impeccably tailored glove." Sunday, May 5, 2019, at 4:00 pm
The George London Foundation Awards and Recital Series
The George London Foundation Awards competition is one of the oldest vocal competitions in the United States and Canada, and it offers among the most substantial awards. Through the annual juried competition for outstanding young American and Canadian opera singers (under the age of 35 who must have performed at least one professional engagement), awards are given to the most promising performers: at the 2018 competition, a total of $83,000 was given in the form of six George London Awards of $10,000, three awards of $5,000, and eight awards of $1,000. The recital series began at the Morgan in 1995 in order to give grantees exposure and experience, and, in many cases, a New York debut.
The Legacy of George London
The goal of the London Foundation, the support and nurturing of young singers, was an abiding interest of the great American bass-baritone George London, who devoted a great part of the time and energy of his later years to this purpose. "Remembering his difficult road to success, George wanted to devise a way to make the road a little easier for future generations of singers," said George London Foundation President Nora London. Initially created under the auspices of the National Opera Institute, the George London Awards program has been administered since 1990 directly by the Foundation as a living legacy to George London's own exceptional talent and generosity. Visit www.georgelondon.org.
Anthony Dean Griffey, a native of High Point, North Carolina, has captured critical and popular acclaim on opera, concert and recital stages around the world. The combination of his beautiful and powerful lyric tenor voice, gift of dramatic interpretation and superb musicianship have earned him the highest praise from critics and audiences alike. This season, Mr. Griffey returned to the Metropolitan Opera for the Met premiere of Nico Muhly's Marnie conducted by Robert Spano. Other appearances include Das Lied von der Erde with the Nashville Symphony led by Giancarlo Guerrero and The Dream of Gerontius with the Indianapolis Symphony and Michael Francis. A supporter of new works, Mr. Griffey has won critical acclaim for creating the role of Mitch in the world premiere of André Previn's A Streetcar Named Desire at the San Francisco Opera and for his performances of Lennie in Carlisle Floyd's Of Mice and Men. Since 2015 Griffey has held the position of Professor of Voice at the Eastman School of Music - University of Rochester. www.anthonydeangriffey.com
Amy Owens, soprano (2018 $5,000 Award from the George London Foundation), a native of Brookfield, Wisconsin, began the summer 2017 season creating the title role in David Hanlon's Listen, Wilhelmina! with Wolf Trap Opera, after which she was called on two weeks' notice to step into the belated U.S. premiere of Milhaud's La mère coupable with On Site Opera in New York City, receiving great acclaim for her interpretation of the role of Florestine. Last season, Ms. Owens' operatic engagements included her Verdi role debut as Oscar in Livermore Valley Opera's production of Un ballo in maschera and developing the role of Little Stone in a Metropolitan Opera and Lincoln Center Theater workshop collaboration for Matthew Aucoin's new opera Eurydice. She has collaborated with many composers including William Bolcom, Matthew Aucoin, Bright Sheng, and Paola Prestini. Her debut album of original music, HAETHOR, was released in spring 2018 to acclaim in the electronica world. As a budding conductor, she was selected to participate in the Hart Institute for Women Conductors at Dallas Opera. www.amyowenssoprano.com