Ann Hampton Callaway to Release New Album and Launch Tour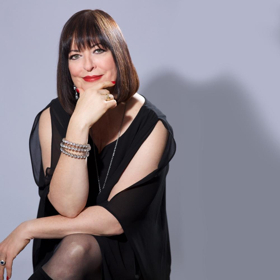 Award-winning singer-songwriter Ann Hampton Callaway announces a new album Jazz Goes to the Movies, set for release on October 19, 2018 from Shanachie Entertainment. Having dedicated much her career to keeping the American Songbook alive and vital through critically-acclaimed tributes to the likes of Barbra Streisand and Ella Fitzgerald, writing hits for Streisand, and releasing albums of original songs, Callaway decided for her 16th album to fulfill a longtime dream-a recording of great songs from classic motion pictures.
"All my life I have been enchanted by the marriage of film and music, whether in movie musicals or in the artful use of song to further a story," said Callaway. "Work by some of the most brilliant songwriters of the 20th Century scored the most memorable moments and charming films from the Golden Age of Hollywood. They were celebrating the endurance of dreams and romance and offering hope during a time when the challenges of the Depression and World War II were dampening spirits. During this time of uncertainty, it seemed fitting to revisit this inspiring music."
Recorded with the same intimate group of superb musicians who have backed her during live performances of these songs at the fabled jazz club, Birdland, Jazz Goes to the Movies features pianist Ted Rosenthal, bassist Martin Wind, drummer Tim Horner, and saxophonist Jimmy Greene. They provide the perfect complement to Callaway's renditions of such songs as "As Time Goes By" from Casablanca, "The Way You Look Tonight" from Swing Time, "'Swonderful" from An American in Paris (and, originally, Funny Face), and "Blue Skies" from The Jazz Singer.

Aside from the inspiration of the songs themselves, Callaway had a more personal motivation in recording them.
"During the creation of this project, I was doing many of the arrangements at the hospital by the side of my mother, Shirley, who was in her last days, battling pancreatic cancer," Callaway confides. "Since she was the reason I sing and had unerring good taste in music, I'd sing my arrangement ideas to her and she'd nod her head in approval or shake her head, as if to say, 'Try again.' It made letting her go sweet and a bit poetic since music had always been our great bond."
Ann Hampton Callaway was born in Chicago. Her father was a journalist and her mother was a singer, pianist, and vocal coach. Her sister, Liz Callaway, is a singer and actress on Broadway. Callaway is a born entertainer who has made her mark as a singer, pianist, composer, lyricist, arranger, actress, educator, TV host, and producer.
In high school, she performed in musicals and after graduation studied acting at the University of Illinois at Urbana-Champagne before moving to New York City to pursue her dreams. In New York she appeared in clubs as a cabaret singer, forging her signature blend of jazz and pop by performing classic material from the Great American Songbook. While contributing to an album of Cole Porter songs she was invited by the Porter estate to compose music for the songwriting legend's unfinished piece, "I Gaze in Your Eyes," which was included on her debut album in 1992.

This was the start of a multi-faceted career that has catapulted her to the first rank of interpreters of popular song in America. Aside from recording 16 albums, including critically-acclaimed tributes to Sarah Vaughan, and Ella Fitzgerald, she has written songs with Carole King, Rolf Lovland, and Barbara Carroll. She has written songs recorded or performed by Barbra Streisand (including "At the Same Time" on Streisand's platinum-selling Higher Ground), Barbara Carroll, Blossom Dearie, Carole King, Patti LuPone, and more. She has performed with top orchestras and big bands in major concert halls in more than 30 countries, collaborating with the likes of Wynton Marsalis and the Lincoln Center Jazz Orchestra, The Boston Pops, and more, and has sung for President Bill Clinton in Washington, D.C. and at Mikhail Gorbachev's Youth Peace Summit.
Callaway's performances are marked by warmth, spontaneous wit, and passionate delivery of standards, jazz classics, and originals. As one of America's most gifted improvisers, she frequently takes words and phrases from her audiences and creates songs live on the spot.

Her dream of working in film, TV, and radio has been realized in several recent projects. She made her feature film debut opposite Angelina Jolie and Matt Damon in the Robert De Niro film The Good Shepherd, performing the standard "Come Rain or Come Shine." She recorded "Isn't It Romantic?" and "The Nearness of You" in Wane Wong's Last Holiday, starring Queen Latifah. She recently wrote songs for the upcoming film State of Affairs. She also produced and directed the TV special Singers Spotlight with Ann Hampton Callaway as part of her mission to conserve the tradition of Great American Song. All of which makes her new Jazz Goes to the Movies album a natural progression.
Track Listing
'S Wonderful
Let's Face the Music and Dance
Blue Skies
The Folks Who Live on the Hill
As Time Goes By
The Way You Look Tonight
This Time the Dream's on Me
The Nearness of You
How Little We Know
This Can't Be Love
Just One of those Things
Taking a Chance on Love
Long Ago and Far Away
From this Moment On
Upcoming Tour Dates
9/19, 21 & 22/2018: New York, NY: 54 Below
9/26 & 9/27/2018: St. Louis, MO: Jazz at the Bistro
9/28/2018: Des Moines, IA: Hoyt Sherman Place
10/6/2018: Philadelphia, PA: Chris' Jazz Café
10/7/2018: Hackettstown, NJ: Rutherford Hall
10/18-10/20/2018: Urbana, IL: Krannert Center
10/26/18: New York, NY: 54 Below
11/2-3/2018: Buffalo, NY: Kleinhans Music Hall (with the Buffalo Symphony)
11/9/2018: Miami, FL: Arsht Center
11/16/2018: Mamaroneck, NY: Emelin Theatre
11/18/2018: Hutchinson, KS: Memorial Hall
11/30/2018: Three Oaks, MI: Acorn Theatre
12/2/2018: St. Charles, IL: Arcada Theatre
12/16/2018: Roslyn , NY: My Father's Place
12/31/2018: Des Moines, IA: Des Moines Civic Center
1/8-12/2019: Naples, FL: Artis-Naples (with the Naples Philharmonic)
1/13/2019: Tuscon, AZ: The Fox Theater
1/19/2019: Palm Springs, CA: Annenberg Theatre
1/22-26/2019: New York, NY: Birdland
2/27/2019: Chicago, IL: City Winery
Related Articles

More Hot Stories For You
Check Out the Original Broadway Cast of HAMILTON's Latest Projects
What have the original cast members, ensemble members, swings, and standbys of Hamilton been up to lately? Check out their latest projects!...

VIDEO: HAMILTON Fan Creates a Side-By-Side Comparison of 'Helpless' and 'Satisfied'
One Hamilton fan saw some parallels while watching the musical on Disney+, specifically between A Winter's Ball/Helpless and Satisfied....

Disney Employee Pulls the Curtain Back on What it is Like to Work at Disney World During the Pandemic
Rolling Stone has reported on a conversation they had with one Disney World employee, pulling the curtain back on issues of safety, whether social dis...

VIDEO: On This Day, August 6- HAMILTON Opens On Broadway!
On this day in 2015, Hamilton officially opened on Broadway at the Richard Rodgers theater!...

Photo Flash: Berkshire Theatre Group's GODSPELL Takes Bows as First Equity-Approved Musical
The first musical in the United States to be approved by Actors' Equity Association has officially begun performances. Berkshire Theatre Group's Godsp...

Zach Braff Shares Tattoo Tribute to His Friend, Nick Cordero
Zach Braff is remembering his friend, the late Nick Cordero, in a special way. Tattoo artist Doctor Woo shared a photo of his depiction of Nick in Bul...