Anabella Lenzu Comes to LaMaMa Moves!, 5/30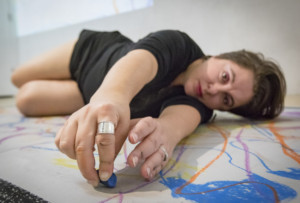 The LaMaMa Moves! Dance Festival presents the unique artist ANABELLA LENZU as she declares "No More Beautiful Dances," a dance/theater solo in which the spoken word, drawings, photographs, and video projections merge to offer a very personal view of femininity and what it means to be a woman today. Two performances, May 30 & 31, 7 PM, at LaMaMa's The Downstairs, 66 East 4th Street. In this interdisciplinary solo, Anabella's wrestles with issues of identity as experienced by a contemporary artist who is also a woman, mother, and immigrant. "I had arrived at a moment where I am 42 years old," she states, "have two kids, notice my body aging, and reflecting on other changes psychologically and emotionally. The work keeps me humble and honest about who I am and what I look like. I show the things most people want to hide as dancers. I show the body of a 42-year old woman. For me it's about embracing who I am at the moment." On another level, the artist feels that through dialogue with collaborators and mentors, her work starts out specific, but arrives at a universal message.
The choreography is captured not only by the audience, but by two live-streaming cameras, one above and the other below the stage area, two laptops and two projectors. Technology in this piece is a magnifying glass, showing something normally hidden from view. The cameras become a portal to another dimension for the audience and performer. Anabella Lenzu is a dancer, choreographer and teacher with over 25 years of experience working in her native Argentina, Chile, Italy and the USA. As Artistic Director of Anabella Lenzu/DanceDrama, Lenzu draws on her diverse background to create original and thought-provoking dance/theater works.
Classically trained at the renowned Teatro Colon in Buenos Aires, Lenzu studied the modern dance techniques of Doris Humphrey, Jose Limon and Martha Graham in New York. Her work is further informed by her studies of Tango and folk dances of Argentina, Spain, and Italy. As a choreographer, her works have been commissioned all over the world, for opera, TV, theatre productions, and numerous dance companies, including the Sokolow Theatre/Dance Ensemble (New York), and Movimento Danza (Naples, Italy). Lenzu founded her own dance school, L'Atelier Centro Creativo de Danza in 1994 in Argentina, and has maintained an active teaching career ever since. Currently, she teaches at Peridance Capezio Center and is Artist-in-Residence at NYU Gallatin and Snug Harbor Cultural Center & Botanical Garden.
Also an author, Lenzu has written for various dance and arts magazines, and published her first book, Unveiling Motion and Emotion, in 2013. The book is written in both Spanish and English, and examines the importance of dance, community, choreography, and dance pedagogy.www.AnabellaLenzu.com

Related Articles
More Hot Stories For You